Vettel in state of confusion over Aston Martin pace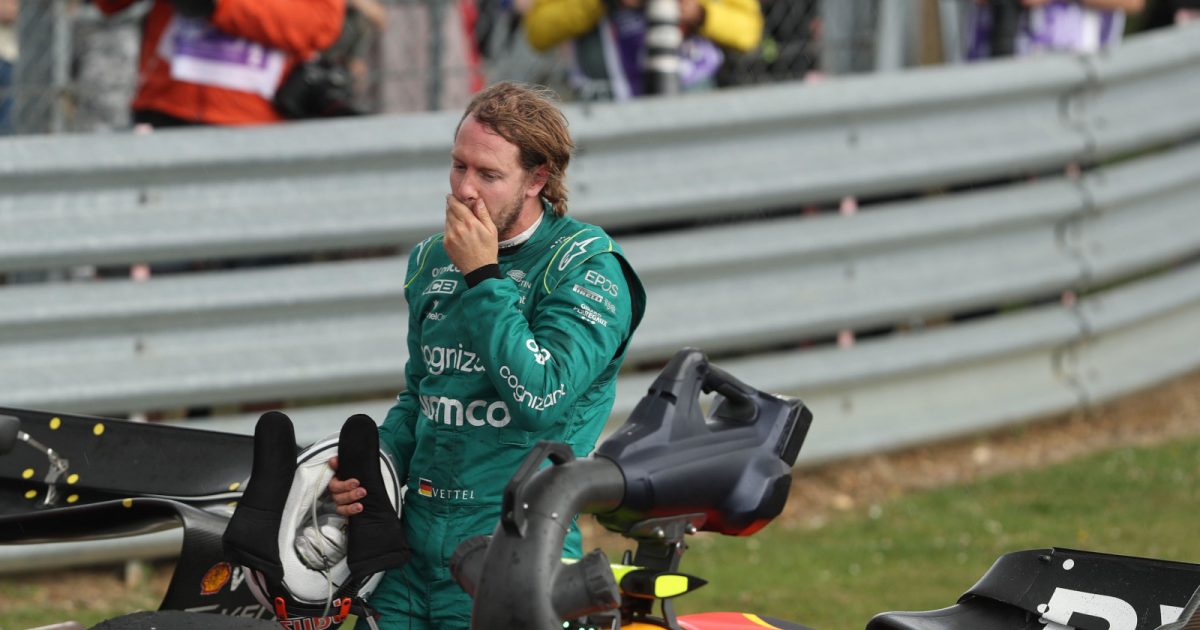 Baffled as to why he was out of qualifying in Q1 only to race his way into the points at Silverstone, Sebastian Vettel admits Aston Martin's performance is a "bit confusing".
Qualifying down in 18th place in the wet at the British Grand Prix, Vettel acknowledged his AMR22 "just didn't seem to be quick enough".
He and the team were mystified as to why, with Lance Stroll also out in Q1, the Canadian slowest of all in 20th place.
Fast forward a day and Vettel and Stroll were both fighting for the points in Sunday's 52-lap grand prix, Vettel finishing ninth while his team-mate fell 1.5s short in 11th place.
Vettel, however, is perplexed as to why his AMR22 suddenly had pace on Sunday.
"There's a lot of work to do," he conceded to Channel 4. "I think the team is coming together and results like today mean so much to us.
"I drove a really good race and crossed the line and it's ninth, but it's really important for us because there's so much work going in and I think it's going in the right direction, but it does take time.
"I think it's a bit confusing still at this point to be very honest, because we had some new parts."
Seb & Mick after the race 🥺🥰 pic.twitter.com/ybWHKWyQck

— Sebastian Vettel Fan Page (@sebvettelnews) July 3, 2022
Aston Martin again brought updates for the AMR22 which included different vanes on top of sidepods, a new floor with a tweaked edge, revised beam wing and also rear brake ducts.
"I think in the race it did look a lot better and we had very good pace," Vettel continued.
"We basically undercut nearly all of the midfield and I think we got surprised because I managed the tyres very well and I think we could have stayed out.
"The Safety Car then didn't really help us. Also, we made probably the wrong choice with tyres but overall it's a good recovery."
The four-time former World Champion, though, reiterated he has no idea as to why exactly it was possible.
"I can't give you an answer," he said. "Maybe the answer is it will take time, but I'm confident the second half [of the season] should be better."
Sunday's race was marred by a horrific crash on the opening lap, Zhou Guanyu's Alfa Romeo turned upside down before hurtling through the gravel and crashing into the catch fencing.
Alex Albon also had a hefty whack, the Williams driver nose first into the concrete barrier on the pit straight.
Vettel says he was the one to clip the Williams driver.
"We started 18th and it's a long way back," he said of the first start. "There's only one row behind you.
"So the first time was chaotic. I had a really good start, which launched me sort of into a gap, nearly side-by-side with Alex.
"Then I was trying to get out because there was a bit of a squeeze and then everyone started to brake and I braked, and unfortunately I couldn't avoid making contact with him.
"The main thing was everyone's fine – it didn't look good."
Highlights from the British Grand Prix
Put simply, it was a quite remarkable British Grand Prix on Sunday.