Sebastian Vettel was 'never in same class' as Lewis Hamilton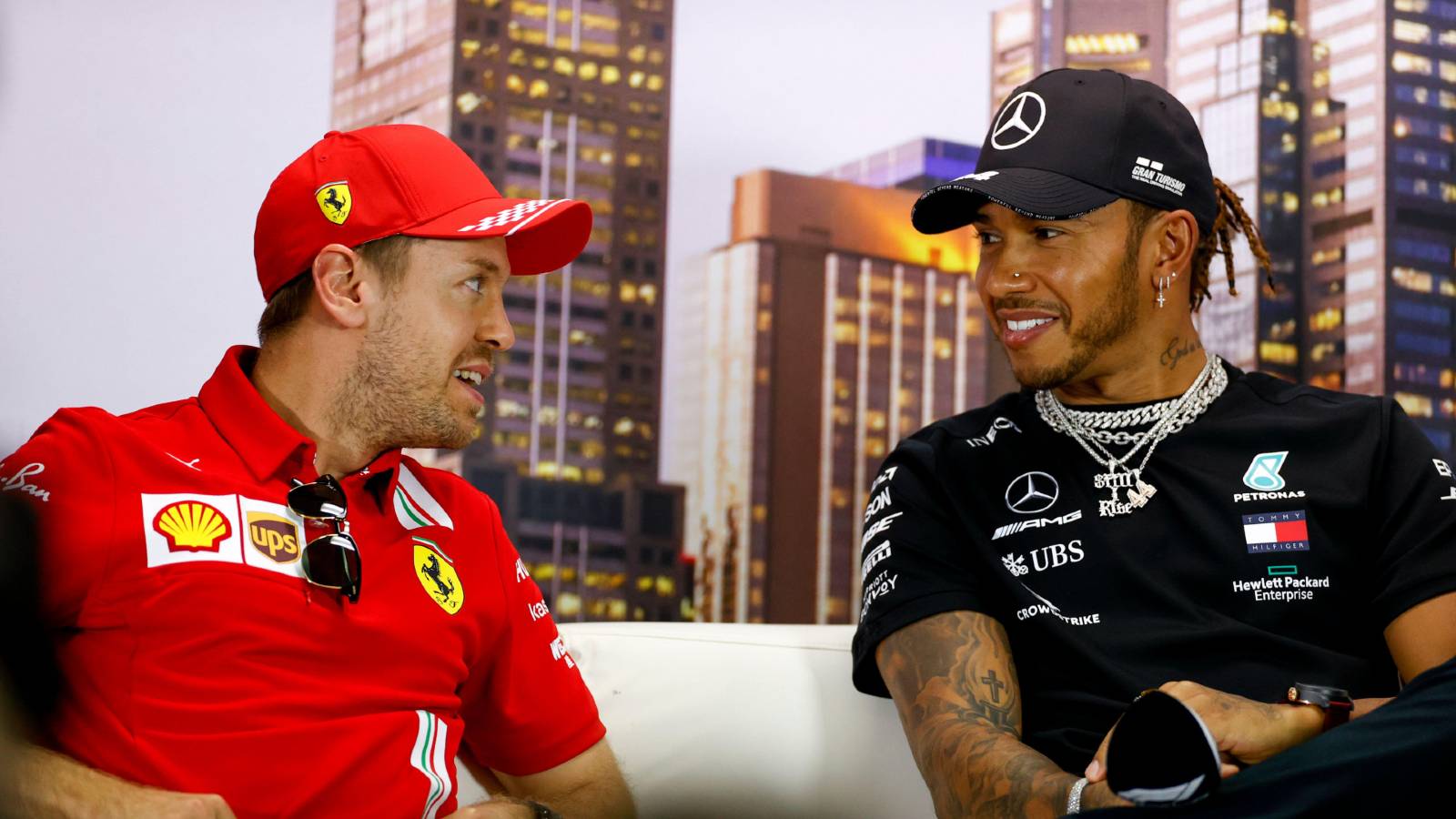 A respected Formula 1 analyst has claimed that Sebastian Vettel was never "in the same class" as Lewis Hamilton in terms of talent, suggesting he was "just an ordinary racing driver" when the car did not suit his preferred driving style.
Vettel retired at the end of a 2022 season to bring a close to a glittering career in which he became F1's youngest-ever World Champion, winning four consecutive titles with Red Bull between 2010 and 2013.
The German moved to Ferrari for 2015 but failed to win another Championship before ending his career at Aston Martin.
Speaking via his Twitch channel, former Williams and Ferrari team manager Peter Windsor has claimed that Vettel's driving style was limited and believes he never addressed the shortcomings that became apparent during his final season at Red Bull in 2014, when he was regularly outperformed by team-mate Daniel Ricciardo.
He said: "I always thought Vettel was a very reflexy, very fast, very well-balanced driver who, even in his testing for Sauber days, was nothing other than the ultimate exponent of turning the corner into a V shape.
"And when he couldn't do that because of the geography of the corner, he was about the same as the average [driver], but when he could do it on a particular type of corner, he was brilliant and had that ability to do it.
"And he had that at Red Bull, when he had that amazing grip at the rear, blown diffuser and everything else.
"When that went away in the regulations in his last year at Red Bull, he became just an ordinary racing driver and actually struggled against Daniel Ricciardo. It was obvious then that that's how he was exposed.
"He didn't say at the end of that year, or during that year, 'wow, I'm in trouble here. When I don't have a great back end, I need to start to be able to play with it a bit more and do more with the front, get the front to work.'
"[There were] all sorts of things he could have done but he didn't do any of that.
"He just signed off and went to Ferrari and arrived as the four-time World Champion who was greeted with a lot of money and a lot of fan adulation.
"And he never got any better, he was still the same driver. That's the Sebastian Vettel story."
PlanetF1.com recommends
David Coulthard recalls 'run-ins' with Sebastian Vettel's press officer over poor form
Is Netflix's Drive to Survive nearing the end of the road?
F1 team principals: How long has each team boss been in charge?
Windsor believes the infamous moment at the 2017 Azerbaijan Grand Prix, where Vettel accused Hamilton of brake-testing him and banged wheels with his Mercedes rival as the field circulated behind the Safety Car, left a stain on his reputation.
"The only thing you only can add is that he's also the guy, behind the Safety Car, who drove into Lewis Hamilton at Baku [in 2017] because he was annoyed with Lewis for driving slowly," he said.
"He got away with that. He got away with that with a very, very small fine whereas Dan Ticktum lost his licence for a year for doing virtually the same thing. So that was disproportionate. He was very lucky, I think, to get away with that.
"I never would have put him in the same class as Lewis. Maybe, if he's got a really good back end on the car, I'd put him up there with Fernando [Alonso] – but if he's got a wayward back end and not a lot of grip [he's in trouble].
"Overall, throw a bit of crosswind at Seb, throw a bit of crosswind at Fernando, throw a bit of oil on the track, throw a bit of tyres going off – Fernando's always going to do a better job [than Vettel] with all the variables up in the air.
"Seb is very locked into what he does well."
Vettel won a lot of admirers in his final years in F1 for championing various off-track issues, with the German also renowned for his detailed knowledge of the sport's history.
However, Windsor has admitted to being puzzled by Vettel's development as a personality, claiming his public persona was sometimes in stark contrast to his behaviour behind the scenes.
He added: "If you talk to [former Red Bull team-mate Mark] Webber, he used to describe a completely different Sebastian Vettel to the one that was there on show to the media, on race day or after qualifying.
"It was a Vettel who was throwing his helmet and throwing tantrums in the Red Bull motorhome a lot.
"I quite like Seb," Windsor insisted.
"I remember doing an event with him in Milton Keynes and Mario [Andretti, 1978 World Champion] had flown over, presenting something on behalf of a TV station, and the first thing Seb said to Mario was, 'wow, you were on pole for your first grand prix!'
"I thought that was kind of nice that he knew that.
"But then again, there are odd things about Seb because, when he was at Ferrari, he did an intro to the Austrian Grand Prix for the media and talked about the heritage of Austrian drivers and talked about Niki Lauda and Gerhard Berger – and never mentioned [1970 World Champion] Jochen Rindt.
"Which I thought, for somebody that in theory cares a lot about the heritage of the sport, it seemed so odd that he wouldn't mention Jochen. I thought maybe it's because he was talking about Austrian Ferrari Formula 1 drivers, but don't forget Jochen won Le Mans in a Ferrari.
"I'm slightly confused by Sebastian Vettel really. I'm not confused about him as a driver, I'm just confused about him as the Seb that I knew and the Seb that he is now.
"A very different guy."