Vettel 'one of the most amazing people I've ever met'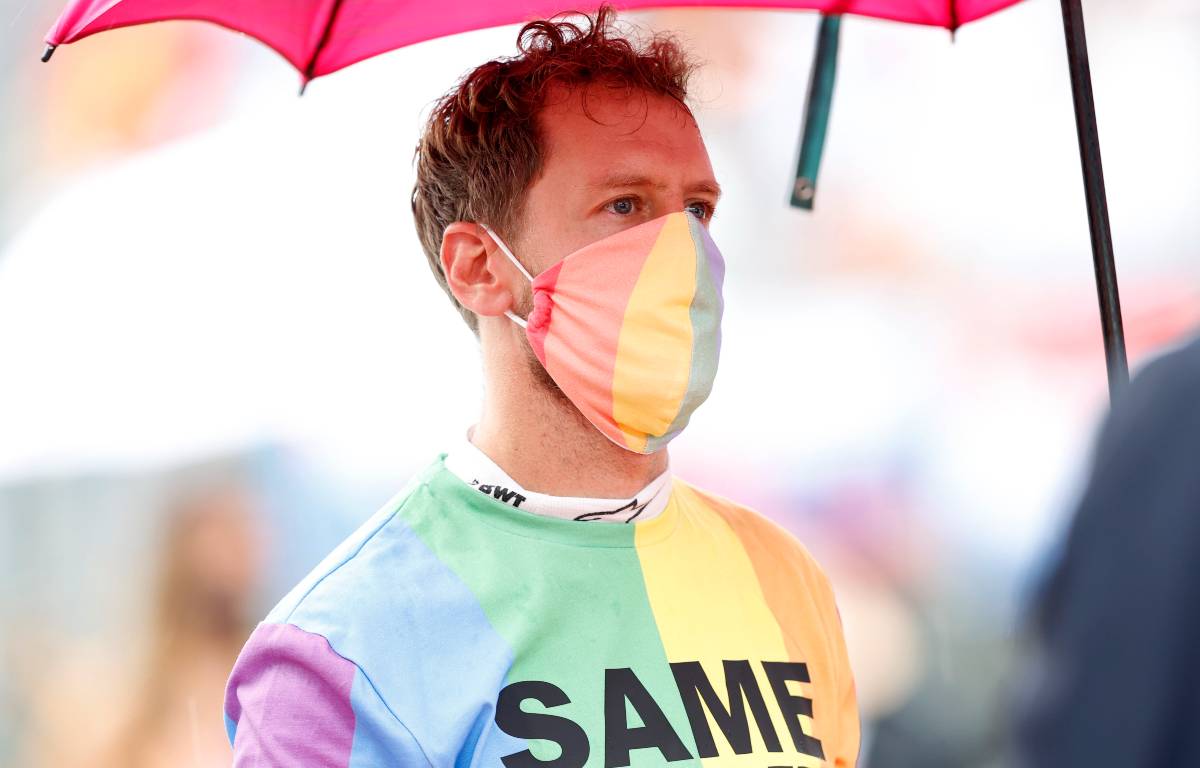 Four-time World Champion Sebastian Vettel has been praised for his work off the track with a W Series driver describing him as "one of the most amazing people I've ever met."
Having exploded onto the F1 scene more than a decade ago much of Vettel's early reputation was based on his relentless desire to win.
After joining the Red Bull senior team in 2009, the German went on to win four consecutive Drivers' Championships from 2010 to 2014.
In 2015, Vettel moved to Ferrari and while his time on track may not have been as successful as his Red Bull days, he began to grow a reputation for the work he does off track.
Vettel is known to be a strong campaigner for causes he believes in.
He has frequently worn T-shirts promoting LGBTQ+ rights before races and has spoken passionately on his desire to help protect the environment. After the British Grand Prix in 2021, Vettel was pictured clearing rubbish from the stands.
After a tough race, Sebastian Vettel stayed behind with a group of fans to help the clear-up at Silverstone ❤️pic.twitter.com/16EIzzHVAL

— Formula 1 (@F1) July 19, 2021
Before the much-criticised Saudi Arabian Grand Prix, he held a womens-only go-kart race to promote gender equality.
Recently, he led the way in his opposition to Russia's invasion of Ukraine and declared that he would not race there.
"For myself, my own opinion is I should not go, I will not go," Vettel said.
"I think it's wrong to race in that country. I'm sorry for the people, innocent people who are losing their lives, getting killed for stupid reasons under a very strange and mad leadership."
F1 bosses soon removed the race from the 2022 calendar and announced on Thursday that they had cancelled the contract with the Russian Grand Prix.
Vettel's work has earned him praise from W Series driver Jessica Hawkins.
Hawkins, who is also an ambassador at Vettel's current team Aston Martin, spoke of her admiration for the four-time World Champion.
"He is, hand on heart, one of the most amazing people I've ever met," she told talkSPORT.
"He is using his brand to express how he's feeling and everything he does, he does because he genuinely means it, he's not doing it for show, he's not doing it for anything other than he truly believes in what he stands up for.
"To have a role model like that, not just for me, but for everybody in the sport is amazing and genuinely I cannot express enough how amazing he is."
Vettel's on-track rival Lewis Hamilton was also praised by Hawkins for his work on promoting equality.
"Any top level sports person to speak out like they have done is incredible and they're doing what they can while they're in their prime to make change," she said.
"We need figureheads like that because they are the people in the public eye and if they're willing to make that step and make that change that's what we need in the sport.
"From when I first started, when I first had a go in a go-kart I could name two other names of females that were involved in motorsport or certainly ones I was racing around with anyway.
"We are seeing more females within the sport, not just drivers, but mechanics, engineers, strategists, marketing, and all of these people have a genuine interest in motorsport.
"I do think that is because we now have a few figureheads and we do have people speaking out and I think that we're changing the perception."
Vettel's strong stance must be followed
Sebastian Vettel's strong stance should be followed by others.