Bourdais takes aim at 'poor sportsman' Perez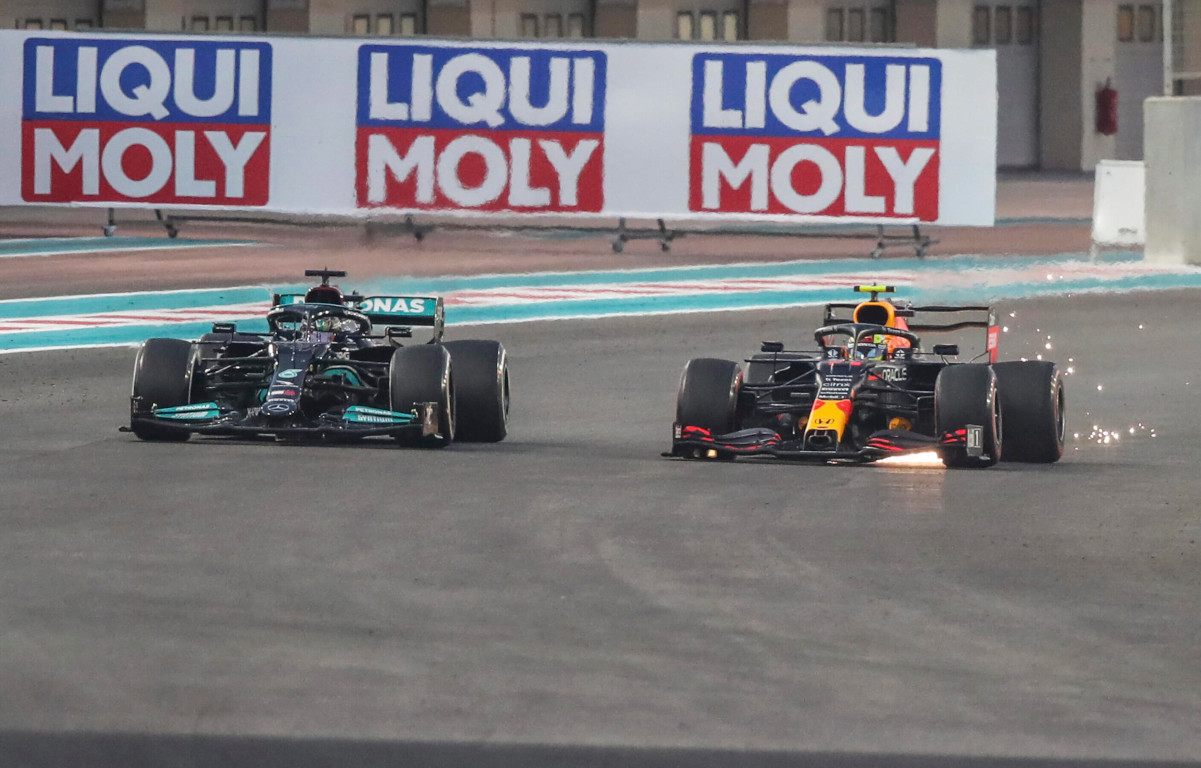 Former F1 driver Sebastien Bourdais has accused Sergio Perez of "zero sportsmanship" after he purposely slowed down Lewis Hamilton at the Abu Dhabi Grand Prix.
Hamilton was the in-form driver at the season finale in Abu Dhabi, the Mercedes driver needing to beat Max Verstappen to retain the Drivers' Championship title.
Hamilton made a flying start and was comfortably ahead of Verstappen, up by eight seconds, when he came up behind Perez who had yet to stop.
Red Bull opted to leave the Mexican driver out for a long first stint in order for him to hold up Hamilton as Verstappen needed help in closing the gap to his title rival.
Perez did that, acting as a moving bollard.
He not only kept Hamilton behind him but slowed him down, Verstappen 1.5sec behind the Briton when Hamilton eventually made his way past Perez.
Verstappen called his team-mate a "legend", with pundits also impressed with Perez's defensive driving.
LAP 21/58

Epic stuff at the front as race leader Sergio Perez battles hard to keep Lewis Hamilton frustrated

Hamilton eventually gets past to take P1, but his lead over Verstappen is cut to two seconds

"Checo is a legend" says Max over team radio #AbuDhabiGP 🇦🇪 #F1 pic.twitter.com/Thc5IPQV09

— Formula 1 (@F1) December 12, 2021
F1 journalist Will Buxton tweeted: "The Red Bull just doesn't look like it's got the race pace to keep up with Mercedes as Verstappen slips back again, but my word what an incredible piece of defensive driving from Perez. Sensational."
His comment, though, angered former F1 driver Bourdais.
He replied to Buxton: "I thought you loved racing, that was BS.
"I can't begin to understand how Perez can be happy with himself and how people applaud him for what he did.
"Purposely slowing down and using every dirty trick to impede Hamilton. Zero sportsmanship, from the whole team really."
Bourdais later added: "They completely sacrificed Perez's race to put him in that position. Losing purposely seconds per lap to impede, look again…he wasn't trying to stay ahead but only slowing Lewis as much time as possible."
But as Buxton pointed out, that is part of the game.
"It's fair game," he said. "You know that.
"Did you mind Fernando (Alonso) fighting Lewis in Budapest to enable Esteban (Ocon) a bit of breathing room? Sure, this was more extreme but teams deploy this tactic all the time.
"Just usually doesn't work quite so well because the faster car breezes past."
After Hamilton overtook Perez he again pulled away from Verstappen, the race ultimately decided by a late-race Safety Car and Verstappen's lap 58 pass for the win.
He clinched the World title, praising Perez.
"I think without Checo I wouldn't be sitting here right now, because then they would have had a pit gap with the Safety Car and stuff, so definitely Checo was driving incredibly," said the 2021 World Champion.
"You could see he really means it and he means well and it's very rare to have a team-mate like that and again, it just showed he was a team player and I really hope we can continue this for a long time."
PlanetF1 Verdict
Is Sergio Perez a good sportsman?
Sebastian Bourdais believes that Sergio Perez has zero sportsmanship after purposely slowing down Lewis Hamilton.