Sergio Perez beating Max Verstappen won't be the 'regular performance pattern'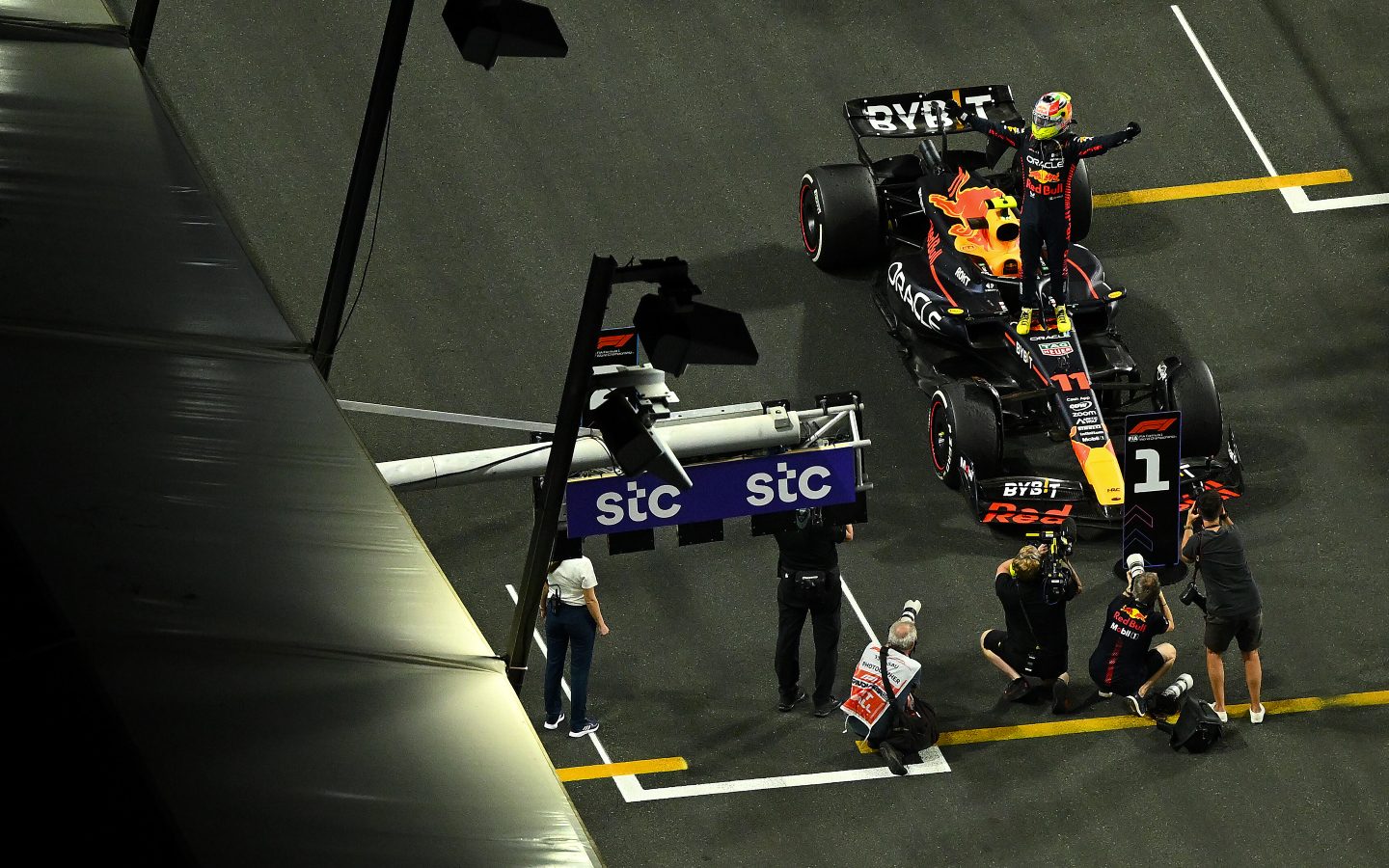 BBC's Andrew Benson doesn't believe Sergio Perez will be able to make a habit of beating Max Verstappen, despite his strong drive in Saudi Arabia.
Perez defeated Verstappen in a tense battle at the Jeddah Corniche Circuit, with the Mexican driver holding firm with a five-second lead that Verstappen was unable to eat into during the second half of the Grand Prix.
It's the first time in their stint as team-mates that Perez has led home a Red Bull 1-2, with Verstappen revealing his unhappiness about Red Bull's lack of reliability after the race – his driveshaft failure on Saturday dooming him to start the Grand Prix from 15th on the grid.
But, despite Perez soaking up the pressure from a pursuing Verstappen behind, Benson believes there isn't much hope of Perez being able to keep up such performances over the course of a season.
"Just to keep this drive in perspective, yes, it's been great," he said on the BBC's Chequered Flag podcast.
"But Perez was really good in Saudi Arabia last year – he was really unlucky with the timing of the Safety Car in Jeddah in last year's race that cost him first place. Who knows… maybe he would have gone on to win that race if that hadn't happened.
"I don't think this is going to be the regular performance pattern that we see between the two Red Bull drivers. Maybe there's going to be the odd race where Perez is there or thereabouts with Verstappen but, by and large, I think we all know that Verstappen is going to be the dominant driver of those two – why would it be any different from the last two years?"
PlanetF1.com recommends
Toto Wolff argues Alonso's Jeddah infringement was 'the technical violation' from Ocon in Bahrain
Are Red Bull cracks widening with Sergio Perez calling for a 'review' of communications?
Nico Rosberg: Lewis Hamilton had 'team-mate just beat me face' in Saudi Arabia
Podcast host Jack Nicholls put to fellow guest Alice Powell that, given Verstappen was only five seconds behind Perez with half the race to go, one might have imagined the reigning World Champion would have closed the gap.
"100%, you definitely do," she said.
"I'm sure that's drifted in Perez's mind at some point, but he certainly then tricked it quickly out because they were just swapping best lap times all the time – Perez would do a purple sector, then Max would respond, and so on and so on.
"I think it was a good job by Perez because, at this circuit, to try and be consistent as we did see the time fluctuate a little bit from both drivers, but it was a great job to hold it there. Max had just been so quick all weekend, a good six-tenths quicker than his team-mate in one of the practice sessions. So he managed to end up matching him – he took it to his team-mate and came out on top."
It was in this fastest lap battle, with Verstappen ignoring team instruction to maintain pace to set the fastest lap on the final lap, that Benson believed the Dutch driver showed his usual ruthlessness.
"That fastest lap battle actually was quite a little bit of tastiness at the end, wasn't it?" he said.
"Because it said an awful lot about Verstappen's mindset – he knew exactly what was at stake. Perez had the fastest lap, he'd finished second in Bahrain behind Verstappen. So Verstappen was about to finish second behind Perez, whoever got that was going to lead the championship heading into the Australian Grand Prix in two weeks' time, and Verstappen was absolutely definite that was going to be him."