Sergio Perez risked Christian Horner silent treatment with Belgian Grand Prix joke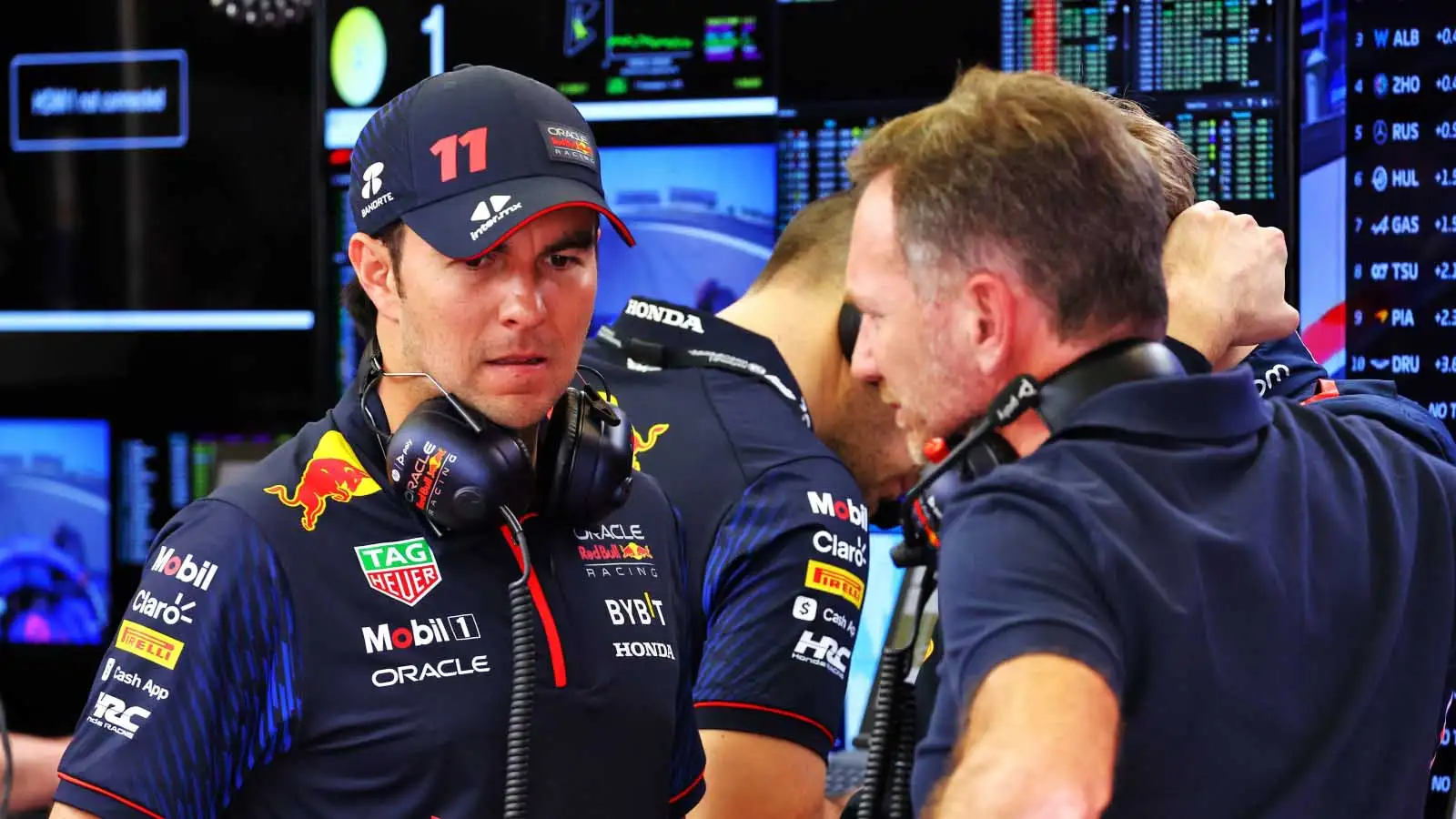 It is a good job Sergio Perez qualified in the top three in Belgium, otherwise he would have been getting blanked by Red Bull team boss Christian Horner.
With Red Bull's runaway Championship leader Max Verstappen facing a best-case scenario of P6 on the Belgian GP grid due to a five-place grid penalty for a new gearbox, Red Bull needed Perez to deliver with qualifying pace having proven to be a shaky topic for the Mexican racer in recent months.
Additional reporting by Sam Cooper and Thomas Maher
Perez did though ensure his place on the front row, qualifying P3 to improve to P2 on the grid, while Verstappen lined-up P6 having dominated qualifying, going on to do the same in the race.
Sergio Perez avoided Christian Horner silent treatment
After securing his P2 grid slot, Perez was heard over team radio saying: "You'll talk to me now," in response to Horner's congratulatory words.
Perez then, when speaking to media including PlanetF1.com following Sunday's Grand Prix, which he finished P2, would explain what exactly his response meant.
"It was a joke," Perez confirmed.
"He came before qualifying and said 'if you're not in the top three I will not talk to you the rest of the weekend'. So he was talking to me the rest of the weekend."
PlanetF1.com recommends
F1 points all-time rankings: Where do Hamilton, Verstappen and Alonso feature?
Most F1 wins by engine: Ford still surprisingly high ahead of F1 return with Red Bull
Horner also commented on that joke he shared with Perez, his version being that the requirement for Perez was that he made the top five on the grid.
And thankfully he did, as if he had not have done so, then Horner's conditions of the joke were a little more severe than simply not talking to him.
"I told him that I wasn't going to talk to him if he wasn't in the top five and I'd squeeze part of his anatomy if he wasn't," said Horner.
"It seemed to do the job. So we'll have to try it again in Zandvoort!"
Verstappen goes into the Dutch Grand Prix at Zandvoort, his home race, 125 points clear of Perez at the top of the Drivers' Championship as he goes in search of his ninth win on the bounce and Red Bull's 14th in a row following the summer break.
Read next – Belgian GP driver ratings: Ferrari surprise and Red Bull redemption for Sergio Perez?