Perez reacts to 'irresponsible' COVID-19 comments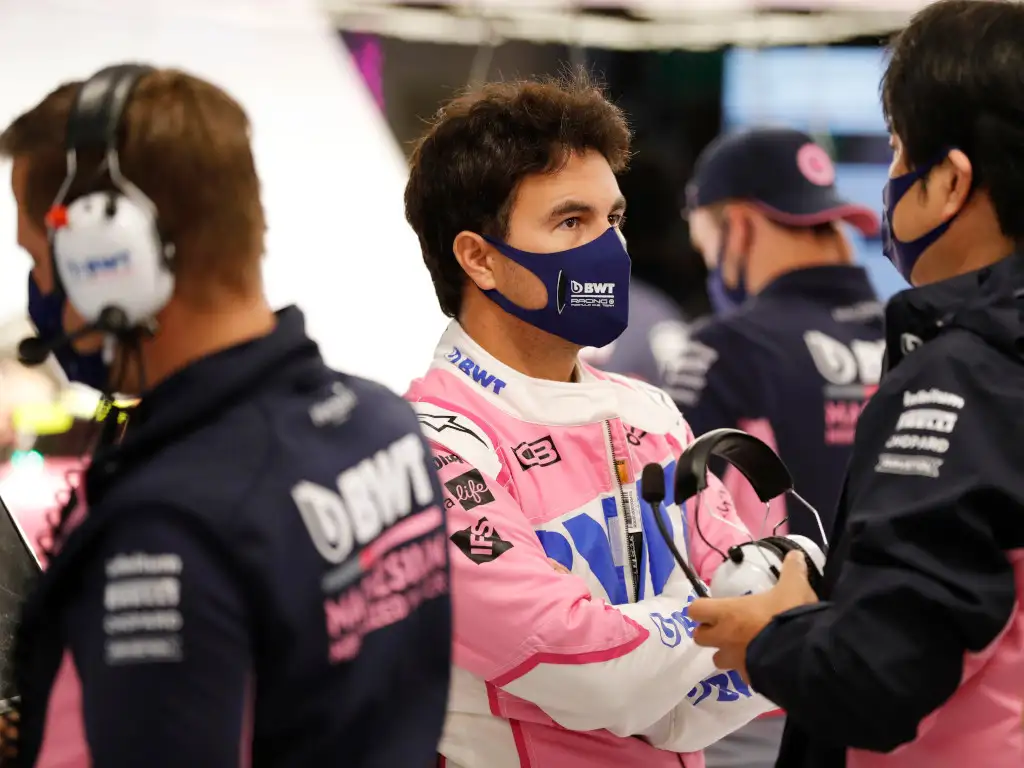 Sergio Perez has taken offence to the opinions being expressed about his actions after he tested positive for COVID-19.
The Mexican driver missed the British Grand Prix after testing positive on the Thursday before the race weekend started, with Nico Hulkenberg being drafted in as his replacement.
Normally Racing Point would have called upon Mercedes reserves Stoffel Vandoorne or Esteban Gutierrez thanks to the deal in place, but Vandoorne is away on Formula E business and Gutierrez no longer has a superlicence.
And Hulkenberg will be in the RP20 again for the 70th Anniversary Grand Prix with Perez yet to test negative again from the virus.
In fact, Germany's RTL claim that the concentration of the virus in Perez's body is now higher than it was a week ago, rather than being on the way out.
Between the Hungarian and British GPs Perez returned to Mexico, saying it was to visit his ill mother.
But, there have been reports that he didn't only do that.
Grandpx.news report that Perez may have met with his Mexican sponsors as four-time World Champion Sebastian Vettel continues to be linked with his seat for 2021 when Racing Point become Aston Martin.
Get your hands on the official Racing Point 2020 collection via the Formula 1 store
Also, Mercedes boss Toto Wolff told Osterreich newspaper: "It may have been bad luck that Perez was in the wrong place at the wrong time.
"On the other hand, I have heard that Checo took a lot of selfies and apparently got together with quite a number of people."
FIA president Jean Todt has also got in on the conversation, suggesting Perez took a risk in returning to Mexico that he perhaps didn't need to take.
"If you do something, you take a risk," he told Autosport.
"We have been applying a code of conduct for everybody, including media, including people working in the administration, in order to minimise the risk.
"It will be [in place] as long as it is needed, [with] very sharp control, and those people who may decide to take a risk, maybe they could avoid to take.
"They may be prepared to have the consequences of the risk in case of a positive test.
"My only strong message I would do, be respectful of the code of conduct, because it can have consequences for you and for people around you. We have to be careful."
Más irresponsable opinar sin saber. Seguí todas las indicaciones de la Fía y mi equipo. No es mi culpa haberme contagiado, mañana puedes ser tu. Llorar por que me corran? Jaja por lo que veo en tu perfil no conoces lo que es trabajo digno. https://t.co/j5wSV5cBKN

— Sergio Pérez (@SChecoPerez) August 7, 2020
But the person who really ticked off Perez is Mexican politician Daniel Ludlow Kuri, who on Twitter said it was "very irresponsible" for him to leave the team "bubble".
"Don't cry when they cut you off from the team," he added.
"It's more irresponsible to express an opinion without knowing," Perez responded.
"I followed all the directions of the FIA and my team. It's not my fault that I got it (the virus) – tomorrow it could be you."
Kuri was of course refering to the rumours that Perez may be replaced at Racing Point, to which Perez responded: "From what I see on your profile, you don't know what decent work is."
Follow us on Twitter @Planet_F1 and like our Facebook page.