'Sergio Perez must fight his corner, almost lay down the law if he wants to beat Max'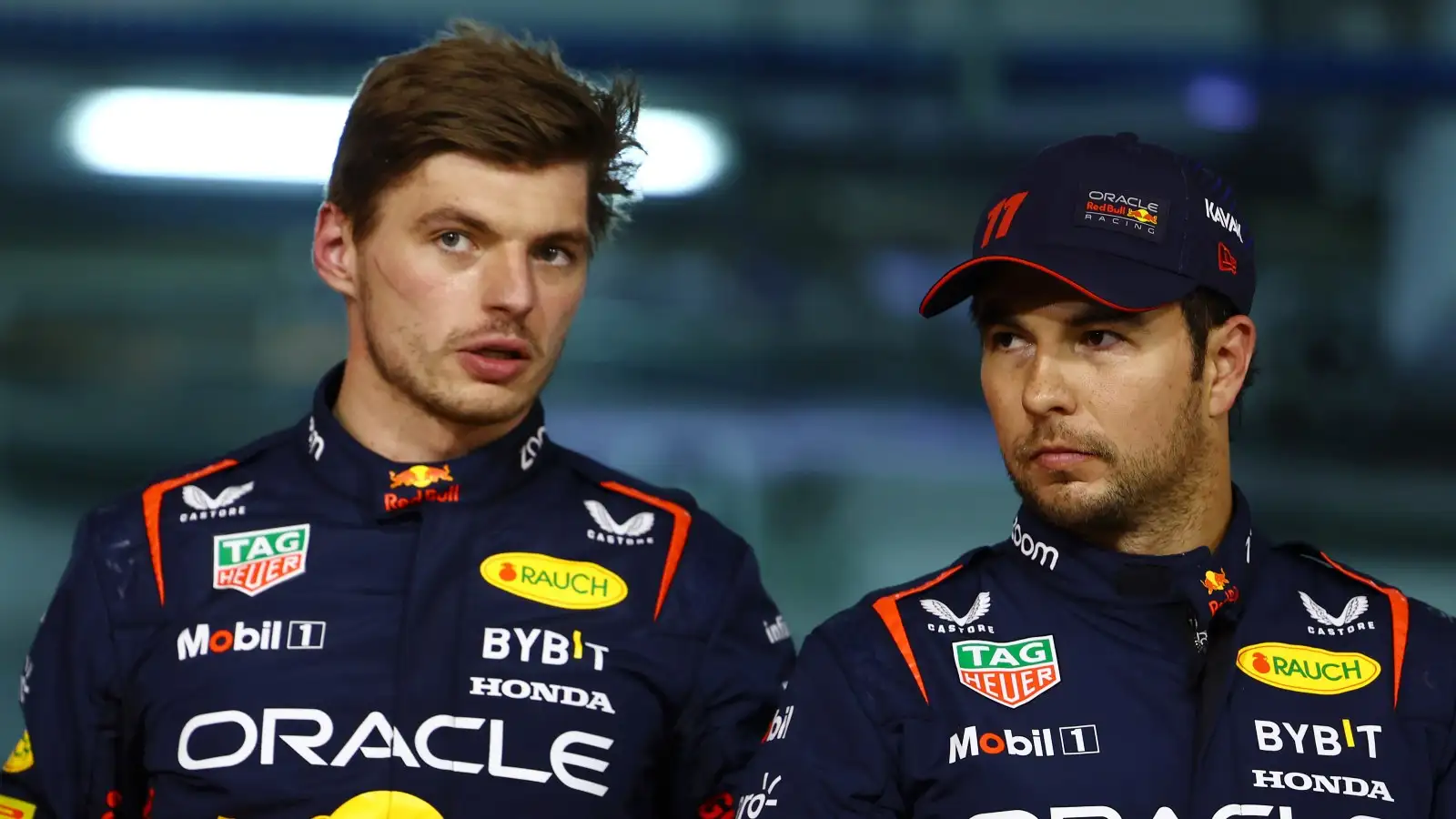 Sergio Perez has to stand his ground if he wants any chance at beating Max Verstappen to this year's World title, with Damon Hill saying he has a "duty to himself" to fight for it.
Two races into the F1 2023 season and it looks as if this year's World title fight will be between reigning World Champion Verstappen and his Red Bull team-mate Perez.
They each have one win and one runner-up result on the board with Verstappen ahead by a single point, having taken the fastest lap away from Perez in circumstances that left the Mexican driver questioning Red Bull's team communication at the Saudi Arabian Grand Prix.
But although Perez lost out on leading the Championship for the first time in his career, he showed at the Jeddah circuit that he does have the pace to beat Verstappen with the Dutchman unable to close the gap in the final stage of the race.
It has 1996 World Champion Hill saying the onus is on Perez to go for it now.
"I think he's got a better chance than anyone we've seen," Hill said on the F1 Nation podcast when asked if Perez can beat his team-mate.
"Max has destroyed everyone that's come alongside him but Checo has proved a little bit more feisty, a little bit more resilient to the tough environment at Red Bull, and prepared to keep smiling but still fighting for what he's there to do.
"He does have a right to compete for a World title.
"He has a duty to himself, every driver has a duty to themselves, and this is where I think it gets very interesting when teams start dictating to drivers what they want them to do."
PlanetF1.com recommends
'Daniel Ricciardo spent a bit too much time on activities out of cockpit rather than in it'
Jeremy Clarkson bemoans 'boring' F1 pace management by Red Bull and Mercedes
Christian Horner blasts rival team for 'underhand' sponsor plot after cost cap breach
'Perez has to fight his corner, lay down the law'
His fellow pundit Tom Clarkson has urged the 33-year-old to stand his ground against Verstappen, and also Red Bull if need be.
The team, as many others have also done, has shown in the past that it backs one driver which was evident during the Sebastian Vettel versus Mark Webber days.
Back then, says Clarkson, Webber had to fight "for everything", which Perez has to do this season if he wants a World title.
"I just hope that Checo has got the fight when it really matters," he said.
"I mean, when you look back over the history of Red Bull Racing, Mark Webber, Sebastian Vettel, yes we were told that they were free to race, but actually it was all about Sebastian Vettel and Mark had to fight really hard for everything. You may remember the radio call at Silverstone 'not bad for a number two driver'.
"Then you fast forward to when Max came into the team, Daniel Ricciardo then became second fiddle. And I just hope that Checo has the voice within the team, but also the fight to really fight his corner, almost lay down the law.
"Just say, 'I really want this and we're going to sell lots of cans of Red Bull in Mexico if I win the World Championship, but please give me a fair crack of the whip'.
"But just when you look at the history of Red Bull Racing, and most racing teams to be fair, most successful racing teams, it always ends up being about one driver, doesn't it?"
Hill agrees: "When one prevails, this is it, you can't have two winners in a team."
'Red Bull sitting pretty because they're going to win'
But while Hill concedes Red Bull may have a preferred driver for the World title, the Briton reckons the team won't mind who takes it as long it's one of their drivers.
"It's intense between the drivers but as far as the team goes they're sitting pretty because they're going to win," he said, "they're going to win the Championship whichever driver wins.
"They might have a preferred driver. It's unusual for teams to particularly hedge in favour of one driver much more than the other. If they're in a position where they're going to come 1-2 in the Championship and win the Constructors' title, then they're quite happy."
That picture, however, changes when it is two team-mates going up against one driver from another team.
"When you've got intra-team rivalry and you're fighting another team for the title, then it gets really interesting," he added.
"So that's what happened with me and Michael [Schumacher]. I was fighting for the Championship, but I was also fighting with David Coulthard within the team. And I couldn't get Frank [Williams] to see sense and say, 'can you just get David to support me, then we've got a better chance of winning everything'.
"But, you know, I can understand from the fans point of view, they want to see a fair fight. They want to see people racing against each other, not be playing games like that."