Sergio Perez 'very lucky' to only receive five-second penalty for SC infringement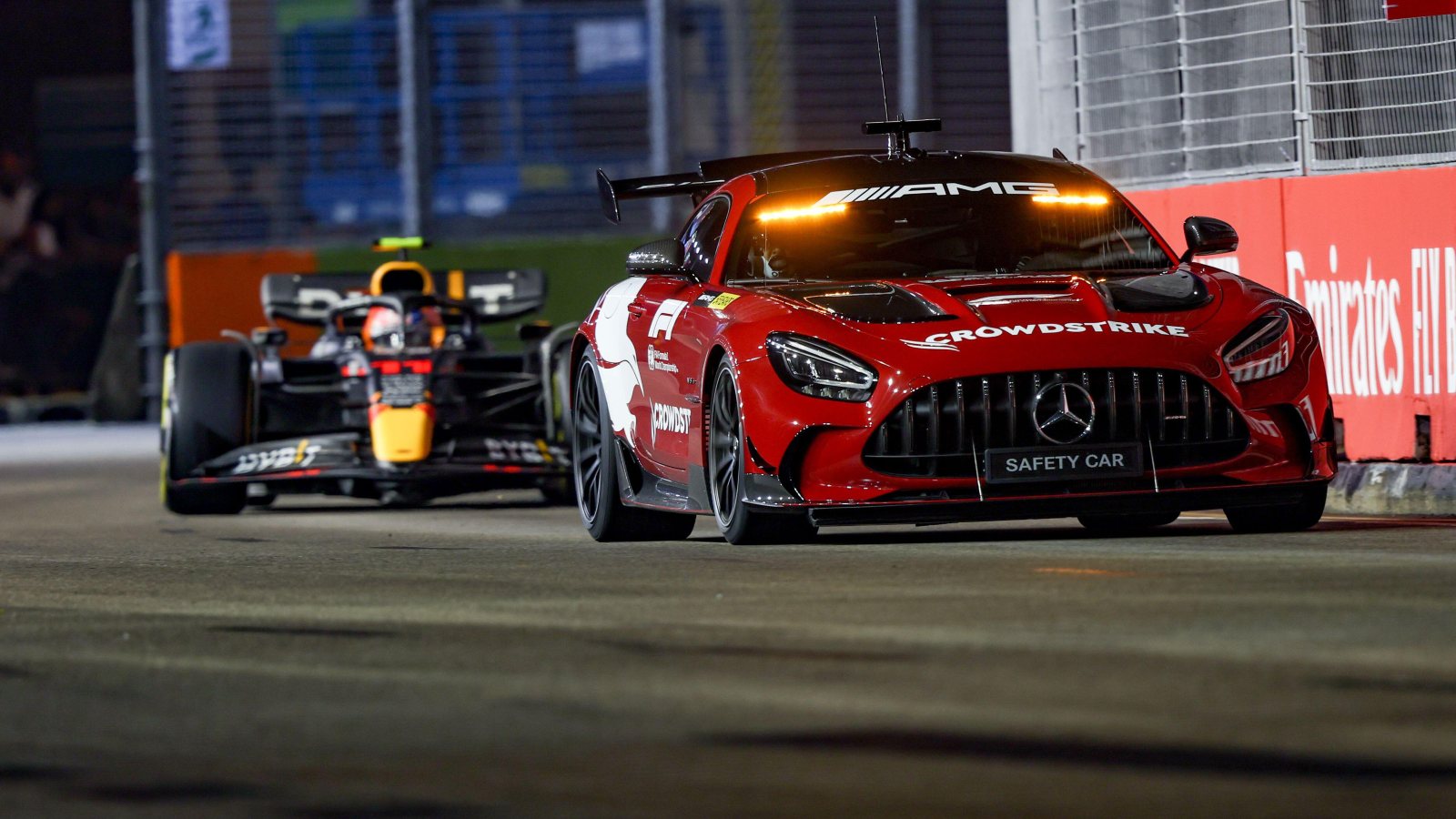 Martin Brundle believes Sergio Perez was lucky to escape with only a five-second penalty after multiple Safety Car infringements in Singapore.
Perez had led the pack through the multiple Safety Car periods in wet-dry conditions on Sunday, but was placed under two investigations for falling more than 10 car lengths behind Bernd Maylander.
These stewards enquiries took place after he crossed the line first on Sunday, but the wait for confirmation of his victory only came nearly two hours after the chequered flag had dropped.
The Red Bull driver went to plead his case to the stewards after being summoned, with the verdict later coming through that he had been given a five-second penalty and a reprimand respectively for his two offences.
News of Perez's post-race investigation came through while the Singapore Grand Prix was still happening, leaving the Mexican needing to scamper away from the chasing Charles Leclerc behind in case he was awarded a time penalty.
King of the Streets 🏆 @SChecoPerez 🚀 pic.twitter.com/xG3Uih9DtX

— Oracle Red Bull Racing (@redbullracing) October 4, 2022
Perez dubbed a 'miscommunication' as the reason why he fell away from the Safety Car on multiple occasions, having also been given a warning for dropping too far behind.
But given that different penalties were applied for multiple instances of the same offence, Ferrari felt Perez should have been punished with a pair of five-second penalties, which would have made Leclerc the winner on Sunday, and Sky Sports analyst Brundle felt he perhaps escaped lightly.
"Is there a greater sporting challenge which demands so much of you mentally and physically along with the personal risk, for two hours?" Brundle questioned in his post-Singapore Sky Sports column.
"Mind you, on a historical basis Sergio was very lucky to only receive a five-second penalty for a second infringement of not keeping within 10 lengths of the safety car while leading the pack.
"Presumably he was able to convince the stewards that on cold tyres and tricky conditions, and with the ebbing and flowing of the safety car and F1 car speeds it was all acceptable.
"And so, quite a while after the race, it was confirmed as a victory any F1 driver in history would like to have on their CV, such was the challenge and intensity.
"Sergio occasionally goes on the missing list for a couple of races, but when challenging opportunities arise he's the man with a plan and a calm mature head."
Read more: F1 cost cap: Red Bull's 'major breach' rumour a result of 'mischief making'