Red Bull's theory on the cause of Sergio Perez's brake fire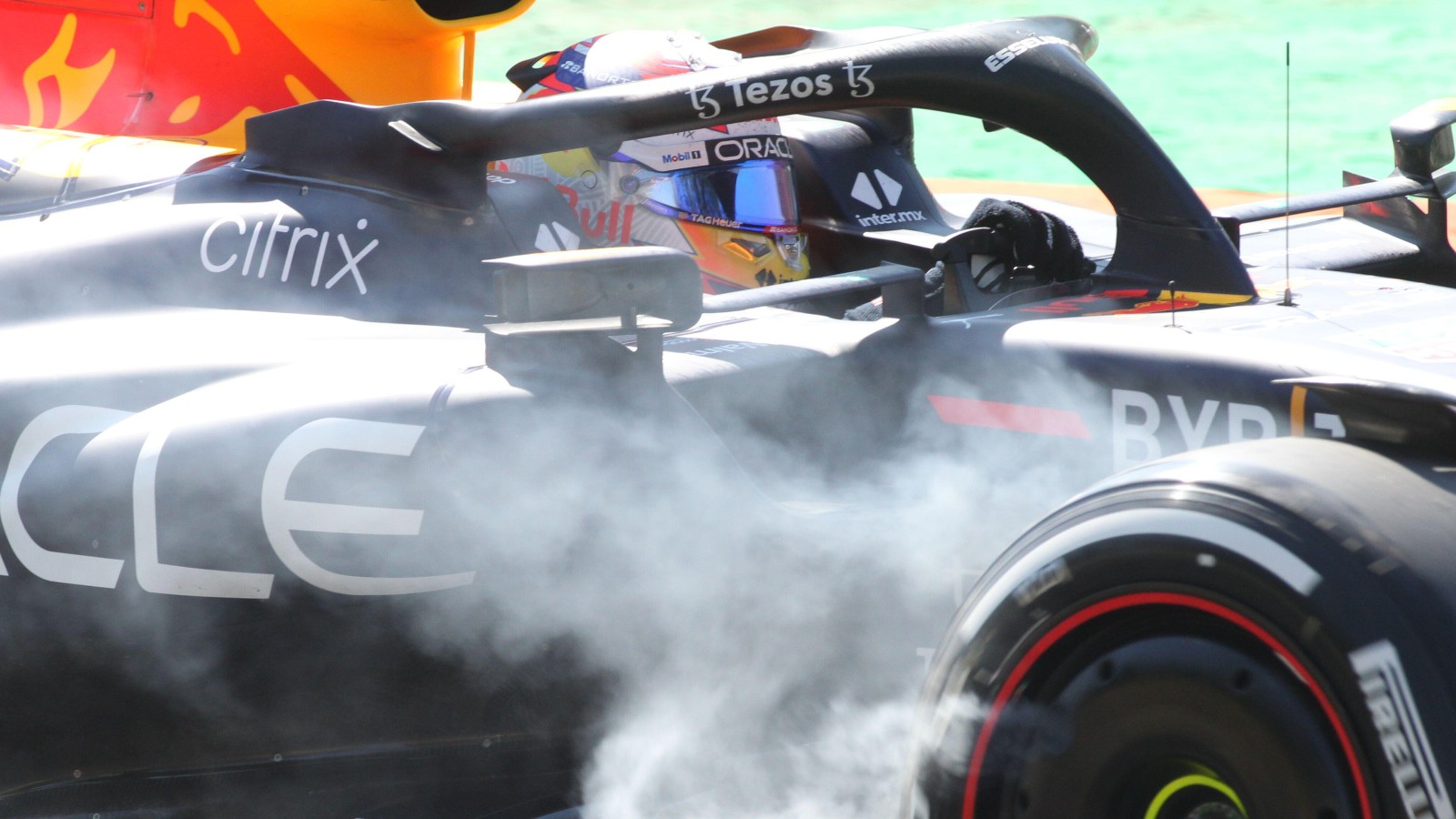 Red Bull principal Christian Horner says that some debris caught in the brake duct was behind the Monza fire for Sergio Perez.
Perez already had a tricky race ahead at Monza as he started the Italian Grand Prix from P13, part of a group of drivers taking power unit-related grid penalties.
His afternoon would quickly become more troublesome though when smoke could be seen escaping from the right-front wheel, Red Bull calling him in for an early pit stop.
As smoke turned to fire, it looked like Perez's Italian GP was done, though he was able to continue, finishing the race in P6.
Despite this representing a decent recovery driver, he nonetheless branded his Italian Grand Prix a "mess".
"It was a mess, my race," he told Sky Sports F1. "It all started with the front right disc early on and that really compromised our race because we had to 'box' pretty early.
"Then the first laps on the hard tyres I had to lift and coast like crazy to bring them (the brakes) back to temperature. Because otherwise I think we could have retired the car. I spent a few laps with the right disc on fire a bit, so it wasn't ideal and I think at the end I could have got to the end with the hard tyres, but we had to stop."
Horner has now commented on what caused said fire, believing that some debris had become lodged in the brake duct, though temperatures dropped back down to a normal level once Perez was back out on the track and had burnt that debris off.
Red Bull's team boss said Perez had been pitted due to a lock-up on the opening lap, with the tyre vibrations starting to enter a dangerous territory.
"Checo, on the first lap he had a big lock-up and then he had a massive vibration as a result," said Horner, as per GPFans.
"We were starting to get into the danger zones in our threshold. So that is why we pitted him onto the hard.
"It looked like some debris got into the duct which is why that front right was smoking so much.
"Obviously, it took some time to burn that off over the next couple of laps and then the temperatures came back under control."
If the Italian Grand Prix had not ended behind the Safety Car, a result of Daniel Ricciardo's retirement, then Horner thinks Sergio Perez had the pace to attack Lewis Hamilton for P5 and look to improve his finishing spot by one place.
"He was able to push on and his pace was great," said Horner. "I think he would have caught Lewis in those remaining laps."