Perez 'sacrificed half a second' to help Verstappen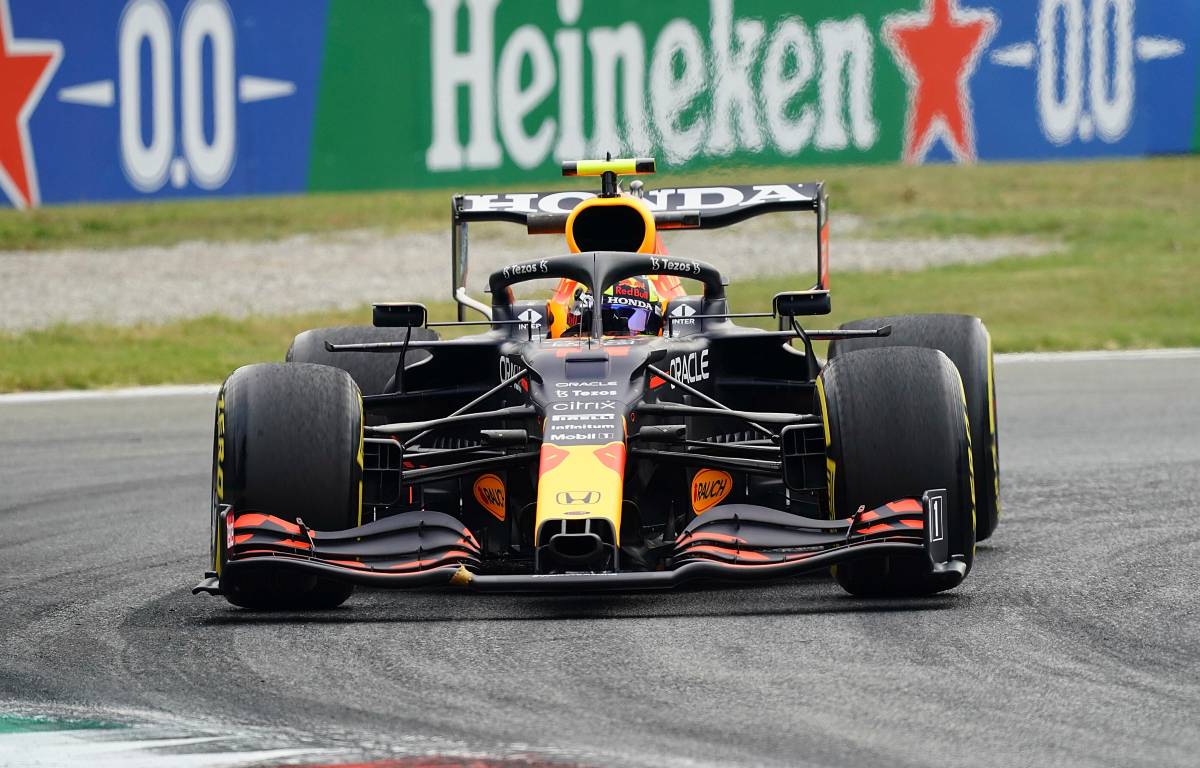 Red Bull boss Christian Horner said Sergio Perez gave up half a second in providing a vital tow to team-mate Max Verstappen.
As Mercedes settled into dominant form during the opening two sessions of qualifying at the Italian Grand Prix, Red Bull were struggling as McLaren threatened to deny them a place on the second row.
Ultimately though Verstappen was able to secure P3 for the start of sprint qualifying, though it seems that would not have been possible without Perez's help, who allowed his team-mate to pick up a slipstream down that long Monza main straight.
The magnitude of Perez's sacrifice was made clear by the fact he will start sprint qualifying from P9.
"I have to say, Checo played a key role as a team player today to give his team-mate a tow and help Max get into that position, because I think we were vulnerable to the McLarens," Horner told Sky Sports F1.
"Max up there in P3, Checo probably sacrificed half a second. So, he should have been higher than where he is, but we were pretty happy with that result.
"Based on what the deficit was last year, we pretty much halved that gap [to Mercedes]."
Red Bull's driver programme chief Helmut Marko also expressed his gratitude to Perez for his willingness to play the team game.
"We got the best out of it. Great teamwork, thank you to Perez, who gave the tow," he told Sky Germany.
"We are satisfied, we feared that even McLaren would be ahead of us here!"
Three points are up for grabs for the winner of sprint qualifying, and Horner fancies Verstappen's chances from P3, since that is seen as the cleaner side of the grid.
Verstappen will launch directly behind Valtteri Bottas, creating the chance for another tow, while the Dutchman's title rival Lewis Hamilton will be on the other side of the grid in P2, and so will have no car in front of him.
"What's interesting is the run down to Turn 1," said Horner to Sky Sports F1.
"Max is on the right side of the grid, hopefully he can pick up a tow on the run down to Turn 1. So, it puts even more emphasis, I'm sure.
"Lewis would have probably preferred to be on the left [rather] than the right.
"It's going to make it a really exciting sprint race, which of course is effectively the qualifier."
🗣 "That's a good team result, Checo has played a key role today. He did a great job giving Max the tow and allowing him the benefit of a hole in the air." Christian on #ItalianGP Friday 🇮🇹 pic.twitter.com/E0Pt4onrLQ

— Red Bull Racing Honda (@redbullracing) September 10, 2021
F1 TV are offering PlanetF1 readers 10% off both monthly and annual subscriptions! ! In order to claim this fantastic discount, click the following link and use the promo code PLANETF10 at checkout!*
*The offer ends at midnight on September 12 and excludes Netherlands
Perez said his Red Bull RB16B was "really low on downforce" for qualifying, though he is hoping this will leave him in a good place for the main Italian Grand Prix on Sunday.
And while making progress up the order on Saturday during the sprint is his goal, Perez is wary of getting stuck in a DRS train starting from P9.
"We were struggling there, we're really low on downforce," Perez admitted.
"Just trying to optimise the Sunday, so hopefully that can pay us back and then tomorrow in the sprint race, hopefully we can make up some positions and come through the field. The long run looks promising.
"The sprint will be quite hard, because it will be a DRS train very early on, but it's a long race and a lot of things can happen tomorrow."