Perez crashes out before Belgian Grand Prix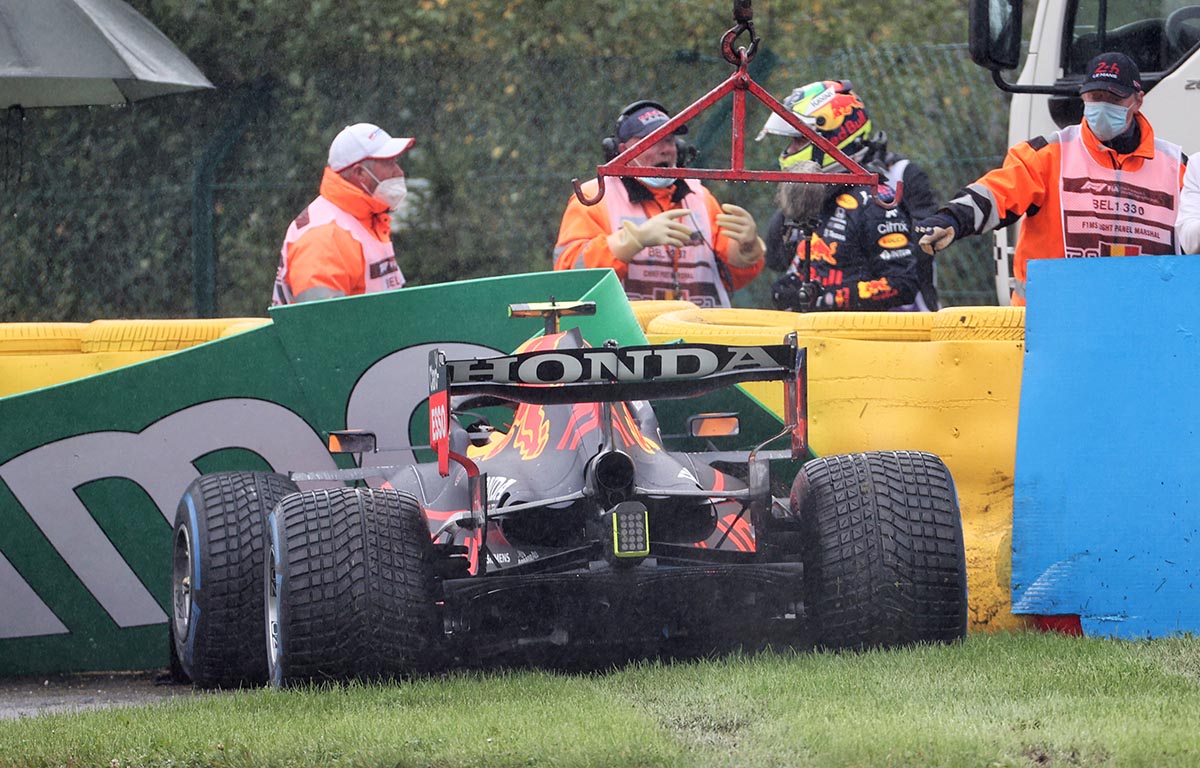 Sergio Perez put his Red Bull into the wall prior to the Belgian Grand Prix, but the rain offered him a lifeline.
The Mexican had cause for celebration this weekend after placing his signature on a new contract with the team for 2022, but the champagne turned flat around 40 minutes before lights out in Belgium.
On his installation lap at a very wet Spa-Francorchamps circuit, Perez dipped his front left tyre onto the kerb, putting him all out of shape and he headed into the barrier at Turn 6.
A total passenger as the slide started, Perez suffered heavy front-right suspension damage as his RB16B ploughed into the barrier.
"Checo, that's us done," said his race engineer, Hugh Bird. "P1. Kill the engine."
Shortly afterwards, Red Bull's sporting director, Jonathan Wheatley, called race control to confirm the news.
"The right-front suspension damage is too extreme for us to continue," he said.
Sergio Perez has gone into the barriers at Les Combes on the warm-up lap#BelgianGP 🇧🇪 #F1 pic.twitter.com/c5VGNpLLr1

— Formula 1 (@F1) August 29, 2021
Red Bull merchandise is available to purchase now via the official Formula 1 store
Speaking to Sky F1, Red Bull team principal Christian Horner said: "Obviously very disappointing not being able to take part at the start.
"It just shows how tricky conditions are out there.
"He reported he couldn't really see anything and unfortunately the car just got away from him, so a great shame for Checo and the team not to be starting the race."
Red Bull's driver programme boss Helmut Marko accepted the conditions were "borderline" to go racing, but argued that Perez's pre-race crash was unacceptable.
"He says he got aquaplaning out of the sudden and lost the car," said Marko.
"The conditions are certainly borderline, but something like this shouldn't happen on the warm-up lap."
For Red Bull, it was the worst possible scenario as they head into the Belgian Grand Prix desperate to regain ground on title rivals Mercedes.
After scoring only two points across the British and Hungarian GPs, Red Bull conceded the lead of the Constructors' Championship to Mercedes, with a 12-point gap forming.
Suddenly though, there was hope for Perez.
The start of the Belgian Grand Prix was delayed due to heavy rain, and after proceedings did get underway behind the Safety Car, the drivers returned to the pits with the race red-flagged due to the conditions.
That created an extra window of time for Perez's car to be worked on, and since he did not receieve assistance in-race, Red Bull jumped on the radio to FIA race director Michael Masi to enquire about getting their driver back in the race.
Wheatley: "Why would that be [that Perez can't restart]?"
Masi: "Because he got outside assistance to get back."
Wheatley: "It's not Le Mans, so I think he can do that and also, mechanical assistance only counts in the race, and the race hasn't actually even started yet.
"Seriously, we could get that car fixed possibly and into the race. I can't think of a reason why not, I'm not coming to you taking a chance."
Masi: "Let me chat to my steward friends, and get them to have a look at it.
Wheatley: "As far as I'm concerned, as we know, the race is yet to start. If he had stopped out on the track and we dropped it off at the garage, or he just managed to limp back, we'd be doing all of this now."
Masi: "That's correct. Let me come back to you on that one, Jonathan."
Asked by Sky F1 about the situation, Horner responded: "Well, we believe that he hasn't had outside assistance – that's what Jonathan is just querying with the FIA at the moment.
"The mechanics are flat out trying to work a miracle. It's a much bigger impact than Max had in Hungary, so at the moment, we're throwing everything at it.
"I hope if the race does restart, who knows, it could be another hour or so delay, we could have him back in the race."
And then, the news which Red Bull had been waiting for arrived.
"Good news, Sergio will be in the pit-lane start."
While Perez did indeed return to the track, the race was sadly abandoned after two laps behind the Safety Car, meaning he would be classified P19.