Perez: 'It's like being with a wife you will divorce'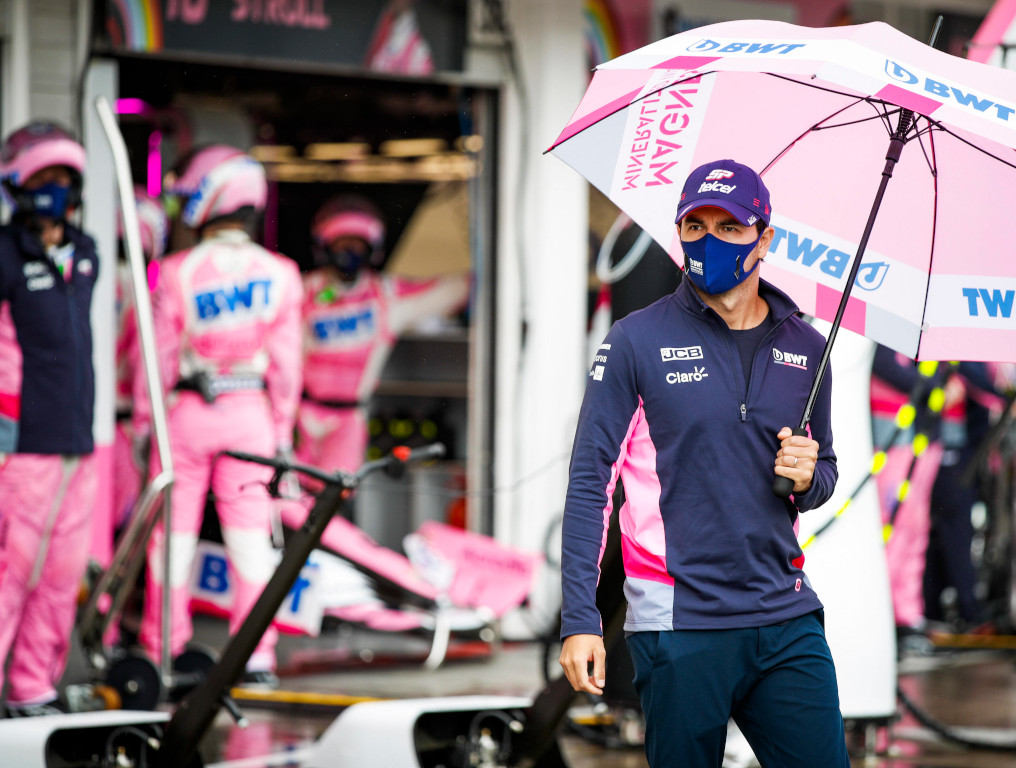 Sergio Perez has compared his situation at Racing Point to being with a wife who you know you will divorce.
Despite many strong performances in 2020, including back-to-back P4 finishes at the Russian and Eifel GPs, Perez will be dropped for the 2021 season with Sebastian Vettel taking his place for when Racing Point become Aston Martin.
It's a feeling Vettel knows well since his Ferrari exit was decided before this season even began, so just how does it feel to drive for a team which you know doesn't want you?
"It's really strange," he said when asked by Channel 4.
"It's like being with a wife that you already know in two months' time you're going to get divorced."
But the Mexican racer said he isn't frustrated with the situation, claiming "it's just part of the game".
"I've been here for so many years before and in similar positions, different positions, it's just part of the game," he explained.
"I come here, I do my job on-track and off-track, I have to make sure that I deliver 100%.
"This team have been tremendous to me. We've been together for seven years, I have a lot of friends here, so I just want to finish my career with them on a high and [make sure] that we always remember our time with a lot of pride."
Racing Point are currently P3 in the Constructors' Championship and have a single podium in their 2020 highlight reel so far, courtesy of Lance Stroll's P3 at Monza.
So, does Perez think Racing Point, who will transform into Aston Martin from 2021, can become a contender for race wins in the future?
"I don't know but I'm leaving [before] next year," he said with a smile.
"I think they definitely have a big potential coming up. I think they're definitely going to be mixing it up with the big boys already from next year onward."
Perez's future post-2020 is currently undecided though. He has been heavily linked with Haas and also talked about as a dark horse for a Red Bull seat.
"There have been some talks with the teams that don't have confirmed line-ups for next year," he revealed.
"And there has been some progress here and there but I don't have anything yet to report, I haven't signed anything.
"I guess in the next month or so I'll be making a decision whether it's here or somewhere else."
Get your hands on the official Racing Point 2020 collection via the Formula 1 store
If Perez was to sign for Haas then he would likely be taking a sizeable step back down the grid, and he admitted that racing in the lower reaches of the pack isn't an attractive proposition.
"I've been here for many years and I've always struggled to have a good car," he said.
"Finally I have a competitive car under me so it's certainly hard to think about going to the back of the grid.
"Then I'm also aware that I don't have many years ahead in that regard, I'm at a different point of my career, I don't see myself racing at the back to be honest."
Perez of course played a vital role in saving the Racing Point team from liquidation in 2018 when they were known as Force India, so to then be chucked out to make way for Vettel must surely leave the Mexican with question marks on whether he even wants to stay in Formula 1?
"Being in this situation you give it a thought, it's also a possibility, so I'm really relaxed on what comes up," he explained.
"I feel that I've been in a really fortunate position as well to have a career in Formula 1. These days it's extremely difficult and I'm proud of that.
"I obviously want to carry on, I'm so hungry, I feel that I'm at the peak of my career, that my next years are going to be the best.
"But I need to be able to find something extremely good to be able to keep going."
Follow us on Twitter @Planet_F1 and like our Facebook page.