Perez relates to Ricciardo's struggles
Dealing with a strong team-mate, new power unit and a very different car to what he is used to, Sergio Perez says he can relate to Daniel Ricciardo's struggles.
Perez is one of four drivers who swapped teams in the off-season, the others being Ricciardo, Sebastian Vettel and Carlos Sainz.
Sainz, it is fair to say, is the one who has adjusted the fastest, leading his intra-team battle at Ferrari while Vettel is also ahead of his Aston Martin team-mate in the standings.
Ricciardo, on the other hand, is the one who is finding it more difficult than the rest.
Perez, who joined Red Bull from Racing Point, relates to the Aussie's struggles.
"We are in a very similar boat in terms of how different our cars and our power units are to what we've been used to," he said in an interview with The Race.
"Having a different power unit is also a different driving style and different techniques, in the race as well. We had to adapt to probably the biggest difference out there."
He added: "It's so difficult to adapt to things because you don't have the time.
"And also you are looking for millimetres of things that will make a huge difference in your performance.
"We're talking about tenths of a second here, and there are just one or two things that you have to fix and all of a sudden, you get the lap time."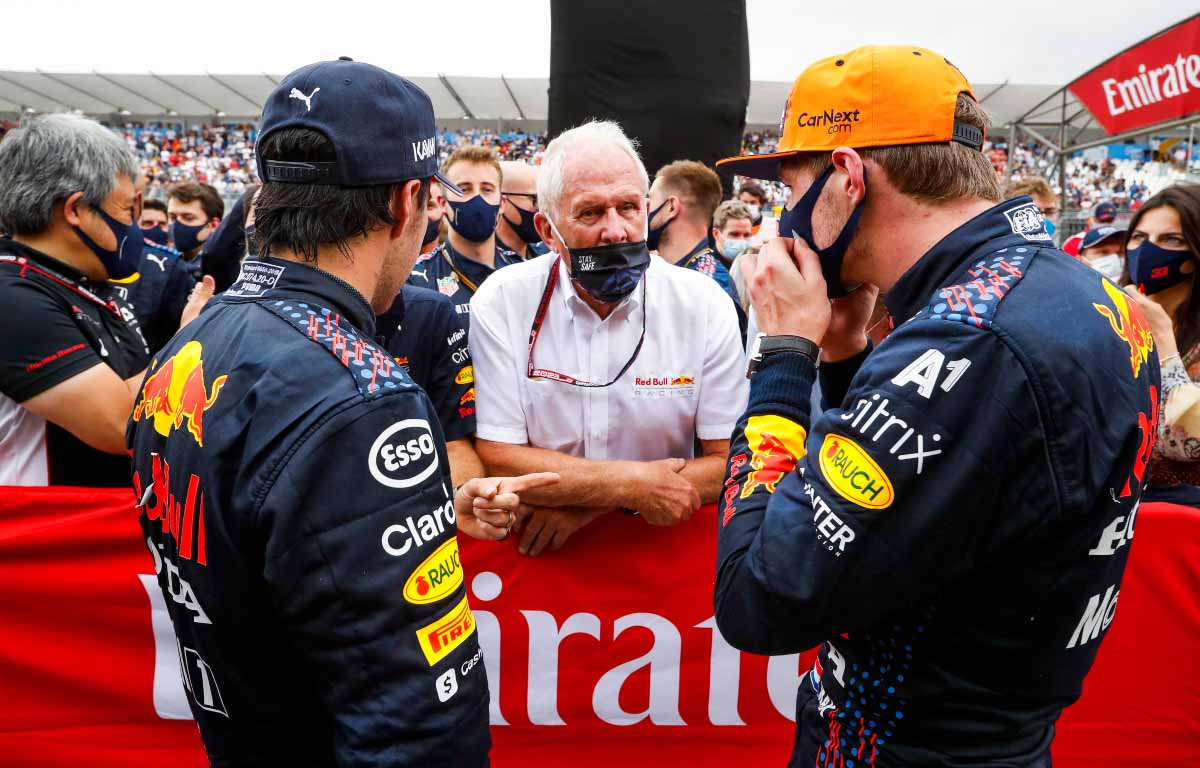 Red Bull merchandise is available to purchase now via the official Formula 1 store
Perez also has the added challenge of partnering Max Verstappen.
The Dutchman has won five races this season to Perez's one, and is in the thick of the title fight, eight points behind Lewis Hamilton. Perez has 104 to his team-mate's 187.
"We cannot take away from Max, he's really at one with the car and he's obviously the fastest current F1 driver on the grid – the most at one with the car, hardly makes any mistakes," Perez said.
"I have a pretty strong benchmark in that regard with him."
He added: "There are obviously some things that he's very comfortable with that he has been used to for the last I don't know how many years.
"But it's just naturally easier. Everything is in the back of his mind so for me it's all consciously having to chip away, think on some things."
And then of course there are the expectations that come with racing for Red Bull.
"I obviously arrived into a team that is able to challenge for the World Championship straight away, so I didn't have that build up into it," Perez said.
"But I'm fine, I'm happy with my improvements. And I think the results are probably worse than the speed.
"It's just a matter of time and I will keep improving. I will only grow with the team from now on.
"I'm very competitive, and I want to do the best for myself, but I also have to be realistic and take the positives, because there are some good positives.
"It's not been so easy this season with the lack of testing, but I still have to take a lot of positives."