'Sergio Perez will not get involved in any topic in which he has to support Verstappen in the future'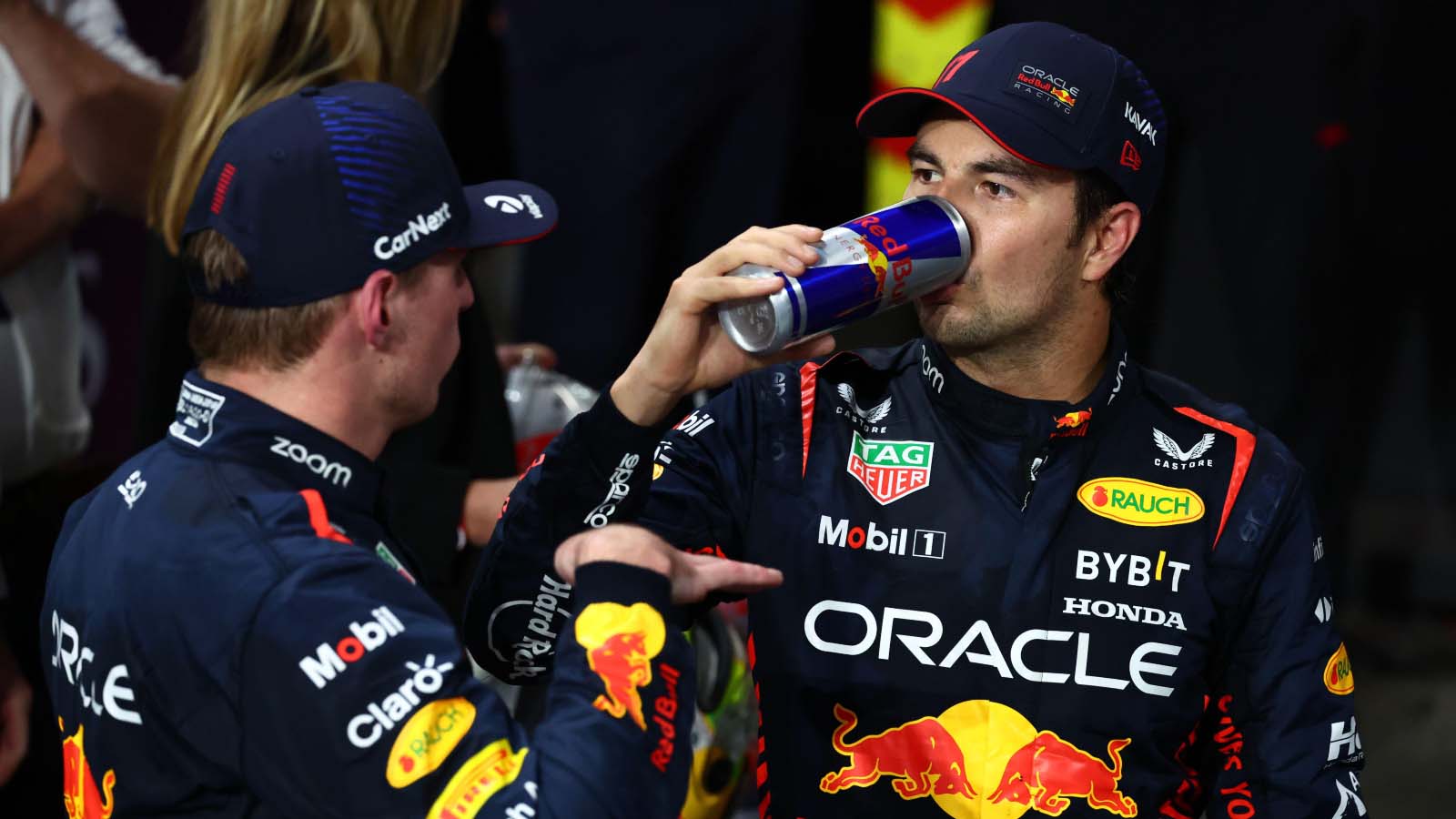 Max Verstappen shouldn't look to Sergio Perez for support, Timo Glock saying that "will not" happen after the Dutchman nabbed the fastest lap point in Saudi Arabia.
Seemingly alone, at least as things stand today, in this year's title fight, Red Bull have already experienced their first moment of team-mate tension as Verstappen ignored target times set by the race engineers to take the fastest lap point away from race winner Sergio Perez at the Jeddah circuit.
That one point meant instead of Perez leading the championship for the first time in his career, Verstappen retained it by a single point over his team-mate.
Heading into the final eight laps of Sunday night's grand prix, Verstappen was told by his race engineer Gianpiero Lambiase to "target 33.0.". GP was met with complete silence.
Over on the either side of the garage Perez, leading by five seconds, was also told to target 33.0 only to then be told to drop it to "32.6".
The driver questioned Hugh Bird's instructions, first asking "is Max doing the same" and then voicing his displeasure at initially being told to run slower than his team-mate.
Also told by his race engineer that he had the fastest lap, Verstappen was having his own conversation with his engineer who told him the team is "not concerned about that at the moment". Verstappen replied: "But I am."
He went for it on the final lap, clocking a 1:31.906, to take the fastest lap point and deny Perez a first-ever P1 in the championship standings.
Sergio Perez 'will not' help Max Verstappen in the future
Glock reckons that could be the end of any sort of co-operation from Perez if Verstappen later needs help in the championship race.
"Verstappen's fastest lap, which he grabbed on the last lap, will again lead to internal discussions," the former driver told Sky Deutschland.
"Sergio Perez will not get involved in any topic in which he will have to support Verstappen in the future. I'm sure of that because the Mexican sees his chance to fight for the title with Verstappen.
"This will lead to a fight between the two. We can expect that there will be friction. Red Bull is certainly already aware of this.
"Perez showed that he is strong and has very good pace in the race.
"At the same time, Verstappen is someone who doesn't allow himself to be told and does what he thinks is right. The team can say whatever they want."
PlanetF1.com recommends
Jos Verstappen: 'Sergio Perez knows he doesn't get chance to win that often'
Are Red Bull cracks widening with Sergio Perez calling for a 'review' of communications?
Ranked: The five possible F1 options facing Lewis Hamilton in order of likelihood
Perez later called for a review of Red Bull's communications with its drivers, the 33-year-old believing they had received "different information" during the grand prix.
Multi-21 and a breakdown in trust
Former F1 driver turned pundit Robert Doornbos reckons the entire situation doesn't help when it comes to trust between the team-mates and likened it to Sebastian Vettel ignoring Red Bull's coded "Multi-21" order to steal a win from his team-mate Mark Webber back in Malaysia in 2013.
"That doesn't help," the Dutchman told Motorsport.com. "That's the best way to refer to that, because you're overruling a team order, which is never good.
"On the other hand, top athletes are selfish to get where they are, the level they are at. And of course you have to work together as a team and not drive your team-mate off, but you always go for your own happiness.
"The confidence that Max has in his abilities, he shows with such a fastest lap time. Perez just listened very well to the team, does his thing and just doesn't want to risk that win.
"But that's the difference between a World Champion and a good grand prix driver."
He reckons Sunday's antics were just the latest in what is now a growing list of issues between the team-mates that started in Monaco last season where Perez crashed and included the Sao Paulo Grand Prix with Verstappen refusing to give a position back to his team-mate.
"Obviously a lot has broken there since Monaco last year," he said, "where Perez also admitted that he deliberately put the car in the wall to affect qualifying. That doesn't sit well with Max and I don't think with his father and the team around Max.
"Then you actually end up in the black book. Then you just always want to beat your team-mate.
"I don't think they are really friends. That is not necessarily necessary to be successful, but actions like this don't help, what Perez has done in the past Max did that back in Brazil so it becomes more embarrassing for the team than anyone else."