Seven in custody after 'incredibly dangerous' track breach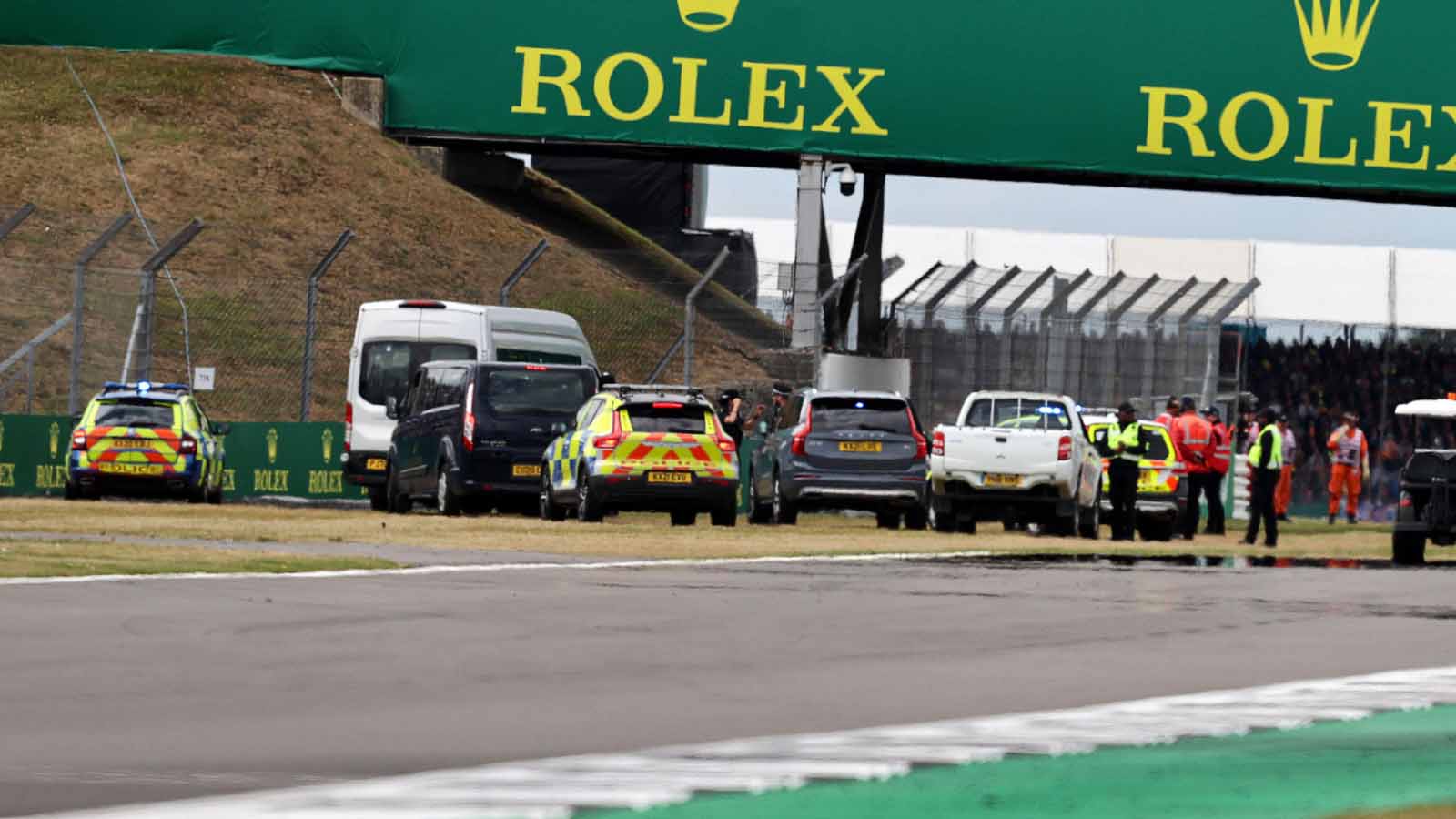 Northamptonshire Police have confirmed seven people have been arrested in a move they believe "put the lives of the drivers, marshals and volunteers at risk" at the start of the British Grand Prix.
Police had already garnered information that suggested climate activists may protest at the race and the seven people, now in police custody, breached the fence and tried to run onto the Wellington Straight on the first lap.
The race was red-flagged in the wake of a massive crash at the first corner, which saw Zhou Guanyu catapulted over the tyre barrier and into the catch fencing upside down – although, thankfully, he was able to walk away relatively unscathed due to the safety devices on his car doing their jobs as intended.
But despite already having put out a statement warning against such behaviour, Northamptonshire Police and marshals had to be on hand to swiftly arrest those involved before they could get to the track.
We can confirm that after the red flag, a number of people entered the track.

All have been removed safely & a number of arrests have been made.

We continue to ask people to be extra vigilant and report anything suspicious to us.#Silverstone

— Northants Police (@NorthantsPolice) July 3, 2022
Chief Inspector Tom Thompson, event commander at Silverstone on Sunday, praised the staff involved for bringing an abrupt end to the protests, while expressing his distate at the actions of those involved.
He said in a statement: "I'm really disappointed this group of people ignored our warnings prior to race day and made the incredibly dangerous decision to enter the track.
"We offered to facilitate a peaceful event at the circuit but they instead chose to put the lives of the drivers, marshals and volunteers at risk. It's incredibly disappointing anyone would make the decision to do this.
"Thankfully we had plans in place for an eventuality such as this and the group were swiftly removed and arrested by our officers.
"All seven are currently in custody, where their details are being ascertained.
"Finally, I would like to thank all of the officers and staff, as well as our partners, who have worked tirelessly on this policing operation. Generally we have had very low crime rates, today's incident was dealt with effectively and efficiently and I couldn't have asked for more."
On the track, Carlos Sainz took his maiden Formula 1 victory in what became a thrilling race at Silverstone, ahead of Sergio Perez and Lewis Hamilton.