Six F1 teams which could have more team-mate tension than Ocon v Gasly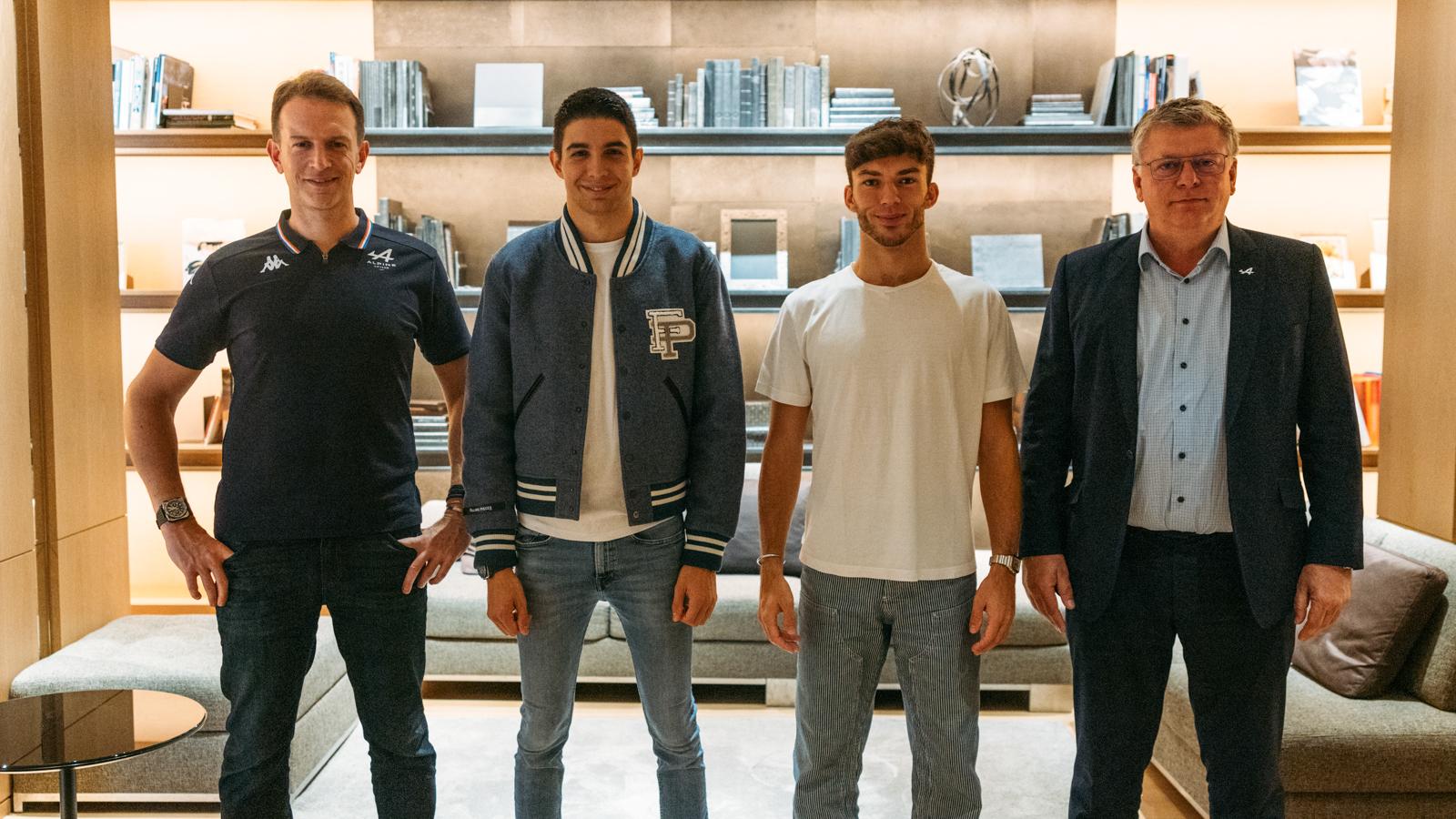 Pierre Gasly against Esteban Ocon at Alpine is one of the big F1 duels we are all looking forward to in 2023, but the new Alpine driver does not see what the fuss is about when their fractious relationship is spoken of.
The two grew up racing each other and have not always got along well, but they will be lining up together in an all-French pairing at France's Formula 1 team next season, and plenty of eyes are going to be on how they work together for the common good at Alpine.
Gasly has been keen to play down any talk of tension between them, however.
"I think this is a subject that is talked about far too often," he told the French edition of Motorsport.com. "We get along well. We may not be best friends, but we can go through a door together.
"When I go over the paddock and the relationships between other team-mates, there are certainly relationships that are worse than ours. If the relationship between Esteban and me needs to be discussed, you can talk about 60 per cent of the paddock.
So with Gasly inviting talks about six other teams in the paddock, we got our heads together for a think about which teams he could be referring to.
Red Bull
After almost two years of relative harmony at Red Bull, Brazil last year saw a flare-up between Max Verstappen and Sergio Perez when the reigning World Champion refused to give Perez sixth place back at the end of the race, when the Mexican had moved over for his team-mate beforehand.
The team insist the relationship was quickly repaired and they have rebuilt the understanding that has brought them such success in the past two seasons, but with Perez looking for success of his own and having been stung by Verstappen, he may not be as readily willing to follow team orders again in future.
This would pose a problem for team politics and, given the headaches Christian Horner had with Sebastian Vettel and Mark Webber during their previous title-winning years, he will be keen to avoid a repeat.
Ferrari
Charles Leclerc and Carlos Sainz have both got along well as Ferrari team-mates so far in their time together, now sitting 1-1 in years finished above each other in the Drivers' standings.
That dynamic could well change if Ferrari decide to back one driver, most likely Leclerc based on the evidence of 2022, for a title challenge this time around.
It has long been known that it is easier to get on with your team-mate when you work to get to the front of the field, but when title glory is in sight and you end up battling each other, that complexion can change entirely. While such tension between Leclerc and Sainz is unlikely, it's one to keep an eye on.
We got a little taste of Sainz's defiance when Ferrari tried to favour Leclerc at the British Grand Prix last year, a race Sainz would go on to win once he told the team to "stop inventing."
PlanetF1.com recommends
Revealed: The top 10 highest F1 points-scorers of all-time using unique formula
The five most entertaining drivers on the F1 2023 grid
Where are they now? The F1 2008 grid for Lewis Hamilton's dramatic first title
Mercedes
In a similar boat to the Ferrari duo, Lewis Hamilton and George Russell worked well together and had precious few on-track tussles in 2022, save for Russell holding off his seven-time World Champion team-mate for a hard-earned maiden victory at Interlagos.
They both looked relatively evenly matched over the year as a whole, Russell winning the first half of the year within Mercedes while Hamilton roared back to peak form after the summer break.
With team orders off the table at Mercedes, if the team are able to leap back to the front with the W14 and fight for wins on a regular basis, do not rule out the tension rising within the garage this season.
McLaren
With Lando Norris and Oscar Piastri forming the youngest line-up on the grid next season, eyes will be on McLaren to see who will come out on top between the young guns.
Piastri's arrival in Formula 1 came under controversial circumstances following the contract wrangle between McLaren and Alpine, but his pedigree in the junior series is second to none – with Formula Renault Eurocup, Formula 3 and Formula 2 titles taken in consecutive seasons before his year on the sidelines in 2022.
Norris largely ruled the roost at McLaren next to Daniel Ricciardo and his reputation has been enhanced dramatically as a result, but seeing how the young Australian shapes up against him will be an intriguing match-up over the course of the year, as well as how well they work together to push the team forward.
Aston Martin
Fernando Alonso's move to Aston Martin may see him have to hold his tongue more than he has in his Formula 1 career to date, given new team-mate Lance Stroll's father Lawrence is now his boss.
He did well to keep quiet after crashing into the back of Stroll's Aston on the back straight in Austin, being launched into the air in the process, as any misgivings he has about the Canadian may not be particularly well received.
Stroll showed against Sebastian Vettel he is no slouch, shaping up relatively well compared to the four-time World Champion in two years together, and how he fares against Alonso will be equally intriguing to watch. Should they come together on track, though, we can probably expect the Spaniard to be a little more diplomatic about things this season.
Haas
The Haas inclusion on this list comes as a result of Kevin Magnussen inviting new team-mate Nico Hulkenberg to "suck my b****" back in 2017 after a coming-together between the two, prompting Hulkenberg to call him "the most unsporting driver" on the grid.
The Dane has tried to play down the idea that the two dislike each other however, as they get ready to form the fourth-most experienced driver pairing on the grid in 2023.
He said they were able to laugh it off when they met up last year, and wants to get to know him a little better.
"We don't really have any relationship, everyone talks about our little thing from Hungary back in 2017. Of course, that's what everyone brings up," he told media including PlanetF1.com.
"But actually, I have a lot of respect for him, and I've said that even before he was going to join our team.
"I have a lot of respect for him as a driver, I don't know him as a person yet. I'm going to get to know him, and I'm looking forward to that."
But with past history between the two, you just never know…