'Bottas not so good at races, but ideal team-mate'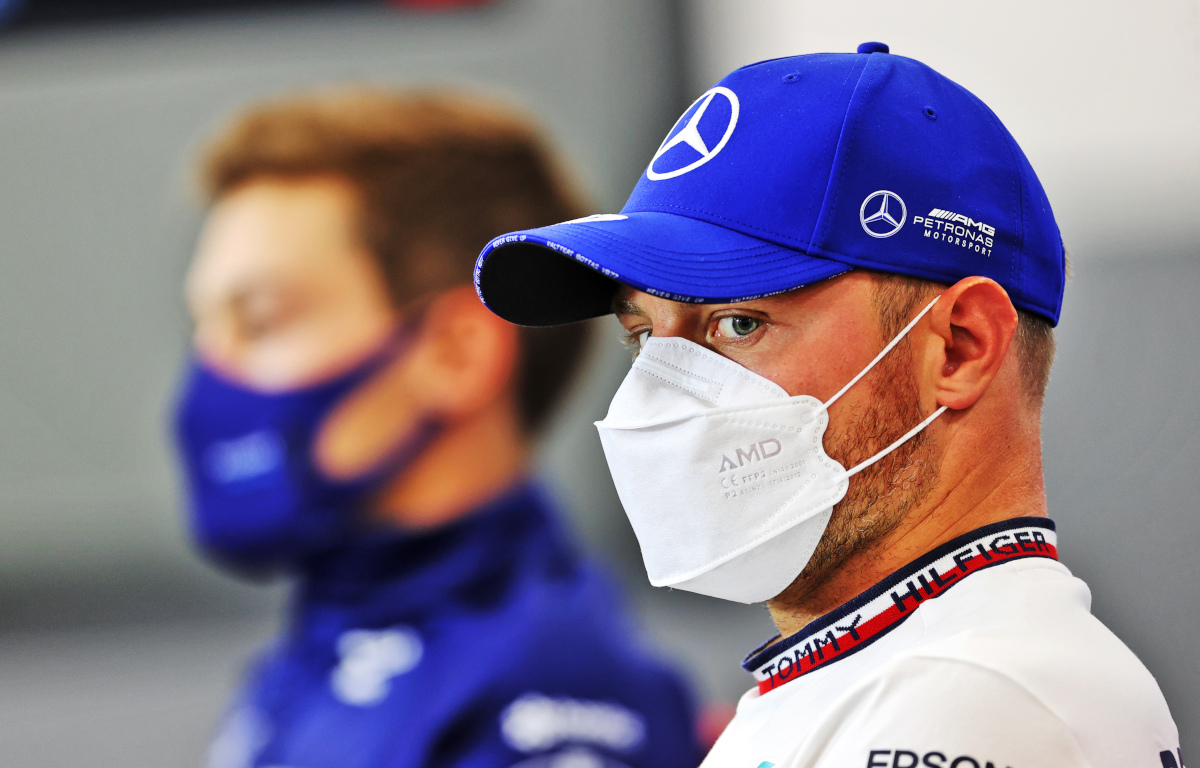 With just nine wins during his stint at Mercedes, Karun Chandhok says Valtteri Bottas is not that good when it comes to races, but Paul di Resta feels that makes him an "ideal" team-mate.
Having decided to delay announcing Hamilton's 2022 team-mate, Mercedes have given pundits a few more days, or even weeks, to speculate about which way the Brackley team's bosses are leaning.
Bottas is up against George Russell for the race seat, both coming with pros and also cons.
In Bottas, Hamilton has a proven number two who is willing to sacrifice his race for his team-mate while with Russell, it would be a young pretender who, many believe, would pose more of a threat on race Sundays.
"While Bottas is very good in qualifying, he's not when it comes to the races," former F1 driver Chandhok told Sky Sports.
"Just look at that one Bahrain race that George did alongside him, George broke the DRS and drove away from him.
"I listen to 'he's apolitical', and 'it's good for Lewis to have him there', but I think you have to look at the bigger picture and the long term, and I'm sure that's what they're looking at."
He does, however, concede that a Russell/Hamilton partnership has the scope to set off some "fireworks", which would be great for Formula 1 but potentially not so good for Mercedes.
"Russell and Lewis has got all the makings of Fernando and Lewis at McLaren in 2007," he said of that ill-fated year when the Woking team-mates lost the title by a single point.
"You can see the young pretender coming in against the established World Champion and some fireworks there, which frankly for all us on the sidelines could be quite good to watch!"
F1 TV Pro is half price for two months! In order to claim this fantastic discount, click the following link and use the promo code SPA50 at checkout!*
*Offer expires at 23:59 on Sunday, August 29. Offer only available on Pro. Customers will need to take out a monthly subscription and this offer can only be redeemed on web. Offer not available in NL, FR or NZ.
Valtteri Bottas and George Russell are giving nothing away, but Ralf Schumacher says it would be "incomprehensible" if Mercedes left their driver line-up unchanged next season.https://t.co/UFmFnvRtf2 #F1 pic.twitter.com/i3HaDhTd6k

— PlanetF1 (@Planet_F1) August 26, 2021
Paul di Resta, though, fears announcing Russell as Hamilton's 2022 team-mate could cost Mercedes this year's championship titles.
While he agrees with Chandhok that Bottas is not as good on a Sunday as he is in qualifying, he reckons that's not necessarily a bad thing for Mercedes.
"Lewis is going to probably be the most successful ever in Formula 1 for a quite some time and Valtteri is a guy who 25 per cent of the time can outqualify him," said the Scot.
"When it comes to wheel-to-wheel racing on a Sunday it's very different, but when you look at how people succeed in sport you generally need to have somebody at the top and somebody supporting them. Valtteri is playing that ideal support role for Lewis.
"Red Bull openly said when they re-signed Sergio Perez that they've done it to give them stability to fight for this championship. If Valtteri gets told he's not in that car next season, how does he go and help fight for that championship for Lewis?
"What would be the problem with leaving George at Williams for another year?"