Race: Max tops a Red Bull 1-2 as Ferrari show fragility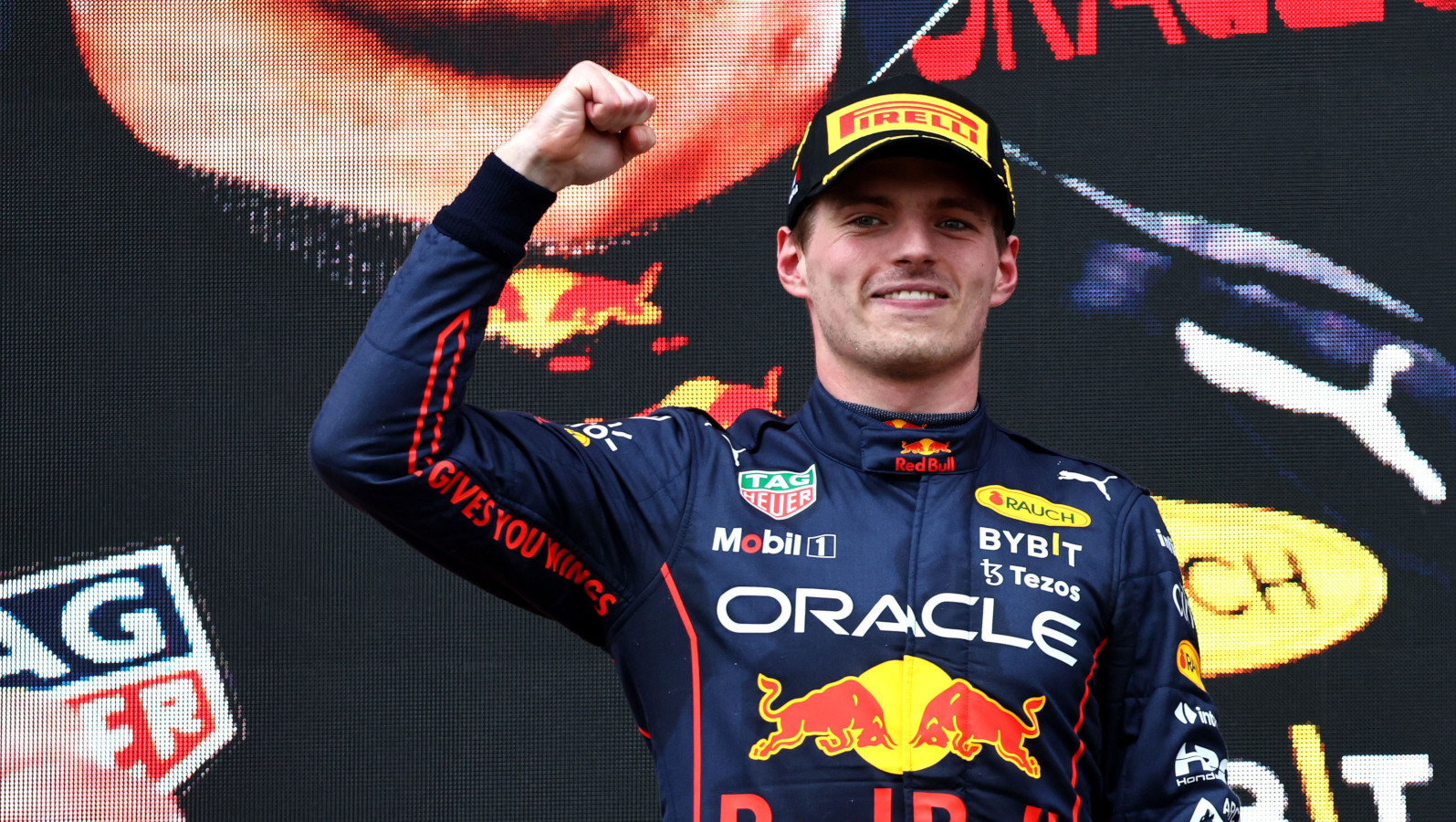 Max Verstappen went from "f***ing" DRS problems to winner of the Spanish GP, taking the chequered flag ahead of Sergio Perez after Charles Leclerc retired while leading.
For 27 laps it looked as if Leclerc was heading towards the top step of the podium, aided by Verstappen's faulty DRS and George Russell's epic defending.
However, it ended in misery for the Ferrari driver as he reported "no power" and parked his F1-75, his first DNF of the season costing him the lead in the Drivers' Championship.
That left it up to the Red Bull team-mates and Russell to fight for the win and while the latter put up a good battle, in the end it was Verstappen ahead of Perez with Russell P3.
P1!!! ☝️Max Verstappen wins the 2022 Spanish Grand Prix in a Oracle Red Bull Racing One-Two 🤩🇪🇸

With the win Max is the new World Championship leader 🏆#UnleashTheLion #KeepPushing #SpanishGP pic.twitter.com/3IDGs7daXN

— Max Verstappen (@VerstappenCOM) May 22, 2022
The drivers braced for a swelteringly hot 66-lap Spanish GP, the track temperature 49'C, predictions of a race with high tyre degradation.
Leclerc on shiny new soft tyres had the advantage, keeping Verstappen behind him but the other Ferrari of Carlos Sainz didn't have as good a start, falling to fifth place with Russell P3 ahead of Perez.
Lewis Hamilton's medium tyre strategy was destroyed as he and Kevin Magnussen collided leaving the Briton with a slow puncture and needing to pit. He did so for softs with Magnussen in for mediums. A racing incident declared the stewards.
LAP 1/66

Contact between Magnussen and Hamilton 💥

The Dane runs off into the gravel at Turn 4. The Mercedes driver has damage and limps back to the pits for repairs #SpanishGP #F1 pic.twitter.com/7mV0YAbGxF

— Formula 1 (@F1) May 22, 2022
As for the other Haas, Mick Schumacher made a flying start as he shot up from 10th to sixth ahead of Valtteri Bottas and Daniel Ricciardo, which five laps later was Bottas, Schumacher and Esteban Ocon.
Further back six World Championships went wheel-to-wheel as Sebastian Vettel and Fernando Alonso raced for 13th place, the Alpine driver taking the position through Turn 1 on lap 8.
Hamilton, P19 and 40 seconds off the top-ten, told Mercedes that he wanted to retire the car, saying he'd "save this engine if I was you". He asked the team if he had damage as the car was "handling terribly".
Another driver struggling was Sainz, the Spaniard in the gravel at Turn 4 much to the dismay of his home fans as he fell out of the top ten. With gusty wind through that corner Verstappen soon joined him, falling to fourth, passed by Russell and Perez.
— Out of Context F1 baby (@f1nocontext) May 22, 2022
Verstappen, in a choreographed move, took third off Perez but struggled to close the gap on Russell as, like in qualifying, his DRS failed. That was an issue that continued to plague him much to the Dutchman's swearing opinion. "We can't even make the f***ing DRS work," Verstappen raged.
As those behind began to pit, Sainz's troubles continued as he was released into the path of Zhou Guanyu, the incident noted by the stewards. Russell and Verstappen joined that list on lap 13, Russell taking a second off Verstappen. Perez was in on lap 17 and Leclerc, running at the same pace as Russell and Verstappen behind him, stayed out.
Race leader Leclerc stopped on lap 22, his 28s lead down to five seconds but his tyres some nine laps fresher. But with Russell as his rear-gunner and Verstappen's DRS letting him down, Leclerc soon began to build up his advantage.
And then it came to nought, the Ferrari driver losing power on lap 27 and out of the grand prix. Parking in the Ferrari garage, Leclerc bowed his head as he dealt with the emotions of a lost victory.
The battle between Russell, Verstappen and Perez became one for the victory but with Verstappen unable to pass the Mercedes driver, he pitted for new tyres with Perez, who told Red Bull to "get Max out of the way so I can overtake quickly", did just that, up into the lead by lap 31.
We are just incredibly sad for @Charles_Leclerc . He was so dominant today and would have deserved the win 💔#F1 #SpanishGP 🇪🇸 #Charles16 pic.twitter.com/QJhLpqGUNw

— Charles Leclerc Fan Page (@LeclercNews) May 22, 2022
As Perez pulled away from Russell, Verstappen passed Bottas before closing in on the Mercedes driver's rear wing. He was up to second on lap 37, a Red Bull 1-2, with Russell pitting for a second time and coming out comfortably ahead of Bottas. Verstappen finally led his first lap on lap 36, taking the lead as Perez stopped for fresh mediums.
16 seconds up the road from Perez and 24s up on Russell, Verstappen stopped for a third time, Perez up into the lead and Verstappen down to second. With the Dutchman on fresh soft tyres, he quickly closed in on his team-mate who was told that he was "quicker". Another choreographed move at Turn 12 on lap 49 and a "thank you mate" as he retook the lead.
Russell came in for his third stop of the day on lap 52, falling to fourth behind Bottas, but made short work of passing the Alfa Romeo to be back in podium contention. Perez also stopped, a free one as he had the gap to Russell.
Bottas P4 ahead of charging Sainz and Hamilton. Make that Sainz P4 in front of Hamilton and Bottas, the three-stoppers easily passing Bottas on his old tyres. Hamilton took fourth off Sainz with the Ferrari driver coming back at him on the penultimate lap as Hamilton was told to lift and coast due to a suspected water leak in the PU.
LAP 65/66

Sainz gets past Hamilton and back up to P4

The Mercedes driver is warned by his team of overheating issues and requested to lift and coast #SpanishGP #F1 pic.twitter.com/SrEwr8hwUI

— Formula 1 (@F1) May 22, 2022
Verstappen raced his way to the chequered flag and his fourth victory of this season, grabbing the lead in the Drivers' standings while Perez was second in Red Bull's second 1-2 of this season.
Russell capped off off Mercedes' progress with a podium finish, crossing the line ahead of Sainz, Hamilton and Bottas.
Ocon, Lando Norris, Alonso and Yuki Tsunoda completed the top ten as Schumacher fell from ninth to 14th in the final 10 laps.
Result
1 Max Verstappen Red Bull
2 Sergio Perez Red Bull 13.072s
3 George Russell Mercedes 32.927s
4 Carlos Sainz Ferrari 45.208s
5 Lewis Hamilton Mercedes 53.632s
6 Valtteri Bottas Alfa Romeo Racing 59.630s
7 Esteban Ocon Alpine 75.145s
8 Lando Norris McLaren 82.328s
9 Fernando Alonso Alpine 1 LAP
10 Yuki Tsunoda AlphaTauri 1 Lap
11 Sebastian Vettel Aston Martin 1 Lap
12 Daniel Ricciardo McLaren 1 Lap
13 Pierre Gasly AlphaTauri 1 Lap
14 Mick Schumacher Haas 1 Lap
15 Lance Stroll Aston Martin 1 Lap
16 Nicholas Latifi Williams 2 Laps
17 Kevin Magnussen Haas 2 Laps
18 Alex Albon Williams 2 Laps
Did not finish
Zhou Guanyu Alfa Romeo lap 28
Charles Leclerc Ferrari lap 27