Sprint qualy: Max wins the sprint not-race to secure pole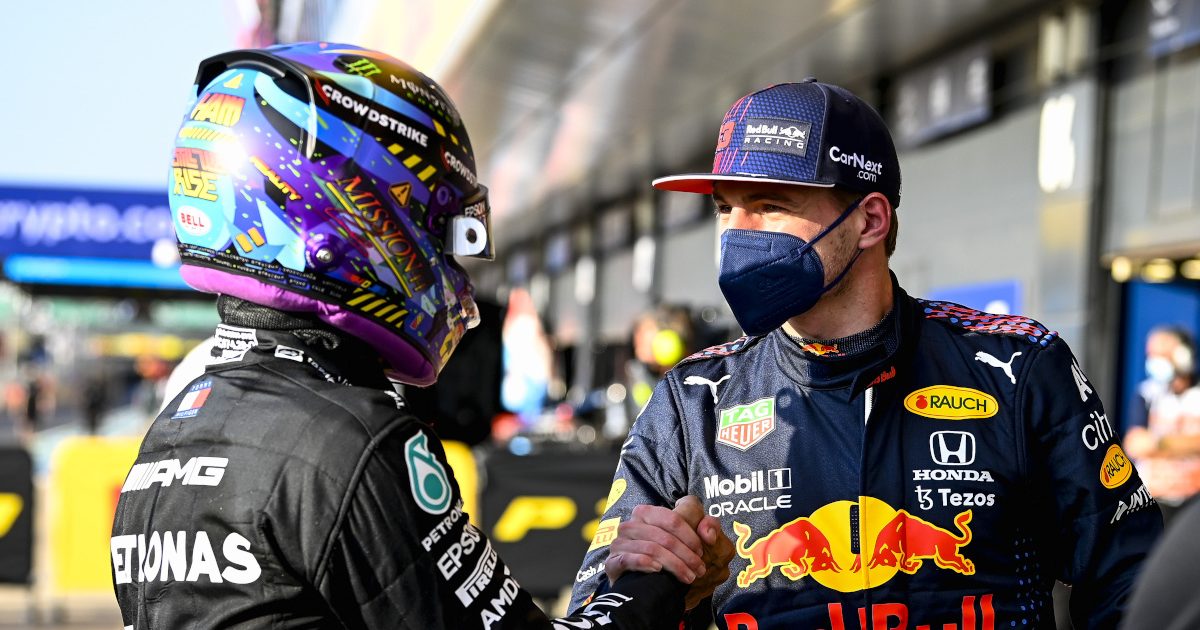 Max Verstappen claimed the victory in the don't-call-it-a-race 17-lap sprint qualifying, securing pole position for Sunday's British Grand Prix.
The Red Bull driver took the lead off Lewis Hamilton in the run-down to the first corner, setting himself up for the win ahead of his title rival.
Valtteri Bottas was third with the top three all earning points towards the World Championship while for the rest it was just about setting the positions for the grid for Sunday's 52-lap British Grand Prix.
Max Verstappen w̶i̶n̶s̶ is on pole position for the #BritishGP 🇬🇧

He also increases his World Championship lead by a further point, to 33. How apt. #F1 pic.twitter.com/3rHdC2Lc4v

— Planet F1 (@Planet_F1) July 17, 2021
You can follow all the action from the brand-new sprint race weekend via F1 TV Pro! Subscribe here for the ultimate F1 viewing experience.
F1 TV Access, meanwhile, is available in over 30 territories and the full list of eligible countries can be found here.
The drivers lined up on the grid for the start of the sprint qualifying with some more determined to risk it all then others. All 20 drivers had free tyre choice, allowed to choose which of the three compounds they wished to run for the 17-lap event. Bottas, Fernando Alonso, Esteban Ocon and Kimi Raikkonen went with the soft Pirellis, everyone else opted for the mediums.
On a roasting Silverstone circuit, Verstappen made a flying start to take the lead off Hamilton – out-dragging him down to the first corner. Hamilton tried to fight back at Brooklands but Verstappen held firm. Hamilton wasn't giving up, trying again a few corners later but again the Red Bull kept its nose ahead.
LAP 1/17

Epic stuff at the front as Max Verstappen goes after Lewis Hamilton – and takes the lead!🍿👀#BritishGP 🇬🇧 #F1Sprint pic.twitter.com/JilNLL6kgx

— Formula 1 (@F1) July 17, 2021
Bottas ran third ahead of Charles Leclerc, the fast-starting Fernando Alonso, Lando Norris, Sergio Perez and Daniel Ricciardo. George Russell dropped from eighth to P10 on the opening lap as he tagged Carlos Sainz, the latter falling from ninth to P16. The stewards announced an investigation. Nikita Mazepin and Mick Schumacher also tangled, the Russian driver spinning as a result.
Verstappen, running less rear wing than Hamilton, had the better of the Brit in the middle sector although the first belonged to the Mercedes driver, the two running a second part. Further back McLaren reported Alonso's "weaving" to the stewards as Norris tried to find a way passed the Alpine. He managed to make the move on lap six on the approach to Village.
While Norris was heading forward, Perez was heading backwards, the Mexican driver spinning his RB16B at Chapel and falling down to 19th place.
Around goes Sergio Perez! 🌀

Disaster for the Red Bull driver, he now sits P18 in the #F1Sprint!#SkyF1 #BritishGP 🇬🇧 pic.twitter.com/WyNpKOttNj

— Sky Sports F1 (@SkySportsF1) July 17, 2021
Ricciardo joined his team-mate on the list of McLaren drivers to overtake Alonso at Silverstone, making his way through on lap 9. His gap to Norris by then was almost six seconds with Leclerc, P4, and Bottas, P3, still running ahead of the McLaren team-mates. With Sebastian Vettel then closing in on Alonso, it looked as if the Spaniard's soft tyres were starting to lose grip and pace.
Chasing Verstappen but not quite able to get within DRS range, Hamilton told Mercedes "I'm giving it everything. I need more power." Mercedes, though, reported that the reigning World Champion was "battling blisters" as he dropped three seconds off Verstappen's rear wing.
Having broken the Mercedes' challenge, Verstappen raced to the win ahead of his title rival with Bottas third. Not only will the trio make up the first three positions on the grid, they also all scored points towards the championship.
Leclerc was comfortably fourth ahead of Norris and Ricciardo with Alonso, Vettel, Russell and Ocon completing the top ten.
Perez retired on the penultimate lap, the only driver not to finish the sprint qualifying. He will line up P20 on Sunday's grid.
Result
1 Max Verstappen Red Bull 1:30.795
2 Lewis Hamilton Mercedes 1.430s
3 Valtteri Bottas Mercedes 7.468s
4 Charles Leclerc Ferrari 11.278s
5 Lando Norris McLaren 24.050s
6 Daniel Ricciardo McLaren 30.959s
7 Fernando Alonso Alpine 43.527s
8 Sebastian Vettel Aston Martin 44.408s
9 George Russell Williams 46.652s
10 Esteban Ocon Alpine 47.395s
11 Carlos Sainz Ferrari 47.023s
12 Pierre Gasly AlphaTauri 48.217s
13 Kimi Raikkonen Alfa Romeo Racing 50.677s
14 Lance Stroll Aston Martin 52.179s
15 Antonio Giovinazzi Alfa Romeo Racing 53.225s
16 Yuki Tsunoda AlphaTauri 53.567s
17 Nicholas Latifi Williams 55.162s
18 Mick Schumacher Haas 68.213s
19 Nikita Mazepin Haas 77.400s
Did not finish
20 Sergio Perez Red Bull
Follow us on Twitter @Planet_F1 and like our Facebook page.