Stefano Domenicali: 'Cannibal' Max Verstappen reminds me of Michael Schumacher
Racing towards a second World title in dominant style, Stefano Domenicali says Max Verstappen is a "cannibal" just as Michael Schumacher was in his heydays.
Verstappen claimed his first World title last season, taking it on the final lap of the championship as he overtook Lewis Hamilton for the Abu Dhabi Grand Prix.
But while that was a ferocious battle from start to finish, the pendulum swinging between the two protagonists, this season the Dutchman is having a much easier time of it.
So much so he would wrap up the title in Singapore with five races to spare, and set a new record along the way.
Although Verstappen had a slow start to his title defence, Red Bull's issues not his, once he got going and saw off Charles Leclerc's challenge, there was the sense of the inevitable.
Stringing together his first-ever run of four wins in a row, he added a fifth in Italy and now the question is can anyone stop him from making it six – or even 11.
Already with 11 wins on the board out of 16 grands prix, he is closing in on Schumacher and Sebastian Vettel's record for the most wins in a single season which stands at 13.
That Verstappen will claim that record before the season is over is pretty much a given with Domenicali likening the 24-year-old's attributes to that of Schumacher.
"He resembles him because he focuses on everything he does on the track," the F1 boss told Corriere dello Sport. "He has matured a lot, he has learned to manage his emotions.
"He is a cannibal, he doesn't look anyone in the face. And in this he reminds me so much of Michael."
As for Leclerc, who instead of fighting for the title now finds himself trying to hold off Sergio Perez in the battle for P2, Domenicali said: "He is an extraordinary driver too, with a different empathy than Max.
"He also has other interests besides F1 and is keen to develop them."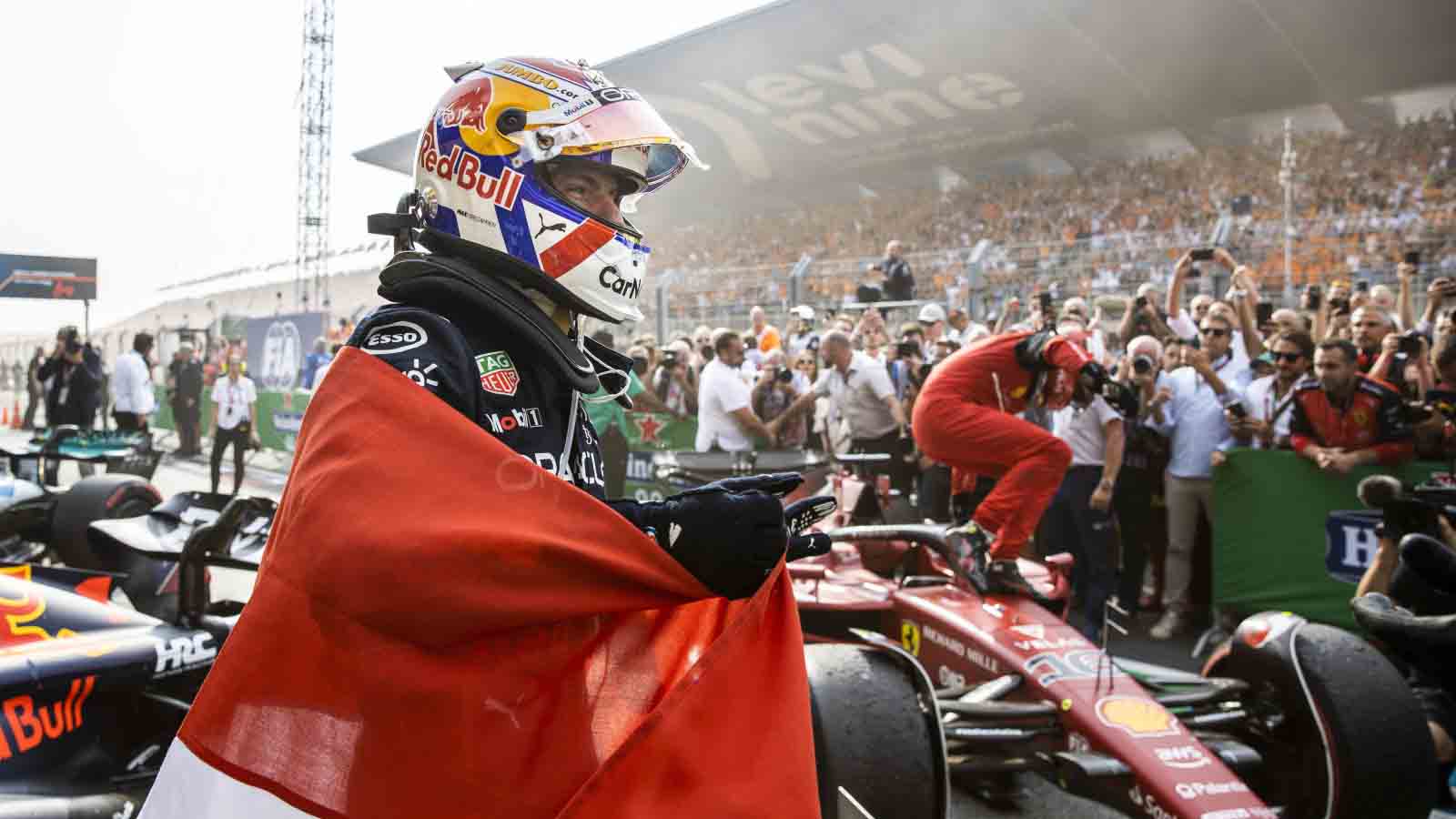 Verstappen, not Hamilton, could be the first to eight
It is Max Verstappen, not Lewis Hamilton, who could hit the magical number eight even though the Red Bull driver has only one title as things stand today and the Mercedes man has seven.
Earlier this year Verstappen signed a new bumper deal with Red Bull Racing, committing to the Milton Keynes squad through to the end of 2028.
That's six more seasons after this year, and he'll only be 31 at the end so could, if he still has the desire, stick around for a lot longer.
It seems nigh impossible to think that after Red Bull and his dominance this season he won't be in the running for next year's World title.
In fact he'll be the favourite and with only minor tweaks to the regulations, he can go into 2023 believing he'll have an RB19 that's up for the challenge.
The same cannot be said of Hamilton given Mercedes' current woes.
Although he has time, he's committed to Mercedes for 2023 and has been speaking about continuing beyond that, unless Mercedes pull the rabbit out of the hat, they won't be in the fight next season.
It has been suggested they could change the design philosophy of the W14, dropping the zero-pods in favour of a Red Bull-esque design. But even if they do that, they have a year's worth of catching up when it comes to understanding the car.
And if Verstappen and Red Bull get a head of steam with a third title in 2023, one would be hard-pressed to discount a Hamilton-style era of domination.
Read more: Max Verstappen believed in people in the team and now it's paying off