Steward recalls 'wild scene' for Vettel penalty decision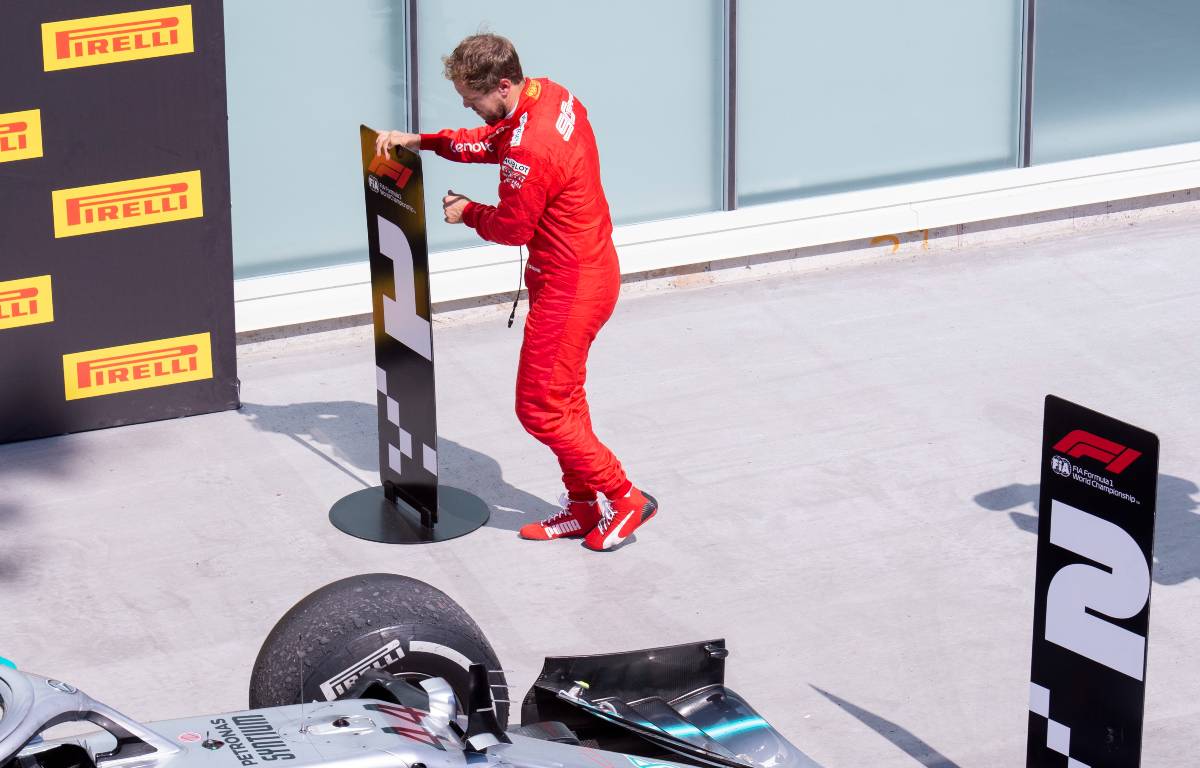 A steward at the controversial 2019 Canadian Grand Prix has lifted the lid on the "wild scene" that resulted in Sebastian Vettel receiving a costly penalty.
Vettel was trying to close on Lewis Hamilton in the World Championship at the time and had bagged pole position in Montreal, still leading on lap 48 of 70 but with the Briton hot on his heels.
At turn three, Vettel's Ferrari went straight on over the grass and missed turn four, squeezing the Mercedes towards the outside wall. The German received a five-second time penalty and despite remaining ahead on the road, lost the race win to Hamilton.
Ferrari and Vettel were furious afterwards, the driver even removing the No 1 board in front of Hamilton's car, but an appeal failed to have the decision reversed.
Mike Kaerne was among the stewards on duty that day and with judgements of racing incidents very much at the forefront of F1 this season following a variety of examples in the last few grands prix, he has opened up on the scene in Canada that day.
Check out all the latest Sebastian Vettel/Aston Martin merchandise via the official Formula 1 store
Torquing Point - Mercedes and Red Bull fight for title
Finley Crebolder and Charlotte Lines from Planet F1's Torquing Point podcast discuss the fight for the Constructors Championship as just 12 points separate Mercedes and Red Bull going into the summer break.
"It was pretty tense being so close to the end of the race," Kaerne told Motorsport Magazine. "There was a lot of pressure to make a very quick decision, given all the elements we had to look at.
"It was a frantic pace, the wildest scene I've ever seen in the stewards' room, that's for sure. And I've been stewarding for 30 years. It was a real pressure cooker.
"Everyone was talking about particular points of it. We pull up regulations…'let's see this again', 'what about from that angle?', 'do we have the GPS tracks?'
"There's a lot of discussion. And of course, each one of the four stewards gets a chance to put their analysis of it forward. It's very similar to a courtroom, a back-and-forth situation.
"I think our decision was 10 or 12 minutes after the incident itself. Over the last couple of years I've reviewed the elements a couple of times. I'm still kind of uneasy about them really…a majority vote wins, right?"
Kaerne revealed a backlash to the decision began almost immediately, especially for the former driver steward Emanuele Pirro, whose cause was probably not helped being an Italian who was part of a team that had penalised Ferrari.
Pirro was also a member of the stewarding panel who issued a five-second penalty to Hamilton for his collision with Max Verstappen at this year's British Grand Prix.
"It was surreal," said Kaerne. "I was surprised at the immediate reaction from some people.
"Some of the other stewards were getting text messages while we were still in the stewards' room. Emanuele got some that were rather strange just after the penalty was announced."