The FIA stewards have clarified the "highly unusual" situation regarding Force India's engine allocation, saying they've based their ruling on "fairness."
Declared a new team as of this weekend's Belgian Grand Prix, Racing Point Force India have lost all the points they scored in the first 12 races of this season.
But while the team has been stripped of their points, Sergio Perez and Esteban Ocon retain their points and positions in the Drivers' Championship.
As such the stewards have ruled that both cars' engine elements used while racing as Sahara Force India will carry over to Racing Point Force India.
The statement read: "The stewards consider that as the drivers have retained their respective points accumulated to date it is both logical and fair that the elements, units and gearboxes used by their respective cars in the excluded team should carry forward to the new team.
"Acccording, we decide that the numbers of power unit elements and gearboxes referred to in Article 23 of the Sporting Regulations and used to date in 2018 by Sahara Force India Formula 1 team shall carry forward to Racing Point Force India F1 team."
The full ruling…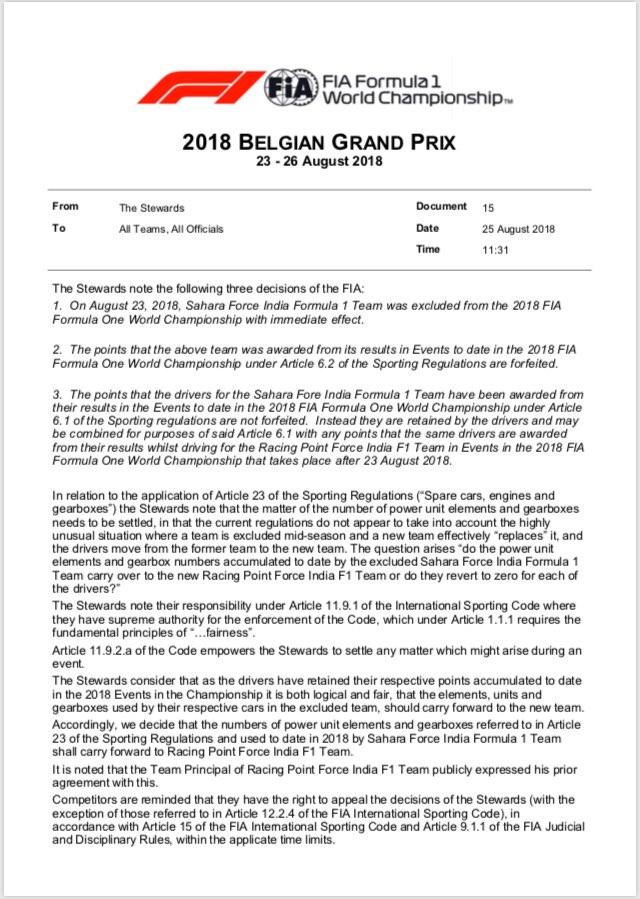 Follow all the action from the Belgium Grand Prix via our live race centre