FP2: Verstappen tops the charts in Spielberg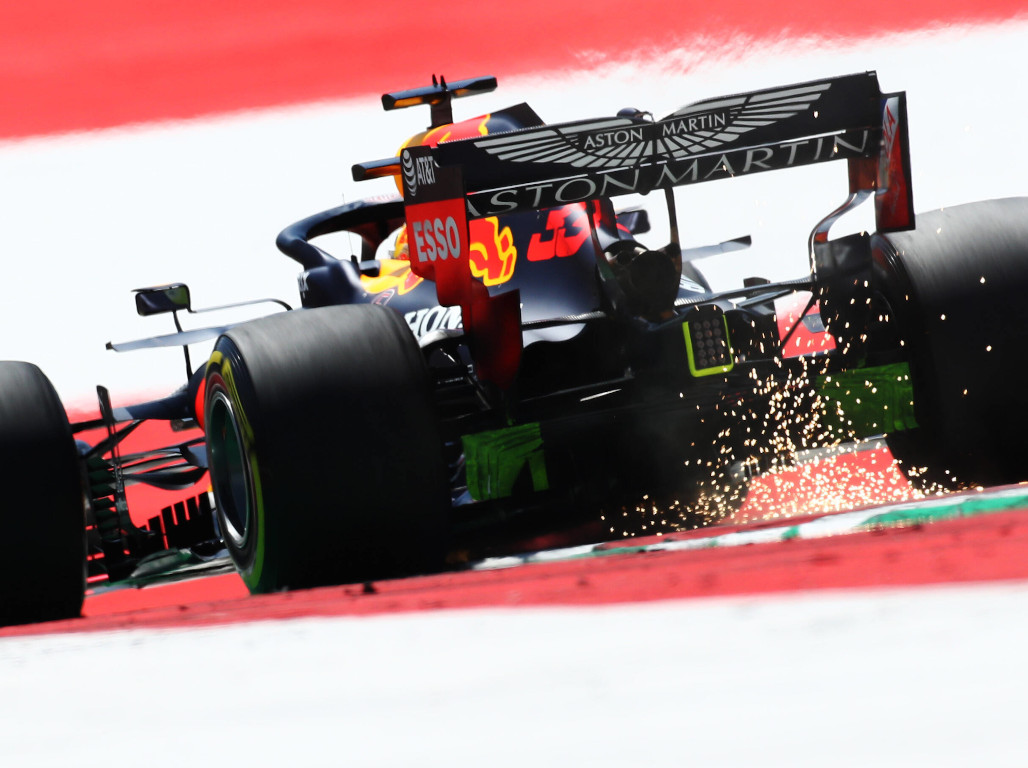 Max Verstappen topped FP2 ahead of the Styrian Grand Prix on Sunday, which could potentially put him on pole position for the race.
Second practice at the Red Bull Ring took on greater importance as there is a threat of FP3 and qualifying on Saturday being washed out completely by thunderstorms which are heading for the Styrian hills.
As per the Formula 1 sporting regulations, the FP2 results would be used to form Sunday's race grid in the event that qualifying  cannot go ahead.
Verstappen overcame a slight power outage early in the session to post a 1:03.660 on the soft tyres during his qualifying simulation run which was 0.043 quicker than Valtteri Bottas in P2.
Max goes P1 with a 1:03.660 with 30 minutes left on the clock in Free Practice 2 😤 #AustrianGP 🇦🇹#PoweredByHonda pic.twitter.com/As9abVvVJj

— Honda Racing F1 (@HondaRacingF1) July 10, 2020
Lewis Hamilton, despite going for numerous qualy runs, could only reach a high of P6. Sergio Perez and Lance Stroll both occupied places within the top five (P3 and P4) as did McLaren's Carlos Sainz.
Ferrari's issues continue to manifest themselves in Austria, with Charles Leclerc down in P9 and Sebastian Vettel bogged down in P16 and unable to set a faster time on the soft tyres.
Just 14 minutes into the session the red flags came out after Ricciardo suffered a huge crash at the penultimate corner. His car instantly snapped on entry and he lost control with his RS20 badly damaged as a result.
Ricciardo reported he was ok and hopped [literally] away of the wrecked car, which will require quite the patch-up job back at the Renault garage.
He was taken to the medical centre to be checked over due to the impact of the crash into the tyre wall.
Sizeable shunt there… pic.twitter.com/dmN31hgTf3

— Grand Prix Diary (@GrandPrixDiary) July 10, 2020
Once the green flags returned, there were immediate problems for Max Verstappen, who was not able to set a single timed lap in the opening 30 minutes.
"Yeah fourth, fifth, after that there is no power," Verstappen reported after being told to box.
He was soon back out in the thick of it, though, shooting up to P2 with some fresh mediums strapped on – yet it was still four tenths down on the initial pace set by Sergio Perez.
Perez was definitely driving with qualifying in mind as his best time of 1:03.877 with half the session gone was just 0.017s slower than his best time set in Q2 at the opening race weekend.
All eyes were on Mercedes as to what their response would be to the pace shown by Racing Point and Bottas was the first to answer with a 1:03.703 that took him top of the timesheet by 0.174 seconds. Verstappen saw his latest lap time, which was good enough for P2, deleted for exceeding track limits at Turn 10.
Hamilton set about beating Bottas' time on his latest hot lap but struggled from the get-go and was seven tenths down on his team-mate, placing him P5.
Verstappen would then spark into life and rise to the top of the classification, pipping Bottas by 0.043 seconds.
As attention turned back to some race sim running, the top six read: Verstappen, Bottas, Perez, Stroll, Sainz, Hamilton.
During the race runs, Albon, who had already spun off at Turn 3 earlier in the session, suffered another off at Turn 8 and created huge flat spots on his hard tyres. The gravel trap saved him from hitting the tyre wall.
Alex Albon loses his back end and goes off at Turn 8️⃣ into the gravel

We were very briefly under a yellow flag but he's back on track#AustrianGP 🇦🇹 #F1 pic.twitter.com/OwpKQaPuWA

— Formula 1 (@F1) July 10, 2020
And now we play the waiting game and see what the weather gods have in store for us on Saturday. Qualifying or no qualifying? That is the question…
FP2 timesheet
1 Max Verstappen Red Bull 1:03.660 S
2 Valtteri Bottas Mercedes 0.043s S
3 Sergio Perez Racing Point 0.217s S
4 Lance Stroll Racing Point 0.581s S
5 Carlos Sainz McLaren 0.673s S
6 Lewis Hamilton Mercedes 0.688s S
7 Alex Albon Red Bull 0.777s S
8 Lando Norris McLaren 0.881s S
9 Charles Leclerc Ferrari 1.046s S
10 Esteban Ocon Renault 1.086s S
11 Pierre Gasly AlphaTauri 1.097s S
12 Daniil Kvyat AlphaTauri 1.390s S
13 Kimi Raikkonen Alfa Romeo Racing 1.492s S
14 Antonio Giovinazzi Alfa Romeo Racing 1.705s S
15 George Russell Williams 1.928s S
16 Sebastian Vettel Ferrari 1.953s M
17 Nicholas Latifi Williams 1.995s S
18 Kevin Magnussen Haas 2.130s S
19 Romain Grosjean Haas 2.436s S
20 Daniel Ricciardo Renault no time set
Follow all the action from the Styrian Grand Prix with the PlanetF1 live centre