Ted Kravitz on the Mercedes 'Achilles' heel' which the Bahrain track exposes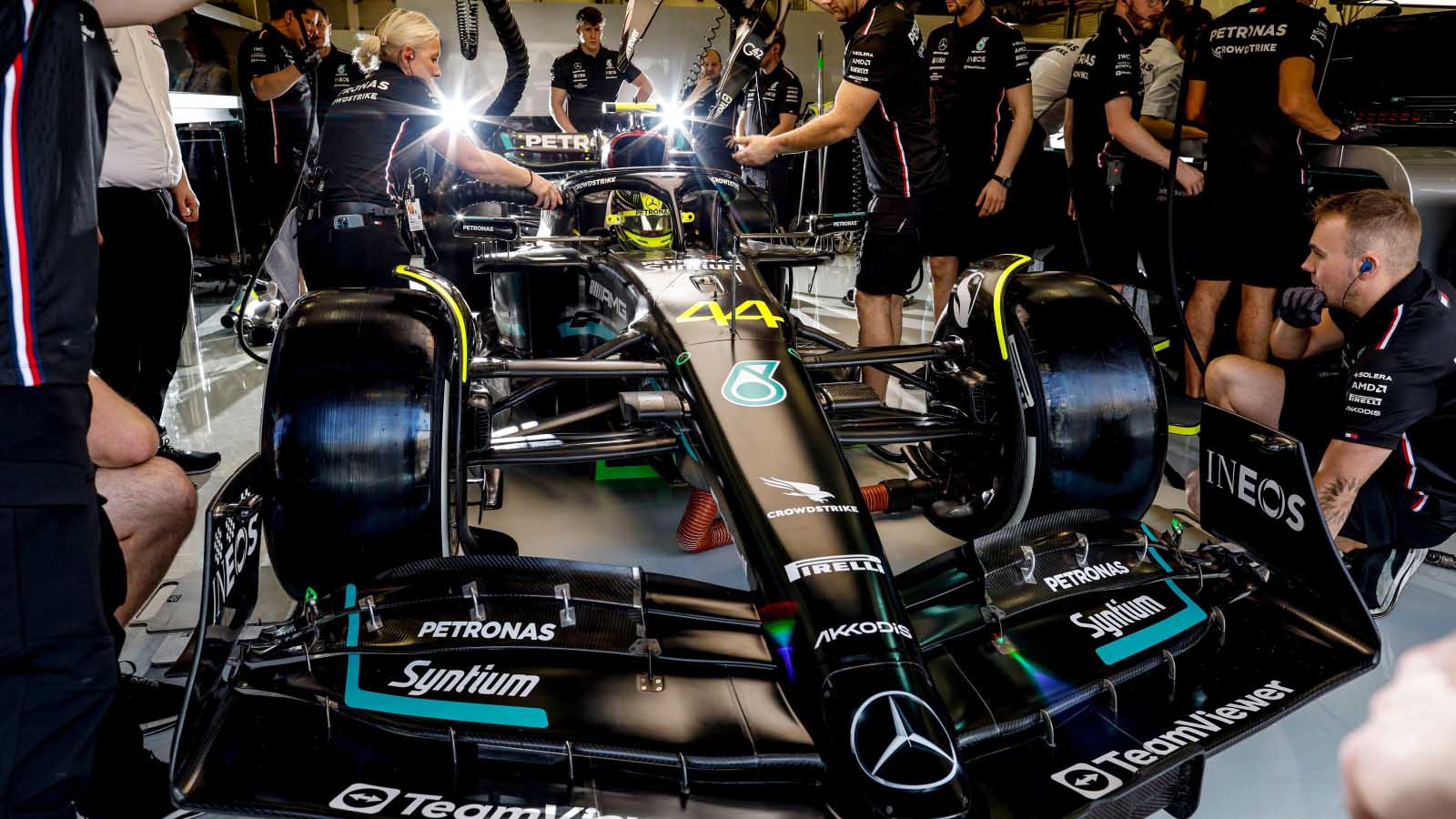 Sky Sports' Ted Kravitz believes he has spotted an "Achilles' heel" on the Mercedes W14 which could hamper their season on certain tracks.
Teams have just finished up their three-day stint of pre-season testing in Bahrain as the focus now switches to the race itself and the start of the 2023 season at the same venue.
While the results of pre-season testing should always be taken with a pinch of salt, it did look as if Mercedes were still a few tenths off Ferrari and in particular Red Bull who appeared to be the strongest over the three days.
The Bahrain track though is not representative of every race in the 2023 calendar with its high temperature and tight corners in parts but there was enough on show for Kravitz to believe he has spotted the Achilles' Heel of the W14.
"I know I'm going to sound like a boring engineer when I say this, but the Bahrain track is very 'rear limited'," he told Sky Sports. "Which means that it's all about having a strong rear axle on your car and that there's lots of opportunities to turn into a corner and have the rear slip away from you.
"That's Mercedes' real Achilles' heel at the moment as the back of their car won't stick, and so they believe that when they get to a less rear limited circuit than Bahrain, then they will show quicker lap times and Bahrain is probably the most rear-limiting circuit, so that's what's exposing their issues.
"So yes, it is a little bit track dependent, but I couldn't say the same between Ferrari and Red Bull, because they both looked quite happy around Bahrain."
PlanetF1 recommends
F1 2023 predictions: Title winners, team-mate battles, driver moves and much more
Ranked: How well did every team perform at F1 2023 pre-season testing in Bahrain?
Bahrain Grand Prix 2023: Schedule, stats, weather forecast, how to watch
Mercedes at least do not have a porpoising issue to worry about this time round and instead, the W14 looks a reliable base to build upon. The Silver Arrows have traditionally been a strong team in development across a season and George Russell, who is preparing for his second season with the team, has confidence that this trait will mean they can catch up to the front runners.
"I wouldn't say [we are] on the back foot," he told F1.com during testing. "I think this team has a history of being very good at development throughout a season.
"I think it's important that you don't throw everything into one basket when it comes to delivering, let's say, that optimum package for race one but making sure you've got a package that you can easily develop from and maybe find greater performance later down the line.
"So if I had to tell you right here, right now how it is probably going to pan out next week, I reckon we are going to be a little bit behind Red Bull. They look in a very strong state at the moment but I think we haven't unlocked everything yet. I'd like to think eventually we'll be catching them back up."