Ted Kravitz wonders if the stars will dictate no eighth title for Lewis Hamilton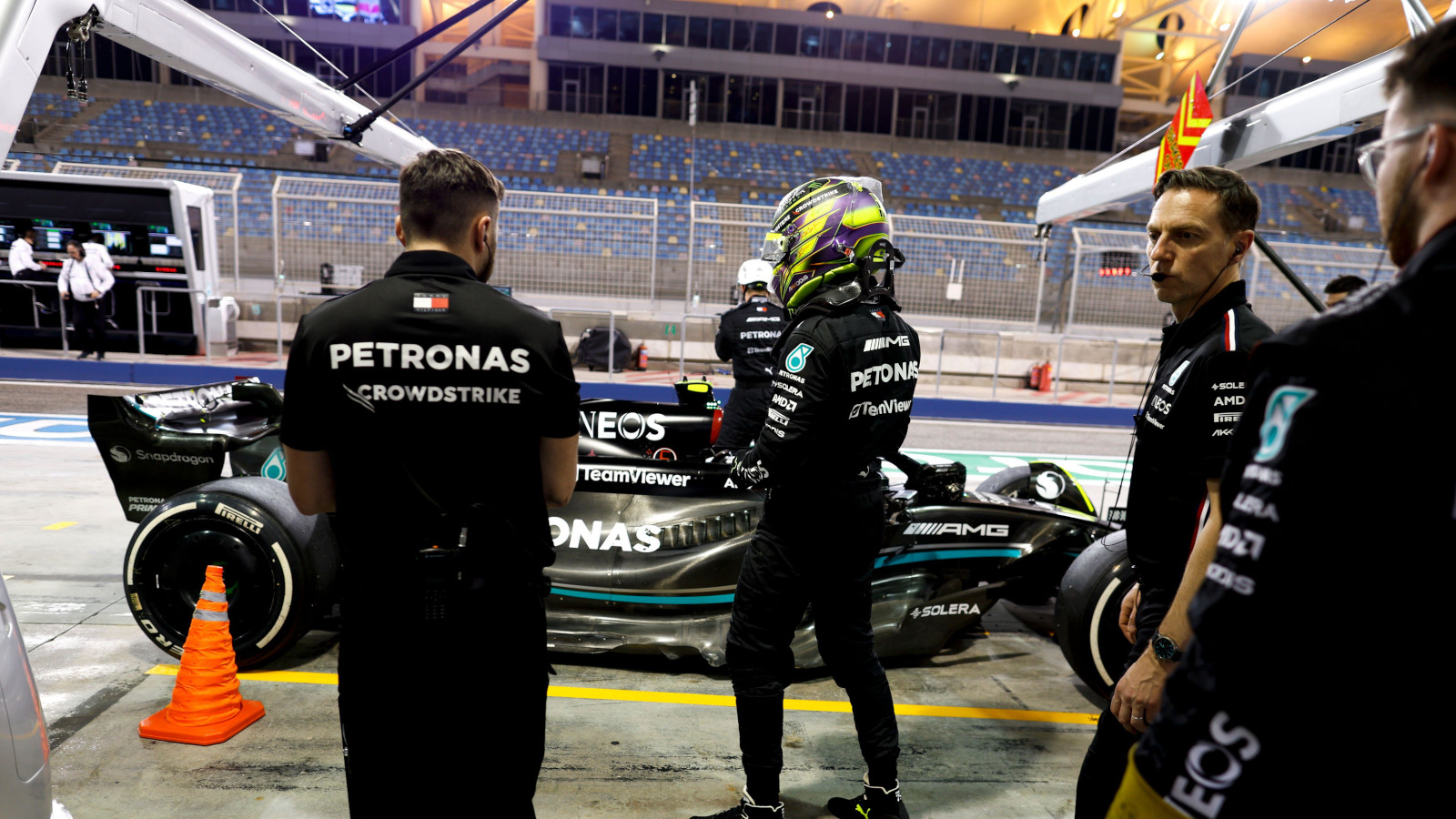 Sky F1's Ted Kravitz has pondered whether the way the stars have aligned will result in Lewis Hamilton not clinching an eighth title.
With Mercedes unable to mount the podium at the season-opening Bahrain Grand Prix as the W14 looks to be off the pace of Red Bull's RB19 and Ferrari's SF-23 in the early stages of the championship, a record-breaking eighth World Championship appears out of reach for Lewis Hamilton in the short-term future.
Hamilton's contract with Mercedes comes to an end at the conclusion of 2023, with the seven-time champion set for negotiations to extend his stay with the Brackley-based team beyond this season.
While both sides have indicated a willingness to continue, recent comments from Hamilton have suggested the British driver is less than happy about how he felt Mercedes didn't listen to him during the development of the W14.
Ted Kravitz: Is there something in the stars about title number eight?
While all the language used by Mercedes' boss Toto Wolff has been about "eventually" becoming competitive to challenge at the very front of F1 once again, Ted Kravitz believes circumstances may mean Hamilton never manages to claim his elusive record-breaking title and pull clear of Michael Schumacher's seven championships as he closes in on his forties.
"People talk about the e-word at Mercedes this year and they think it's 'eventually'," Kravitz said during a Q&A on Sky's F1 website.
"Now the e-word is' eventually' because Toto Wolff used it at the launch and then George Russell used it on day two of testing, when he was asked about whether Mercedes are going to challenge for the championship.
"But the e-word might as well be 'eighth' for Lewis Hamilton, because, is he going to win that eighth championship? He came within a lap of it at Abu Dhabi in 2021, to come within a lap of the eighth championship and then potentially he might not ever win it."
PlanetF1.com recommends
Lewis Hamilton: Mercedes 'didn't listen' to me on W14, 'I know what a car needs'
'Snappy comments from Lewis Hamilton, Toto Wolff risk Mercedes civil war'
Toto Wolff not preparing for Lewis Hamilton retirement by looking at other options
Kravitz also wondered whether the tantalising eighth title could become a psychological barrier, or even a barrier drivers are unwilling to break through…
"Michael Schumacher wasn't able to win an eighth, Lewis Hamilton hasn't been able to win an eighth – is there something in the stars about an eighth world championship?" he said.
"It's impossible to know when Lewis is going to walk away, only he knows that. He has nothing less to prove. Maybe there's something weird in the stars – maybe Max Verstappen might win seven and then stop."
'No idea what to expect' from significant Mercedes upgrades…
Mercedes are set to roll out significant upgrades to the W14, despite Wolff's admission that the concept direction chosen for W13/W14 has taken the team in the wrong direction.
Kravitz believes Mercedes have got one last 'Hail Mary' up their sleeve before a decision for the 2024 design will be taken.
"Because their initial design and simulation figures looked so good that they just want to give it one more go," he said, when asked why Mercedes have stuck resolutely to their design concept.
"We'll know at race six, at Emilia-Romagna Grand Prix in Imola, whether they're going to get anywhere near, or whether these figures that they've found that were looking so good were just sort of phantom and will never be realised.
"The car that they've got at the moment is not the one that they want to give it one more go with, that comes at race six. You've got to believe them – they've never been wrong with their processes before and it would be odd if the processes they had that were exactly right for the eight years before were suddenly wrong overnight.
"I have no idea what to expect from the upgrade. I'm a bit mystified as to what this upgrade is going to be. How big can it be that the car will look 'significantly different' but won't look like a Red Bull or a Ferrari.
"What are they going to do? Remove the sidepods completely and go more all-in on their zero-sidepod thing. Are they going to square them off? Well then that does start to look like a Red Bull or Ferrari. So I don't really get it but I can't wait to find out!"