Vasseur: 'Too risky' to promote Pourchaire for 2022
Putting Theo Pourchaire in the second Alfa Romeo seat for 2022 was a risk team boss Frederic Vasseur was not prepared to take.
Pourchaire, a member of the Sauber junior programme, is regarded as one of the brightest talents on the junior ladder to Formula 1, having finished runner-up to Oscar Piastri in the 2020 F3 Championship, only turning 17 ahead of the final three rounds, before claiming two race wins in his first Formula 2 campaign and finishing the season P5 in the standings.
Vasseur, however, went with Guanyu Zhou for the 2022 F1 season, the P3 finisher in 2021's F2 campaign, while Valtteri Bottas brings experience after arriving from Mercedes.
Pourchaire claimed 140 points in his rookie F2 season despite suffering a fracture in his left arm after a crash in Baku, hampering his performances at the following round in Silverstone.
But despite Pourchaire's impressive rookie F2 campaign, Vasseur felt another swift promotion, this time to Formula 1, would have come too soon for the Frenchman due to the complexity of the cars, as well as the 2022 testing schedule which runs for only six days.
Instead, Pourchaire will remain in Formula 2 with ART and chase the 2022 title.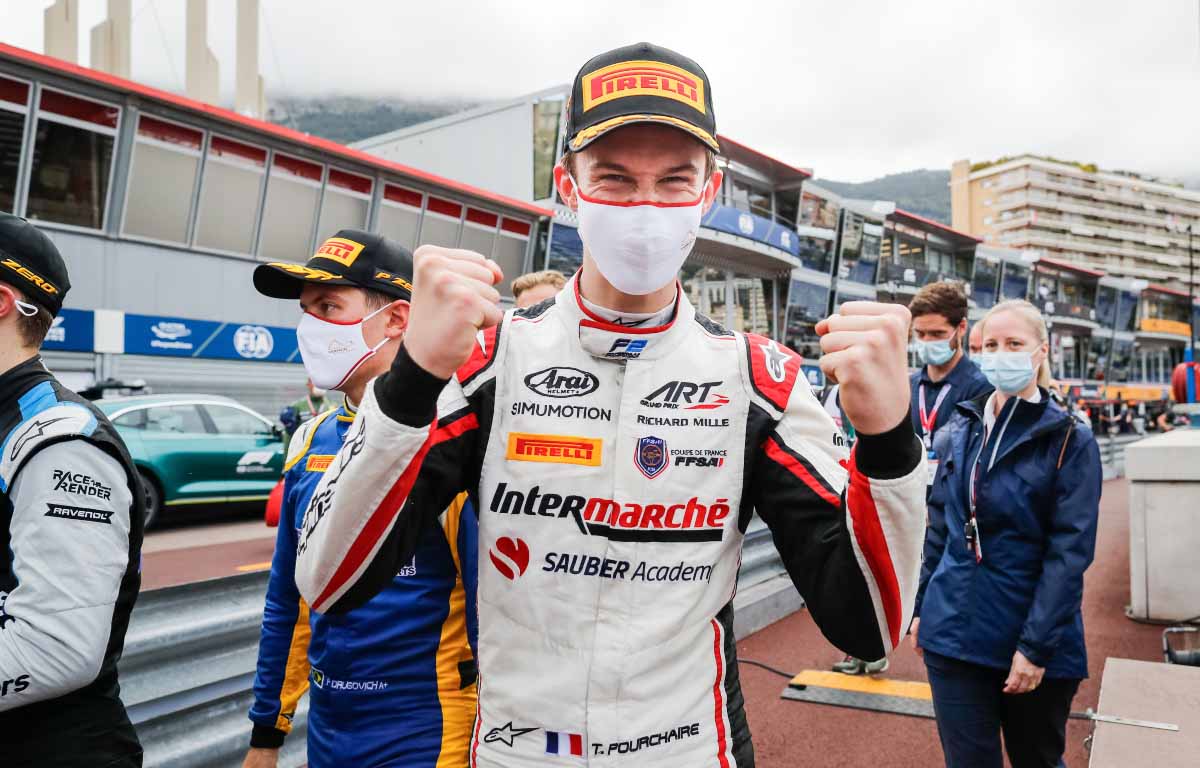 "He won last season in Monaco but…the car is so complex and we have just six test days before the season. It means it would have been, from my point of view, too risky, too challenging to do the step now," Vasseur explained to the Formula 1 website.
"He did a fantastic [debut] season in F2…but we have also to keep in mind that 18 months ago he was in F4 [and] that the step between F4 and F3 was huge."
Pourchaire completed a private testing day at the Hungaroring in 2021, driving the 2019 Alfa Romeo C38, and Vasseur explained this year the 18-year-old is in line for some further tests and free practice appearances.
A ruling making it mandatory for all teams to field a rookie in two FP1 sessions across the season is set to be brought into play.
That said, Vasseur stressed he does not want Pourchaire's focus on Formula 2 to be impacted.
"Theo will for sure do some FP1," Vasseur confirmed.
"We will do some test days that we will try to prepare him for the future. But again, when you are doing the championship in F2, the most important thing is to win the championship and not to prepare the future or something like this, and I will ask him to be champion in F2."
Kimi Raikkonen will be sorely missed
There has never been a character quite like Kimi Raikkonen.