Pourchaire won't let F1 dream distract him from F2 goals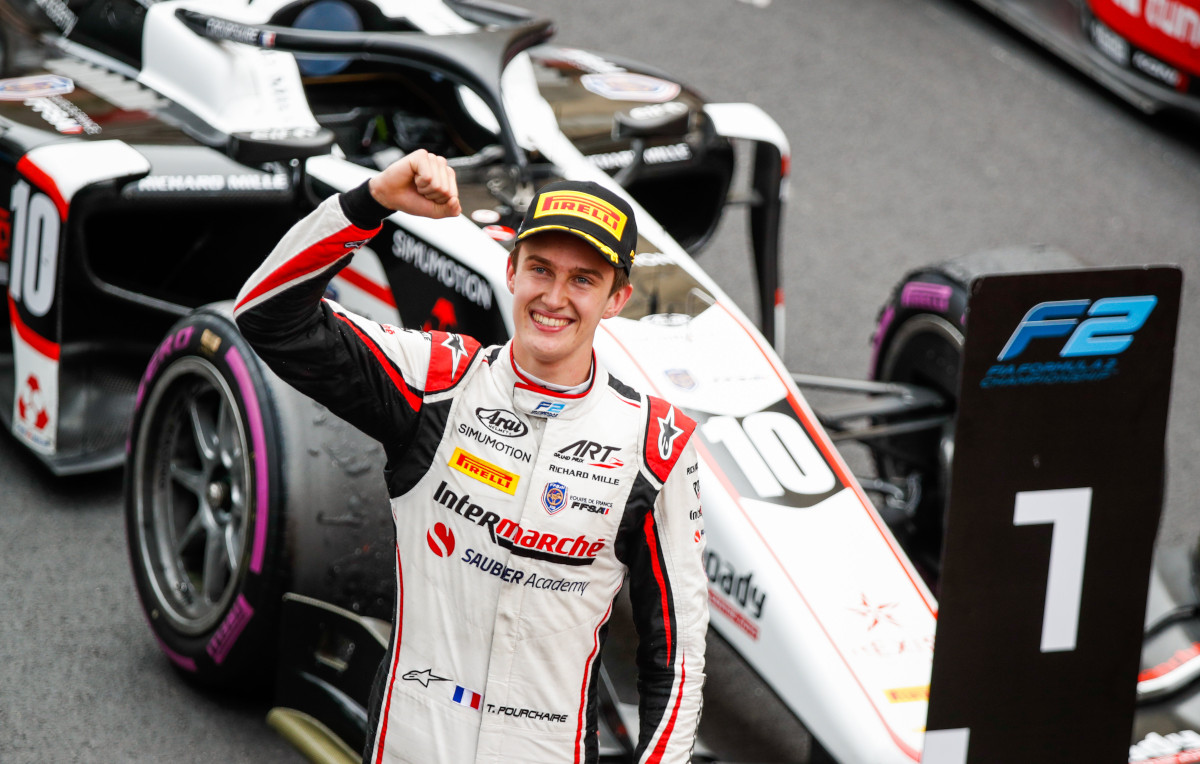 Sauber junior Theo Pourchaire is making a concerted effort not to think about F1, saying focusing on a promotion could ultimately cost him one.
17-year-old Pourchaire stepped up into Formula 2 this season on the back of his runner-up finish in the 2020 Formula 3 championship.
Despite his young age the Frenchman has been one of the stars of the feeder series, scoring points in eight of 12 races including a race victory in the Monaco feature race.
It, however, hasn't been all plain sailing for the ART GP driver with Pourchaire involved in a first lap crash in the Baku feature race, suffering a broken arm.
He was back on the grid at Silverstone, racing through the pace and bagging two points-scoring results.
His performances have led to speculation that it is only a matter of time before he is promoted to Formula 1, the driver linked to an Alfa Romeo race seat.
Alfa Romeo could have two seats open next season with neither Kimi Raikkonen nor Antonio Giovinazzi confirmed. But while team boss Fred Vasseur says he is open to fielding a completely new line up, he has in the past said 2022 is too early to put Pourchaire in the car.
As for the Frenchman, he says right now Formula 1 isn't even in his thoughts.
"I'm taking it step by step, to be honest," Pourchaire said in an exclusive interview with Motorsport.tv.
"I try not to think about F1 at all. I'm staying 200 percent focused on F2, that's the most important.
"F2, for me, is what can allow me to go to F1, whereas thinking about F1, it can rather keep me from getting there.
"I only think about F2, my current dream is to win in F2, it would be an incredible season."
The 17-year-old says he is very happy being a member of the Sauber Academy, applauding Vasseur's style of management.
"It is for me a huge chance to be part of this Formula 1 junior team, which is the best, the most important," he said.
"They help me enormously and it is also thanks to them that I race in Formula 2.
"It is really a very important support during this year, it can only help me to grow. don't have any pressure with them, that's the most important.
"He, Fred, leaves me rather alone. He lets me do my job, he takes care of the Formula 1 team.
"Of course he watches the performances, I know he is proud of what I do too.
"He is counting on me to improve, to give the best of myself, to win more races, that's the most important.
"He is proud no matter what and will support me no matter what."