Timo Glock: Death threats continued for years after Brazil 2008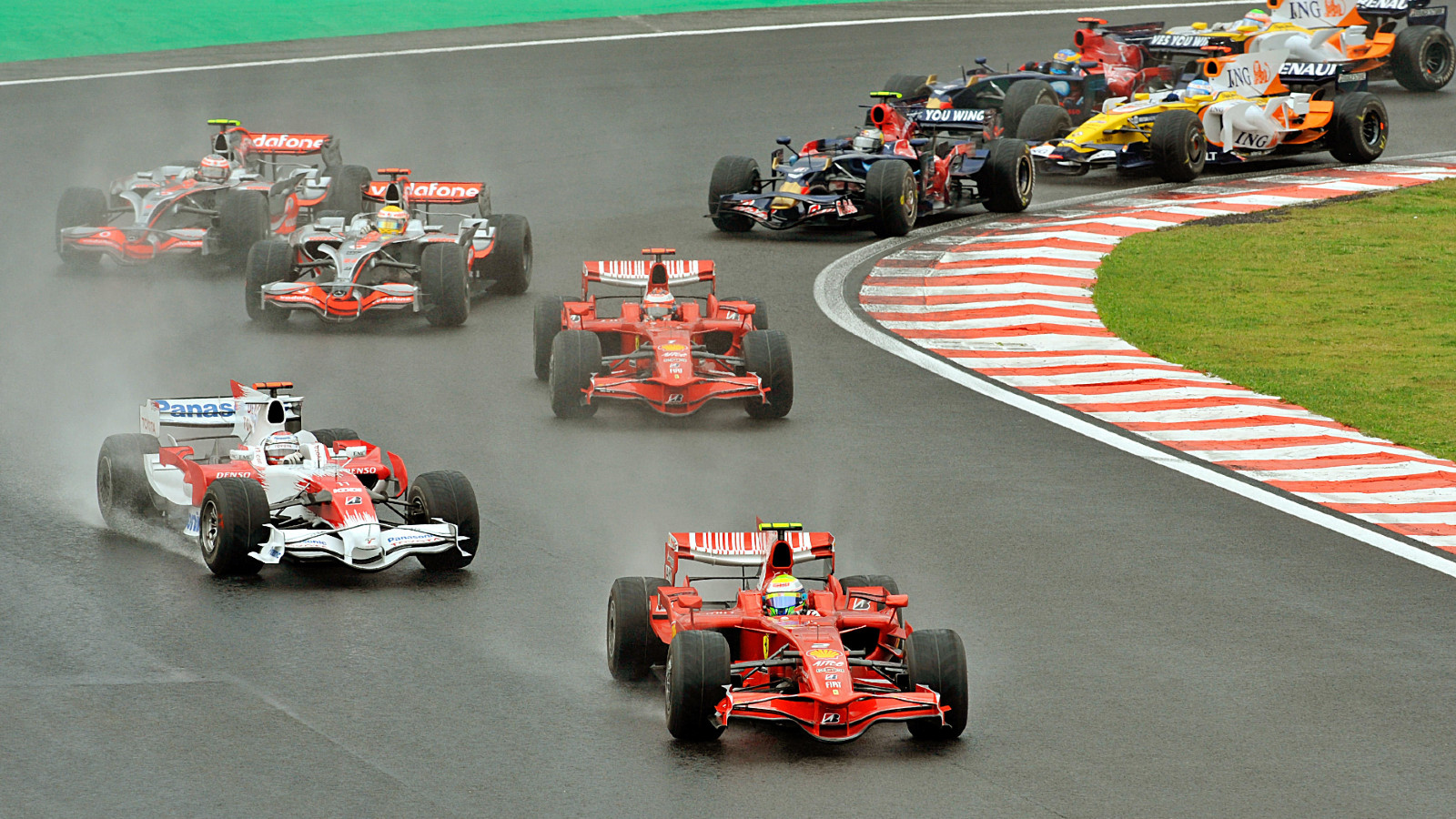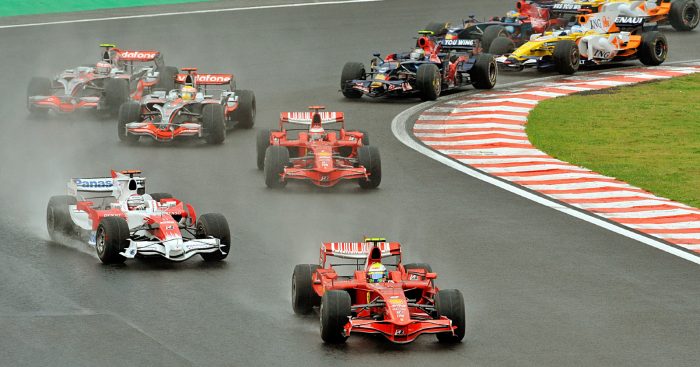 Former F1 racer Timo Glock has explained it took several years for threats against him and his family to subside after his role in the 2008 title decider – with that famous moment having taken place 14 years ago today.
The German DTM star was involved in what has since been heralded as one of the most dramatic moments in Formula 1 history, albeit as an unwitting participant, when he raced in the 2008 Brazilian Grand Prix at Interlagos.
With the title fight between Lewis Hamilton and Felipe Massa that year going down to the final race, victory for Massa and a sixth place or lower finish for Hamilton would have netted Massa the title at his home race.
Starting the final lap, Hamilton was in sixth place, only to overtake Glock at the final corner of the race as the Toyota driver struggled around on dry tyres on an increasingly wet track surface.
Glock had moved up the order due to a strategic gamble from Toyota, with his team electing not to come in to change tyres when the conditions changed in the final stages of the race. With Hamilton falling behind Glock as a result, the then-McLaren driver almost ran out of time to get the fifth place he needed to secure the title.
With Massa crossing the line effectively as World Champion as Hamilton was still in sixth, the last-moment nature of the change in fortune for Hamilton resulted in despair for the home crowd – with Glock caught up in the crossfire.
"On track, I just tried to do my job as good as possible," Glock said on the Beyond the Grid podcast.
"But I remember really clearly the last three to four laps because to me, it was clear in what direction it's gonna go – not clear to me I was gonna decide a championship. But we were like P7 and P9, I think, and this cloud came over the track and I said three laps towards the end 'guys I think it's gonna end up in a disaster because this cloud will arrive two or one laps towards the end. If it's raining, it's gonna be chaotic'.
"They said 'we will take the risk and stay out – we have nothing to lose'. On the second to last lap, it started raining at the last corner and I said 'guys, I need to come in' because you could see the rain, how much it was, just 200 metres away moving very quickly to the track.
"I said 'guys, I need to come in now, it's impossible, I'm not gonna survive that last lap'.
"The tyres were cooling down already, the grooved tyres. And they said 'you cannot come in, it's impossible because the gates are already built up for the podium ceremony'.
"People are already freaking out because Massa was, at that time, World Champion. So I had to stay out. I come to the first corner, it's already wet, [and am] just trying to survive. I was P4 at that point. I never had the information on what scenario I'm in and what's going to happen on the last lap, if they will catch me or not. I just tried to survive and then a bunch of cars overtook me, [Robert] Kubica was a lap down, [Sebastian] Vettel overtakes me, [Lewis] Hamilton overtakes me and I finished P6."
Timo Glock realises the gravity of the situation
Blissfully unaware of the enormity of what had just happened on track, Glock concentrated on just trying to safely get back to the pits, while his engineer relayed a brief message to him.
"It was very slippery," Glock recalled.
"With these grooved tyres, as soon as they cooled down they had zero grip. Like summer tyres on ice. Funnily enough, my engineer just told me Hamilton was the World Champion but he didn't tell me I had decided the championship.
"I came back to the pits and funnily enough, Lewis stopped in front of me. So I go there, give him a handshake and said 'well done, man, congratulations on your World Championship' in front of, I don't know how many, 1,000 Brazilian spectators?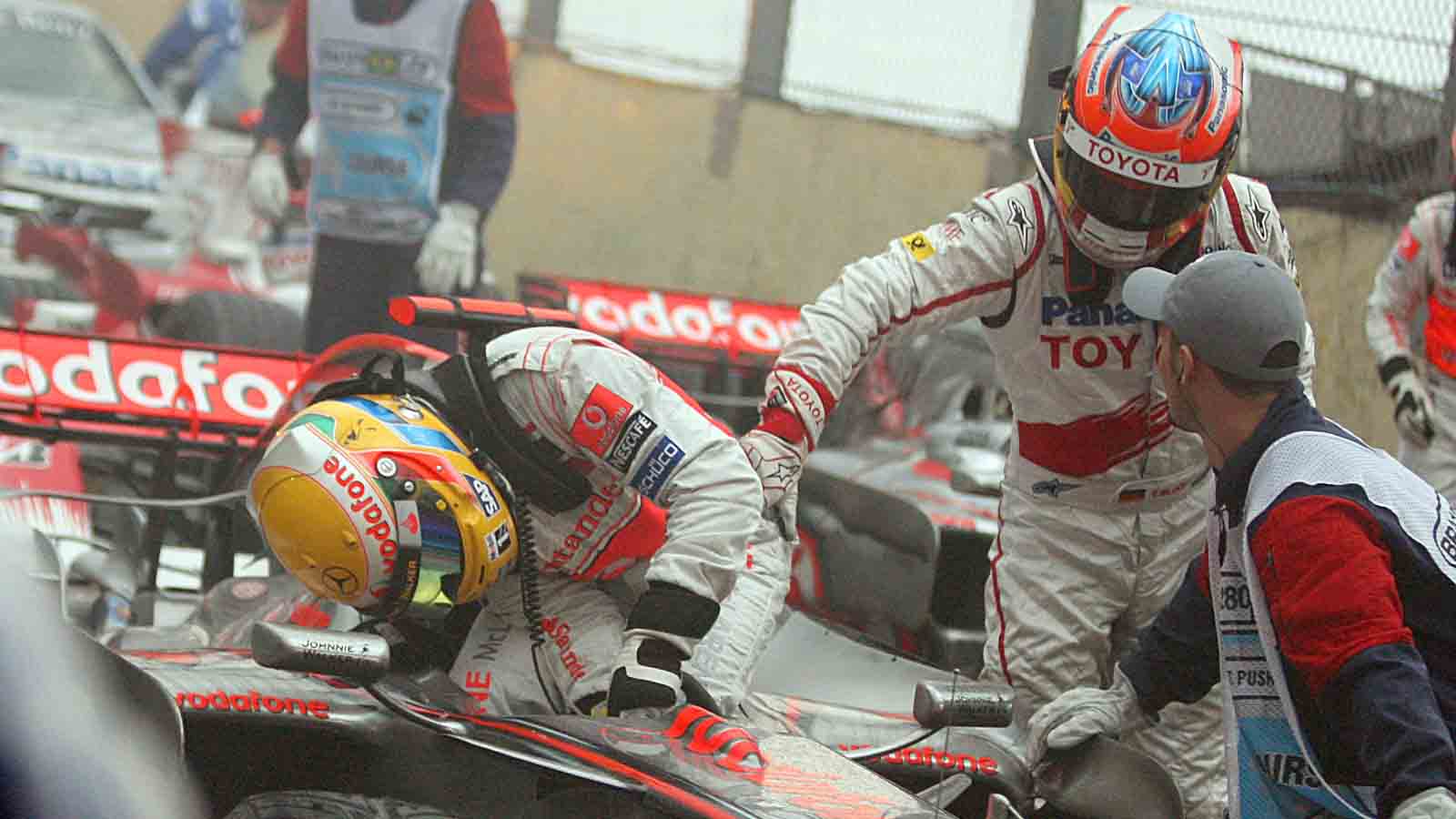 "Then I walked up to the scales and this whole bunch of journalists and photographers run down and come to me and asked me these questions like 'was this on purpose, did you help Lewis? Why did you help Lewis? You decided the championship!' and I was like 'what the hell…? What's going on here?'
"Then my physiotherapist comes to me and takes me, runs me back to hospitality, locks me in the room and tells me what happened. So then I understood what's going on. I still remember my mechanics…people were throwing stuff down on everyone who had a Toyota shirt on. I got a police escort from the track to the hotel. From the hotel the next morning to the plane to the airport,  into the plane. They walked with me onto the plane.
A decade passes before Timo Glock speaks with Felipe Massa
Having realised the gravity of the incident and his involvement, Glock explained he never sought out Massa for a conversation – cowed by the possibility the Brazilian driver held a grudge against him for it.
"I thought if I talked to him, he will kill me. I don't know," Glock admitted, before revealing his paranoia could not have been further from reality.
"Funnily enough, last year in Mexico, I was on the Sky Pad and Felipe Massa walked by and waved at me.
"I looked at him and I was turning around, 'does he mean someone else?' So he waved to me and I waved back. Then my cameraman, Toby, suggested I should ask him for an interview. Then I walked back and said 'okay, next week is the Brazilian GP, why should we not do an interview with Massa in Brazil about that championship-deciding moment?'
"So I sent Rubens Barrichello a message and asked could he give me the phone number for Felipe: 'Do you think he will talk to me?'
"'Of course he will talk to you, why not?' So I sent Felipe a text and he replied super-friendly 'hey mate, no problem, of course we can do an interview! That's good. That's a really good idea. Let's talk about that!'
"When I walked into the TV compound, Martin Brundle comes up and I say he's the right guy to do the interview. The famous words – 'is that Glock?!' (Brundle shouted this on ITV's live coverage).
"Martin interviewed us in Brazil, which was super-emotional from both sides. Felipe had never seen the onboard camera from me on that last lap. The first time was last year in Brazil. So then he really understood what position I was in. From that moment on, it was just a really cool relationship."
Having spent so long living in fear of Massa's anger, Glock said he would not change anything about how the situation was handled.
"I don't regret it," he explained.
"Of course, I could have talked to him earlier. But the way it happened, I think the story was even better. Then he invited me to his house and we had dinner with his family. I told his dad it is so painful still to see this moment where he was celebrating his son a World Champion in Brazil, and then getting told it's not happening.
"This face, the way how he looked into the camera, I will never forget that. This is what I told him. I still have goose bumps when I think about it. It was just a really nice weekend, I really enjoyed this. Hopefully, we can do it again together."
Timo Glock reveals it was years before death threats subsided
Given the emotion, despair and hurt of the moment, particularly in front of Massa's home crowd as Felipe took to the podium in tears, Glock revealed he and his family were plagued by threats for years after the race.
"It was really shocking how people can treat you in a way where even my parents were scared," he said.
"Getting letters back home, fans saying I should be banned from racing. Even people saying the guy should be killed and stuff like this – it was not nice. Every time when the Brazilian race came up, my Twitter account exploded. It's still the case sometimes. Now it's more the positive, the funny stuff, like the famous words 'is that Glock?'"
It took the release of Glock's final-lap onboard footage from F1 for the situation to calm down for the German driver, who said it finally vindicated what had happened on track during what had been a simple strategic gamble.
"It changed quite a lot when the onboard came out," he said.
"I don't know why F1 waited five years for it. But when that came out, it changed a lot of people's minds.
"It didn't change my confidence in myself. I just couldn't understand why people thought I would help, or I would have made Lewis the World Champion. I was driving for Toyota. Why should I make Lewis the World Champion? There was no way I could have been involved in anything because I just drove my race. And I tried to make the best out of it. So I could not understand people were thinking I did it on purpose. I had no clue where I was in the race."