'Max would've punched Lewis two years ago' at Monza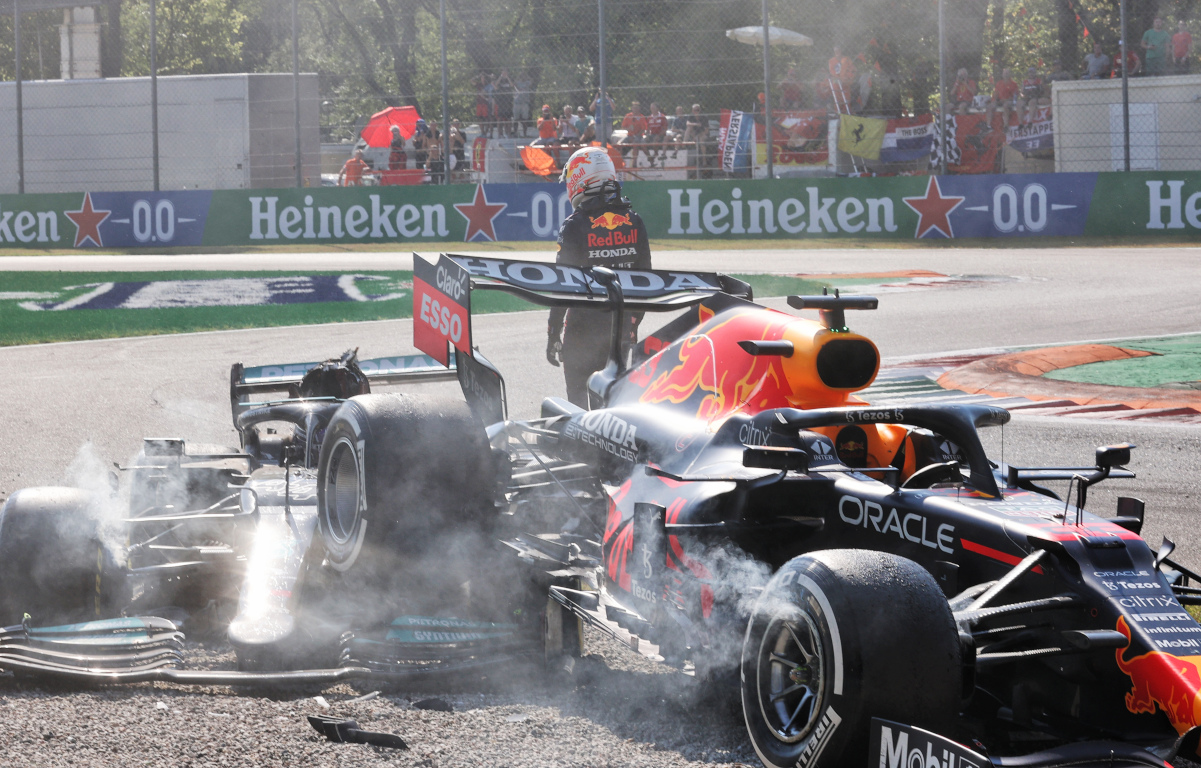 Timo Glock says Max Verstappen has made a "huge leap" in 2021, both in his driving and in his overall temperament on track.
The former Toyota driver feels that the World Championship leader has shown a greater level of maturity this season, particularly when things haven't gone to plan for him.
He praised Verstappen's more "relaxed" demeanour in the context of his crash with title rival Lewis Hamilton at the Italian Grand Prix, saying that in years gone by, he could have acted in a more volatile way.
Glock also highlighted how well the seven-time World Champion deals with the rigours of fighting for a title, and that Verstappen has managed to become "much more controlled" in 2021.
"Lewis never shows on the outside that he has pressure. He knows very well how to come across as calm," Glock said to Sport1.
"Of course, he also knows that when he puts on his helmet, it all depends. But he has found a way to appear relaxed and cool.
"Max Verstappen has also managed that well so far. For me, he has made a huge leap, he has become much more relaxed, much more controlled in many ways.
"Two years ago, in a situation like the crash in Monza, he probably would have opened Lewis' helmet and punched him. Now he leaves him on the left and thinks to himself: 'See how you get out of this.'"
The season as a whole has seen the lead for the World Championship change hands on plenty of occasions, with Verstappen taking a six-point advantage heading into the United States Grand Prix this weekend.
Hamilton and Verstappen have both taken engine penalties in the last two races respectively, after which the Red Bull driver has had a net gain of an extra point on his Mercedes counterpart – which team principal Toto Wolff believes the Silver Arrows "can live with" overall.
As for 2021 overall, the German is loving every second, and feels the eventual World Champion will be the one who makes the fewest mistakes.
"It doesn't get any better than this," said Glock. "I'm very curious to see who has the longer breath in the end.
"Whoever can keep the error rate as low as possible, because that's what will matter in the end – also for the teams.
"To see Mercedes finally under pressure from Red Bull is something. Before, they always had a cushion. Then you can afford to make a mistake. They can't do that now. I'm happy to be able to commentate on the last five races on Sky [Germany]."
Lewis Hamilton on if roles were reversed at Monza
Lewis Hamilton said, if he had been on top of Max Verstappen at Monza, he would have got out of his car to check on his opponent.