Timo Glock questions why the FIA has rules if they are 'not applied' as written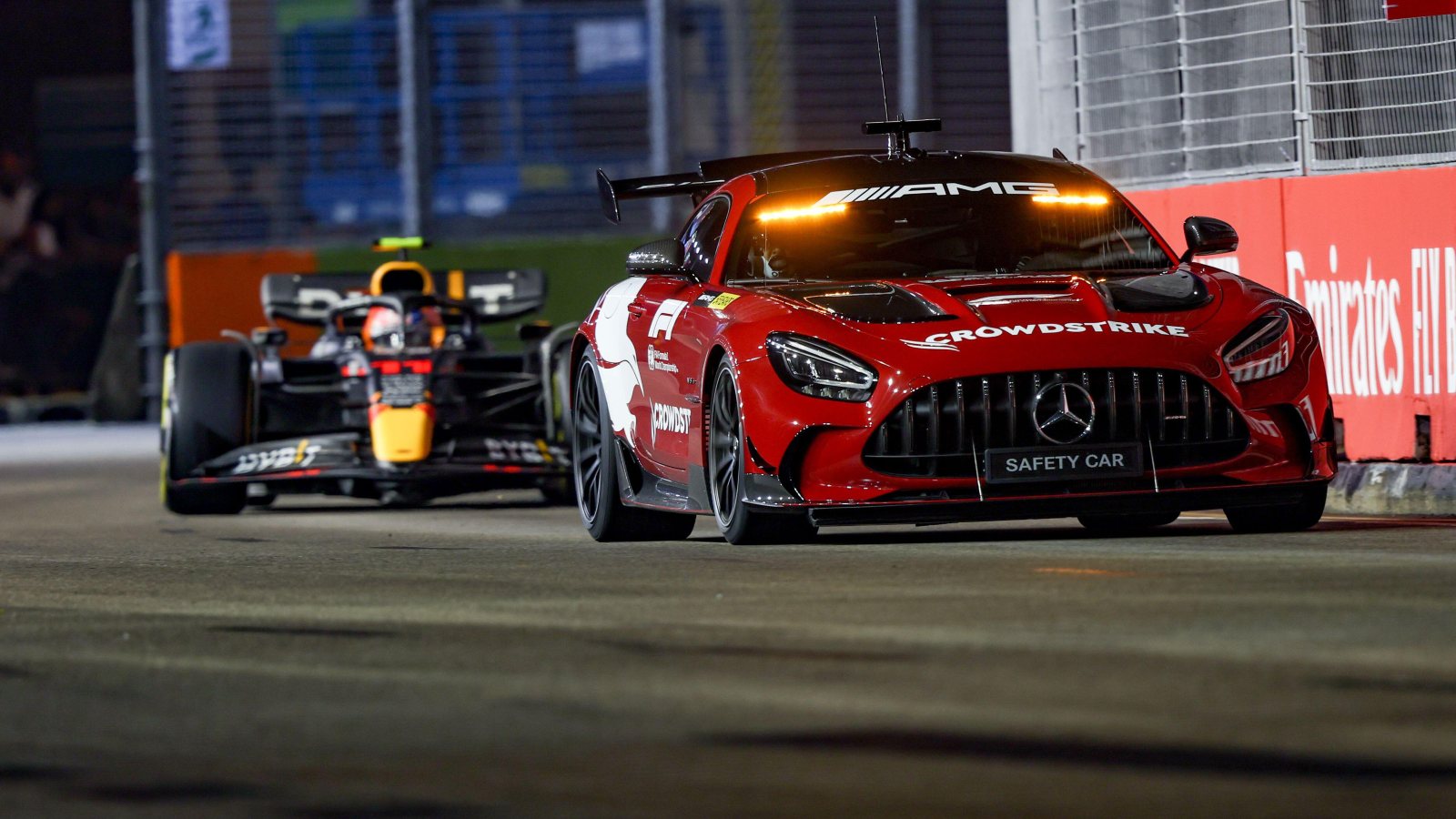 Timo Glock wants to know why the FIA even bother having rules if they are "not applied as they are [written] in the rule book".
The former F1 driver was referring to Sergio Perez's Safety Car infringements at the Singapore Grand Prix, the race winner twice falling back more than the allotted 10 car lengths from the Safety Car.
Both instances took place between the exit of Turn 13 and Turn 14, the driver blaming the damp track.
But while the FIA accepted that as "mitigatory circumstances" for the first infringement, they said he had been warned ahead of the second and therefore handed him a five-second penalty for that.
It took until 1:42am Singapore time for the decision to be announced, that was more than two hours after the investigation was announced.
Glock is perplexed, both by the timing and the fact that Perez only received one penalty.
"Sergio Perez drove a fantastic race and deservedly won in Singapore," he wrote in his Sky Deutschland column. "However, his victory was in question for a long time due to the stewards' investigation.
"On the TV it looked as if he had dropped back from the Safety Car by more than ten car lengths during both Safety Car periods. In the case of a possible offence, however, it was probably borderline and the stewards turned a blind eye.
"Of course you can now talk about why these rules actually exist and why they are not applied as they are in the rule book.
"But only the stewards know that and why it took them more than two hours to make a decision.
"It is certain that all explanations were listened to and discussed extensively. Perhaps they also had other pictures from the Safety Car or saw that Perez was just a few seconds more than ten car lengths behind. That's difficult to judge."
🚨 BREAKING: Sergio Perez keeps victory in Singapore after being given a reprimand and a five-second penalty for his two Safety Car infringements in the race.#SingaporeGP 🇸🇬 #F1 pic.twitter.com/vnTxcI9dOL

— PlanetF1 (@Planet_F1) October 2, 2022
Perez crossed the line some seven seconds ahead of Charles Leclerc which meant even with the penalty applied, he still won the grand prix, his second win of the season.
Glock says F1 needs simpler rules as race wins should not be decided in the stewards' office.
"If you have such complicated rules, then Formula 1 always gets into such situations where a victory is only decided at the stewards' table," he said.
"You have to think more carefully about certain rules and simplify the set of rules a little."
But, he added: "From a purely sporting point of view, Sergio Perez did a top job in Singapore."
Ferrari believed Perez should have been penalised twice, Mattia Binotto telling Sky Sports: "There were two infringements behind the Safety Car, so it can twice be a penalty. But we can only trust on what they decide.
"On the occasion of two different Safety Cars he made the same mistake, being too far from the car.
"If I look at similar cases, like [Antonio] Giovinazzi in 2019, the driver was punished with five seconds and I believe the sporting regulations impose a penalty of five seconds, 10 or a drive-through."
Read more: Sergio Perez 'very lucky' to only receive five-second penalty for SC infringement