Toto Wolff says 2022 didn't have 'any more or fewer games' that a usual F1 season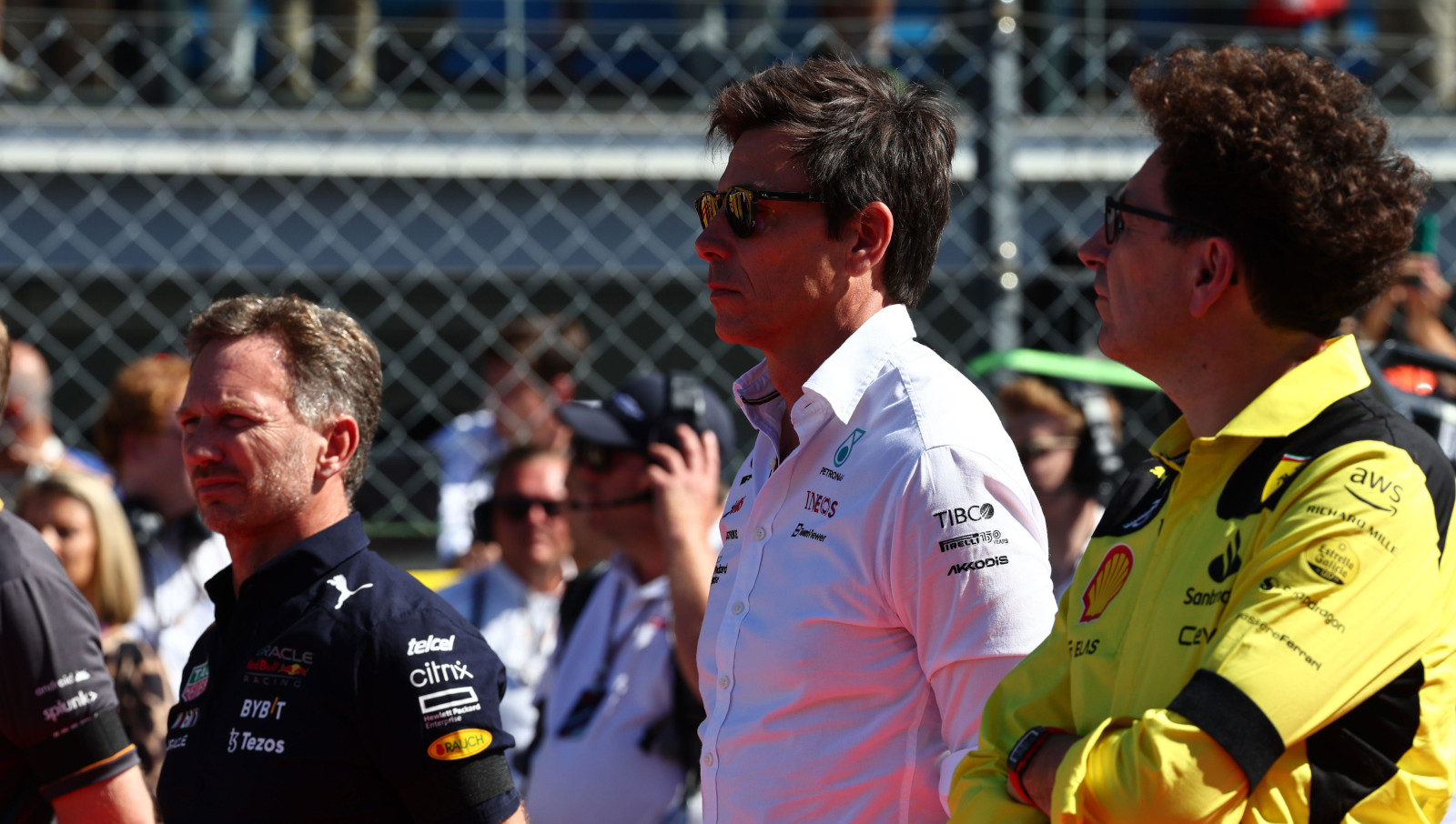 After a season in which porpoising and budget caps created headlines, Toto Wolff says politics in Formula 1 is "quite normal" as team bosses want to "protect" their own teams.
This year's championship saw porpoising dominate the early part as Wolff called for the FIA to intervene as his Mercedes drivers bounced from one race to another.
Red Bull, with their car firmly planted to the ground, said it was up to each individual team to resolve their own issues and not motorsport's governing body.
The FIA did eventually get involved, issuing TD39 that came into effect at the Belgian Grand Prix, while also tweaking the floor regulations for next year's championship.
Fast forward to the latter part of the season and it was the budget cap that was the sport's focus with Red Bull found guilty of exceeding the ceiling by $2.2m last year.
Rivals called for harsh sanctions with the FIA settling on a $7m fine and the deduction of 10% of Red Bull's wind tunnel and CFD time in 2022.
But while it may seem as if this year's seen more political wrangling off the track than usual, Wolff says that's not so, the Mercedes motorsport boss saying politics has always been a part of the game.
"It's about protecting your own team" he said as per the Spanish edition of Motorsport.com.
"I think we all do that, trying to stay ahead or protect ourselves or, in a way, understand where [team] policy is going. I think it's quite normal.
"I don't think there are more games or fewer games, everyone lives by their own rules, I think it's quite normal."
The porpoising, bouncing, bottoming saga
Introducing ground effect aerodynamics as the way to create the car's downforce, this season saw cars porpoising around the race tracks with Mercedes suffering more than others.
As Lewis Hamilton and George Russell bounced their way from one race without a win to another, Toto Wolff called on the FIA to step in as his drivers were complaining of headaches and back pain.
Christian Horner countered with: "Tell them to bitch as much as they could over the radio and make as big an issue out of it as they possibly could. It's part of the game."
Wolff hit back at rivals for "trying to play political games."
The FIA sided with Mercedes, bringing in TD39 that included a vertical oscillation metric to measure bouncing with the stipulation that any team that exceeds it will be deemed unsafe. No one ever did.
They also tweaked the floor rules for next year, wary of the teams finding more downforce over the winter, by increasing the floor edges by 15mm and raising the height of the diffuser throat.
The budget cap and Red Bull's overspend
Prior to the Singapore Grand Prix reports began to do the rounds that two teams, one said to be Red Bull, have exceeded last year's budget cap of $145m. Red Bull denied this, adamant they'd done nothing wrong.
While rivals called for harsh sanctions to deter others from doing the same in the future seasons, Red Bull wanted to know how the information was leaked.
McLaren CEO Zak Brown wrote a letter to the FIA saying any overspend "constituted cheating" leaving Christian Horner enraged at the accusation.
After a delay in releasing their findings into 2021's spending, the FIA finally confirmed that Red Bull had overspent and that it was by $2.2m, not the $7.5m limit for what was defined as a 'minor overspend breach'.
Then came the delay in announcing the punishment, reports claiming Red Bull were having sit downs with the FIA to find consensus on that. Pundits were perplexed that they could have a say in their punishment.
In the end it was decided it would be a $7m fine and the loss of 10% of their 2022 R&D time. Horner said that was "draconian" and would cost them half a second per lap. Rivals don't agree as they feel Red Bull have already gained a huge advantage from the overspend.
To add to the drama, Helmut Marko has warned Formula 1 that at least "six teams" have overspent this season. Part two coming to you in 2023.
Read more: Toto Wolff dismisses Lewis Hamilton's 35-point loss to George Russell as 'irrelevant'