Wolff expects an 'angry' Hamilton for title showdown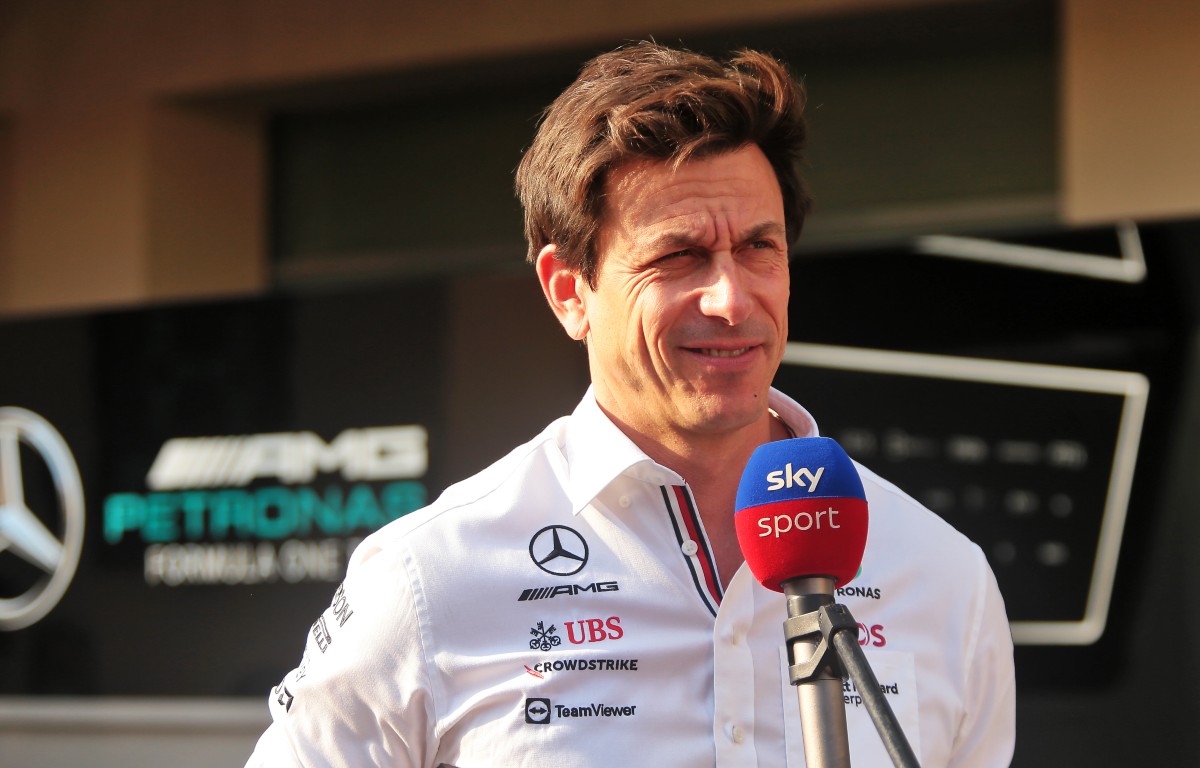 Mercedes boss Toto Wolff believes an "angry" Lewis Hamilton will set about hunting down Max Verstappen in Abu Dhabi.
Verstappen claimed pole position for the all-important title decider at Yas Marina, putting his Red Bull at the front of the grid, over three tenths of a second up on his rival for the Championship.
Both drivers are tied on 369.5 points, so Hamilton cannot afford to still be behind Verstappen come the chequered flag.
However, the seven-time champion often is at his best when the odds are stacked against him – and going hunting one last time in 2021, Wolff is backing his "angry" driver to attack, without any pep talk from himself.
Asked by Sky F1 what he will need to say to Hamilton tonight, Wolff replied: "There is nothing you need to say. I think he will be angry and that's good, motivated for tomorrow to just hunt him [Verstappen] down.
"We are on the back foot and sometimes you need to see the positives. Sometimes that's not bad as a starting point."
A major difference for the race start is Verstappen will launch on the soft C5 tyre, having flat-spotted his set of new mediums during Q2.
Hamilton, meanwhile, will have the medium rubber for the start – the strategy Wolff prefers.
😁💬 "Max did a great lap today, we just couldn't compete with that time at the end there.

"We're in a good position, I'd like to think, with our tyres tomorrow and I hope that we can have a good race."@LewisHamilton is still smiling 👌 pic.twitter.com/LhdIZq40J9

— Mercedes-AMG PETRONAS F1 Team (@MercedesAMGF1) December 11, 2021
"From P2, much rather starting on the medium," Wolff confirmed.
"We would have a slight disadvantage at the start I guess, and the first six, seven laps if he [Verstappen] drives fast.
"If he manages then it's not a big advantage for them, but we can go longer. We can go for an aggressive undercut also and try to control track position.
"So overnight we will be running lots of programmes and algorithms to see where that ends."
However, Wolff is wary of Red Bull's pace in race trim, having been impressed with their long-run performance on Friday.
Asked if Verstappen had the real pace advantage in qualifying, Wolff responded: "They had. I'm also worried for tomorrow because their long runs were much better on Friday. But our tyres were just not in the window, theirs were.
"And you could see Q1, Q2 was ours, looked like a pretty easy run and then suddenly you lose all the performance.
"The pace was there [in the long runs]. Obviously in the long runs you don't know because…the car which is going to be faster tomorrow will win the race, irrespective of who starts on which tyre.
"And we just need to build on that and recoup, and then hopefully come out on top tomorrow."
What Hamilton cannot afford is to lose places at the start to the other soft-tyred runners, with McLaren's Lando Norris in P3 and Red Bull's Sergio Perez, also on the second row, posing the immediate threat.
But while it would be a major boost for Hamilton to at least retain P2 off the line, Wolff was keen to remind exactly who is behind the wheel of that W12.
"If he can keep it in P2 obviously that's an advantage. If you lose more positions then it becomes more difficult, but this is a long race and it's Lewis Hamilton in the car," Wolff stated.
Yas Marina Circuit has been revamped ahead of this pivotal race weekend, with the main goal being to allow the cars to follow more closely across a flowing lap, therefore promoting overtaking opportunities.
Wolff, though, still expects tyre degradation to be the determining factor if Hamilton is to overtake Verstappen on track.
On the suggestion that tyre degradation for Verstappen could be Hamilton's only overtaking opportunity, Wolff said: "They have put on the small wing, so they will have lots of straight-line speed, so there is not a real difference there, it's only with tyre offset.
"And to create that, obviously you need to have a totally different strategy."
Hamilton ideally would have liked his team-mate Valtteri Bottas nearby for the start in what is the Finn's final race as a Mercedes driver.
Instead though, he will start P6, so Wolff will wait until the first couple of laps to determine what role Bottas can play.
"If you see the gaps between P3 and Valtteri P6, I think it was all within a tenth. It's a shame because having him down there [sic] would have helped," said Wolff.
"It's unfortunate that you are starting in the middle of that gaggle and you just need to make it through the first lap or two, and then we will see how we can get back."