Toto Wolff accuses Christian Horner of 'reverse psychology' over budget cap defence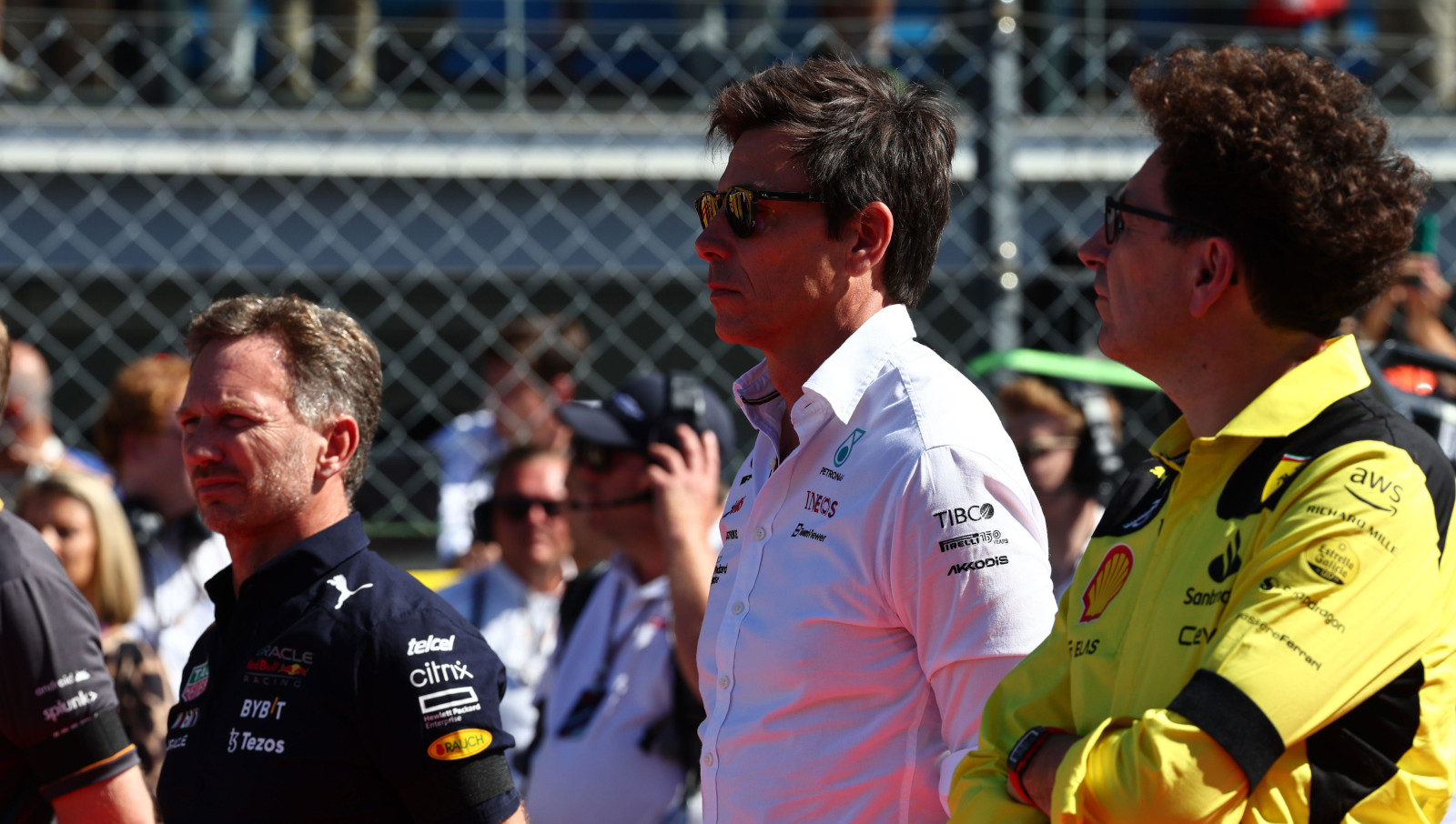 Toto Wolff believes the impassioned budget cap response from Christian Horner is heading towards the realm of "reverse psychology", making out that Red Bull are in fact victims for being accused of cheating.
Red Bull were found to have committed a 'minor overspend breach' of the 2021 budget cap by the FIA, which accounts for up to $7.25m over the prescribed budget for last season.
They were the only team to have breached the financial rules implemented by the sport last season, with McLaren CEO Zak Brown having penned a letter to the FIA saying that overspending "constitutes cheating" under the financial regulations.
Both Brown and Horner were sat next to each other in a fiery press conference in Austin on Saturday afternoon, with the Red Bull boss fighting back at the claims made by his McLaren counterpart, calling the accusations "absolutely shocking" and condemning the "abuse" he and his team have faced after news of the team's overspend was first reported.
Red Bull maintain their denial of any wrongdoing and Horner has been in talks with FIA president Mohammed Ben Sulayem surrounding the team's punishment – with the FIA said to have offered an 'Accepted Breach Agreement' to Red Bull, which would see full details of their transgression made public.
But despite Horner's vocal defence, his Mercedes sparring partner has taken a rather dimmer view of things, preferring to focus on the wider paddock.
"I almost had to wipe away a tear when I heard that," Wolff said sarcastically when reminded of Horner's press conference comments, per the French edition of Motorsport.com.
Red Bull advisor Helmut Marko on cost cap saga…

"Winning doesn't make many friends. Some think they're gaining an advantage by doing this, but they don't think outside the box." #F1

[Sky Deutschland] pic.twitter.com/2fDLbEOOPL

— PlanetF1 (@Planet_F1) October 22, 2022
"The fact is that nine of the 10 teams have stayed under the budget cap. The fact is that one team is now claiming to have exceeded it with alleged problems that are not performance related, but these apply to us as well.
"We too have been thinking about how many sandwiches we give people and how to overcome various financial hurdles," he added, in reference to reports Red Bull's catering budget was a significant factor in their overspend.
"Whether they're over a million, two or five, it's a financial advantage that can translate into development.
"So it's a bit of reverse psychology: who is the victim here? I think it's the nine teams."
Wolff cited examples of the rules being enforced strongly against his own team in the not-too-distant past, such as Lewis Hamilton's drop to the back of the grid after a minor DRS infringement was found after qualifying at Interlagos last year.
The Mercedes team boss acknowledged that paddock politics has always been and always will be a part of Formula 1, and he is hoping for a swift conclusion to the conversations between Red Bull and the FIA on the budget issue, for the benefit of the sport.
"There have been controversies in recent years," he said. "In Brazil, [our DRS opening] was 0.02 millimetres over and we were excluded.
"I think the financial regulations are a very important pillar of the technical and sporting regulations. The aim was for all teams to be able to compete with the same expenses, and if one goes over the cap now, whatever their excuses, it's contrary to the spirit that was intended."
Read more: 'Red Bull have known the FIA's punishment for a week, have made counter offer'