Wolff finds it 'worrying' Horner enjoys winding him up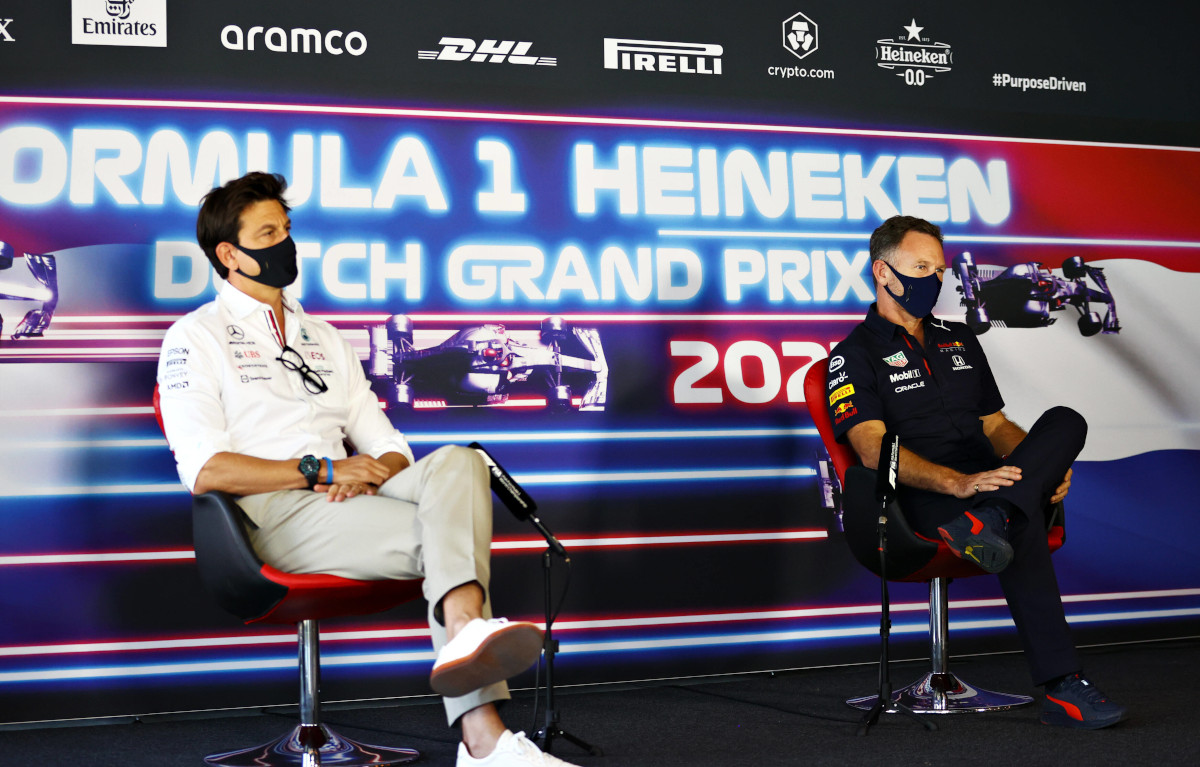 Toto Wolff says he finds it "worrying" that Christian Horner said he likes to wind him up as their title fight continues.
The pair have exchanged barbs at each other all season, with Red Bull team principal Horner admitting he enjoys seeing the Austrian get irritated, to the point where he feels "the more Toto gets wound up, the more fun it becomes."
Wolff and Horner have gone back and forth for months about how they go about their business, with the Mercedes boss labelling Horner a "windbag" earlier this year, while his rival feels Wolff's contact with the FIA is so frequent that a "major clearout" is needed of the FIA's inbox.
The two teams are fighting toe-to-toe for both World Championships this season, so it would be understandable for both team leaders to be agitated as the title battle remains so close.
But as for Wolff himself, does he feel wound up by the situation this season? "No, not at all. That he thinks about these things is a bit worrying," he said.
Leaving Sochi with the Championship lead. 👊 pic.twitter.com/Aq3uu2TPDP

— Mercedes-AMG PETRONAS F1 Team (@MercedesAMGF1) October 2, 2021
Check out all the latest Mercedes merchandise via the official Formula 1 store
Horner also claimed that this is the first time in the turbo hybrid era that Mercedes and Wolff have been seriously challenged over the course of a whole season.
Perhaps unsurprisingly, Wolff disagrees.
"No, I think you must not forget that in 2018 and 2019 we had really hard battles against Ferrari at that stage," Wolff told Channel 4.
"I think one of the years we were lying behind before shutdown, only in autumn we managed to turn it around.
"And these battles were really hard and no different to the current one."
With Lewis Hamilton and Max Verstappen locked so closely together in the fight for the Drivers' Championship, the final third of the season will be critical in the destination of both the Drivers' and Constructors' standings.
Horner feels his team are up for the fight, as they look for their first championship victories since 2013.
"The next 12 weeks will determine whether we win a championship or not, and we have got eight cup finals basically to ensure that we deliver at our very best," Horner said prior to the Russian Grand Prix.
"Mercedes are beatable, and it's only if we are at our very best that we can succeed. We have proved that we can do it, we have proved to ourselves that we can do it, we got ourselves into that position."
PlanetF1 verdict
Wolff vs Horner - The real 2021 battle
Toto Wolff and Christian Horner have been going at it all season long, and it's only enhanced the competition between Mercedes and Red Bull.