Toto Wolff is well aware that he "p*sses people off" with extra Formula 1 activities but has once again stated there is "no conflict of interest".
The Mercedes team principal, who is in a "period of reflection" as he assesses whether to continue in his role beyond the end of the 2020 season, was quizzed about all his other involvements and investments and whether he was fighting too many battles.
Wolff has shares in Aston Martin and Williams, is in the middle of the Racing Point RP20 copycat saga, has been at the heart of the disagreements over the Concorde Agreement amongst other reported roles such as management of the Mercedes young driver programme.
He took the time to clarify his position.
A good week for the @MercedesBenz family ❤️ pic.twitter.com/qD08sJh82z

— Mercedes-AMG F1 (@MercedesAMGF1) August 17, 2020
"There is no conflict of interest," Wolff told reporters at the Spanish Grand Prix.
"But I understand that it pisses some people off and sometimes the perception is something that is important to recognise and I do that.
"I completely understand that if you have been successful over a few years and me as an entrepreneur, which I have always been, having interests in certain indirect relationships with players in the sport – this is annoying.
"If I were on the other side I would also pick on these things.
"There is one essential point with me: when I joined Mercedes, I decided, and this was an intense discussion with Mercedes, to do everything in the interest of the sport.
"So, to clarify: I sold the Williams shares but I got them back because they were held in escrow and the last payment defaulted.
"It's not something that I wanted and I made it clear with Mercedes that my main priority with those shares is to sell them.
"So the process that has been started by Claire and the team is something that I really appreciate because it allows me to sell those shares. That's number one."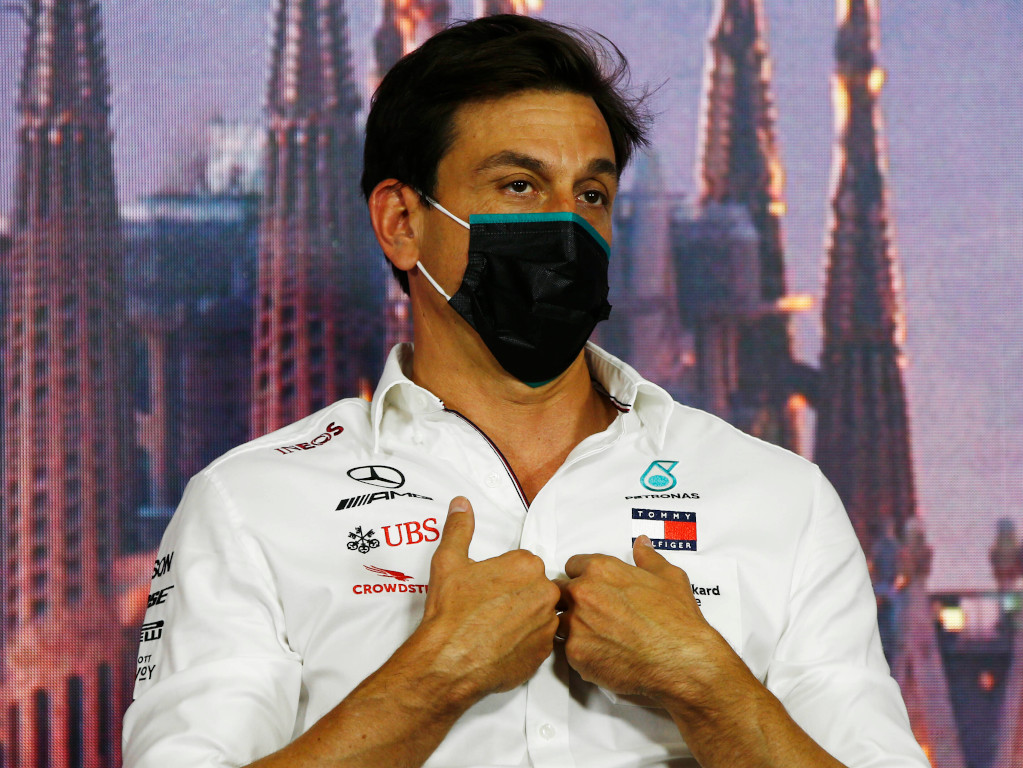 Get your hands on the official Mercedes 2020 collection via the Formula 1 store
On the Aston Martin shares, he continued: "The Aston Martin investment is tiny. I've bought a few shares in a car company that has no direct shareholding with an F1 team but is simply doing the branding on the Red Bull car this year and on the Racing Point next year.
"I see it as a good investment – I like the products, the new management team is fantastic. And I have no board seat, which was agreed with Daimler, and no other involvement. I'm not a consultant, I'm not an executive and I'm just watching from the sideline what happens."
Wolff has also said he is watching from the sidelines when it comes to young driver management.
"I've refrained from direct driver management," he added.
"It's all under the roof of MGP, of the Mercedes Formula 1 team.
"We have tried, like any other big team, to really look at the talent that is coming up from karting onwards, and like Ferrari, that has expanded its activities in the junior programme, and has some very promising young drivers coming up, we have done that a few years ago and Red Bull has done it too."
Follow us on Twitter @Planet_F1, like our Facebook page and join us on Instagram!