Toto Wolff responds to Fernando Alonso calling Lewis Hamilton 'an idiot'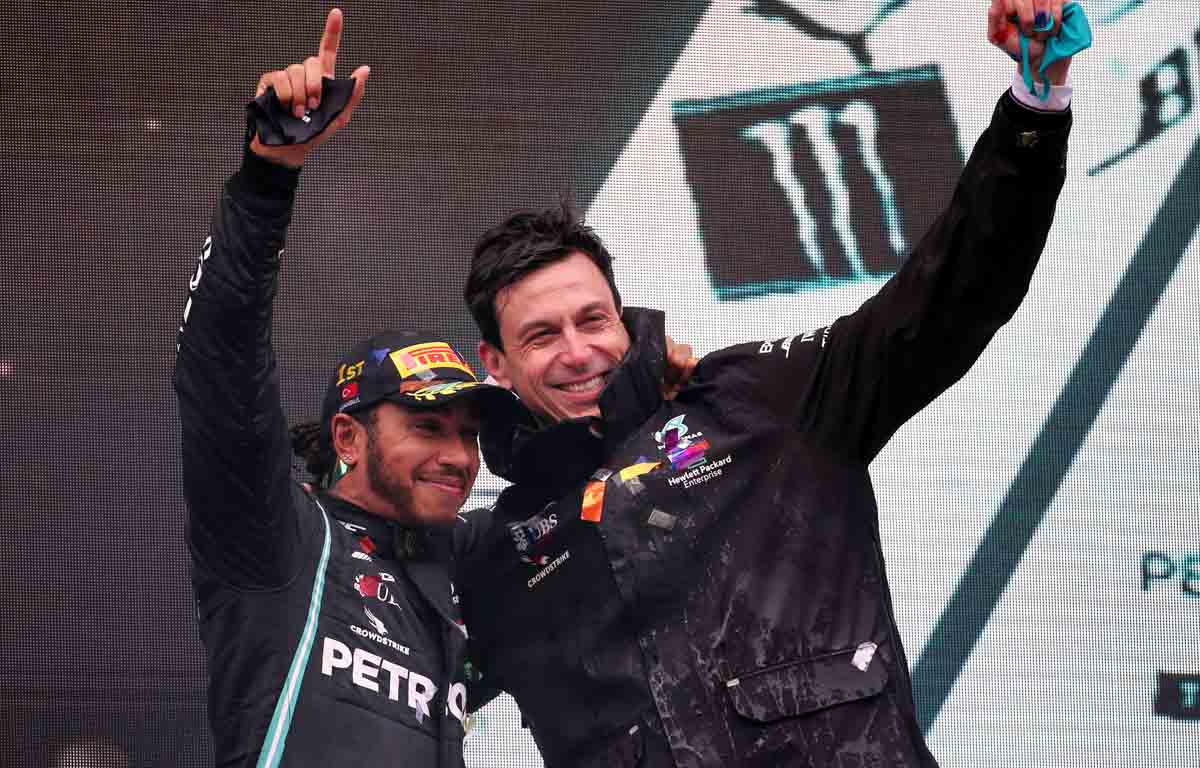 Toto Wolff has responded to Fernando Alonso's accusation that Lewis Hamilton only knows how to win from the front by saying it is a strategy that worked.
In the heat of the moment, drivers can perhaps say things that they do not always mean and the seasoned Alonso is no exception. His famous "all the time you have to leave a space!" line in response to Nico Rosberg during the 2012 Bahrain Grand Prix has become the stuff of F1 legend and he produced another memorable quote during the Belgian Grand Prix this past weekend.
After Hamilton turned in on the Alpine driver during their battle at Les Combes in the opening lap, the Mercedes driver was lifted into the air and the seven-time World Champion was forced to retire.
Hamilton was found to have been at fault for the crash but it resulted in some choice words from Alonso over the team radio.
"What an idiot closing the door from the outside," Alonso vented. "I mean, we had a mega start but this guy only knows how to drive and start in first."
While Hamilton himself did not rise to the bait when the comments were put to him, Mercedes team boss Wolff took a rather humorous approach to Alonso's suggestion.
"Well, Lewis has started in the front a lot," the 50-year-old said, as per GPFans.com.
"He's won seven World Championships so the strategy worked!"
Hamilton's retirement made it a weekend to forget for Mercedes with their grand prix only being slightly salvaged by George Russell's P4 finish. It seemed that with the new technical directive, which Mercedes lobbied for, the team lost momentum in their recent recovery.
"This guy only knows how to drive and start in first" 📻

Fernando Alonso was NOT happy with Lewis Hamilton as they collide on the opening lap 😡 pic.twitter.com/D2GgCXrBHI

— Sky Sports F1 (@SkySportsF1) August 28, 2022
On Saturday, he described their qualifying performance as the worst of his decade with the team and following Sunday's race, he remarked that there were still "big question marks about what is going on."
"It is not where we should be with the structure and the knowledge to understand a racing car, but we don't with this one.
"We still have the ambition to win races this year. If I would have told you that in Budapest, you would have said 'Well, that's pretty possible', whereas today saying that I look like a fool.
"But there are some race tracks that will suit our car much more than now. Hopefully, we'll get it right next Saturday [at the Dutch Grand Prix], so that is the ambition whilst at the same time giving it a big focus on next year.
"Finishing second or third [in the constructors' championship] makes no difference to me, but in saying that we want the best race result every week to build confidence."
Mercedes lost ground in their battle for P2 in the Constructors' and trail Ferrari by 41 points.