Toto Wolff declares George Russell is 'a champion in the making'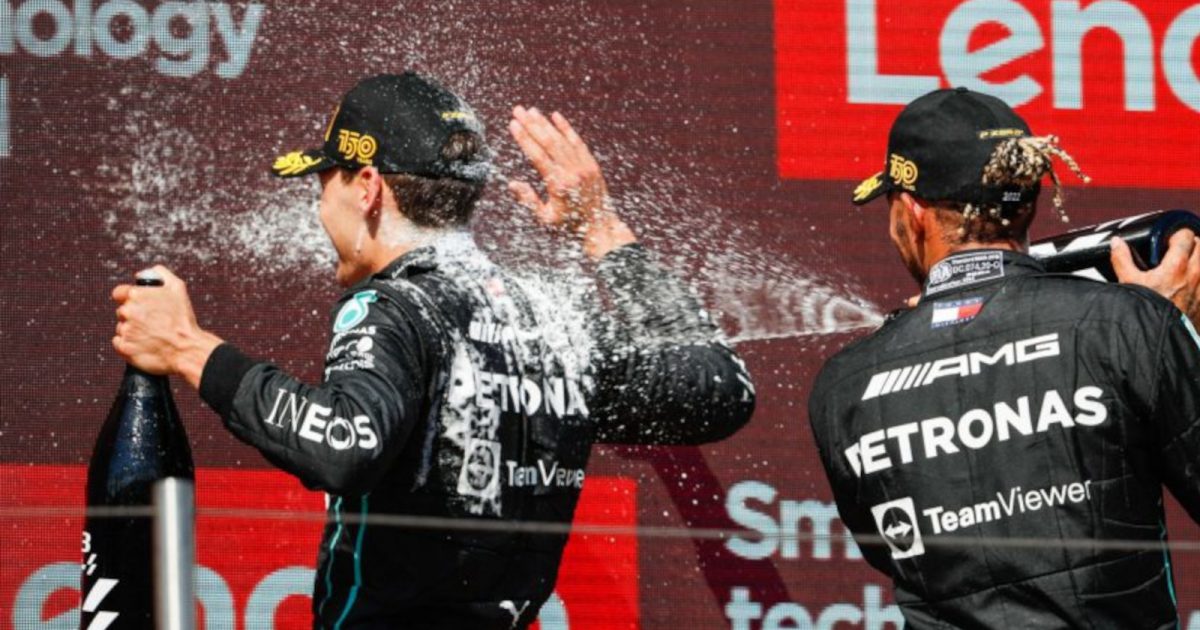 Toto Wolff believes George Russell's maiden pole position at the Hungarian Grand Prix is yet another sign that the Briton is a "future World Champion".
Stepping up to Mercedes this season having done his time, and his learning, with three years at Williams, Russell has impressed many in the paddock.
At a time when Mercedes are struggling to understand their W13, the team lacking downforce and pace due to the porpoising issues, the 24-year-old has out-scored his seven-time World Championship winning team-mate Lewis Hamilton by 158 points to 146.
He has been the more consistent of the two with 12 top-five results in 13 races, compared to Hamilton's nine, while in Hungary he bagged the team's first front row grid slot of the campaign and did so with a pole position.
George Russell with Jenson Button similarities after Hungary 9/10?
George Russell is making clear progress, but he has not quite earned that first win just yet.
Mercedes motorsport boss Wolff is all smiles as he is confident that in his new British signing, he has a future champion.
"George is a champion in the making and he was a champion in all the junior categories – in F3, F2, as a rookie," he said as per GPFans.
"We would have never put him in a Mercedes if we didn't believe he can be a future World Champion."
Last season Russell claimed his first podium in Formula 1, P2 at the washed-out Belgian Grand Prix, while last month it was his first pole position.
The next challenge in his first grand prix win.
"It is George's first pole so that will always be something special for him, and us, because that is a moment to remember," Wolff added.
"But George had these incredible performances in junior series and he had it in Spa last year in the rain. It is just another milestone of the many he is going to achieve."
Russell missed out on that in Hungary, finishing third after being overhauled by the charging Max Verstappen as well as Hamilton.
George Russell's next milestone is on the horizon
Stepping up to Mercedes at the beginning of this season, Russell thought that by now he'd already have a grand prix win – or five – in the bag.
Alas the team's porpoising W13 and their difficulties minimising it have cost both the Briton and his team-mate, Mercedes without a win on the board.
It seemed unfathomable at the beginning of this season to think that Mercedes, given their dominant performances over the past eight years, would be more than halfway through this campaign and still win-less.
But win-less they are… they won't be for much longer.
Since Baku, a race in which both drivers physically suffered as they thumped and bumped their way around the circuit, Mercedes seem to have got a handle on their porpoising with trackside engineering director Andy Shovlin declaring that it is "no longer an issue".
That doesn't mean that everything is perfect as, while the bouncing is gone, so too is a large chunk of downforce that the team had to throw away to fix it. They now need to recover that.
There was a clear sign that they are on their well on their way towards doing just that when the team netted their double podium at the high-downforce Hungarian Grand Prix, Russell starting on pole.
Such has been Mercedes' strides forward in the last five races the only question left to ask is who will take the first win, Russell or Hamilton?