Mercedes boss Toto Wolff will look to "condition and calibrate" George Russell in the right way to keep harmony within the team.
2021 will be the final season of the Hamilton and Valtteri Bottas pairing, with Russell confirmed as Bottas' replacement from the 2022 campaign.
The current Mercedes partnership offered Mercedes the much-needed calm to follow a fiery relationship between Hamilton and Nico Rosberg, and since then the promise was made that there would be no repeat of such scenes.
That being said, there is certainly the potential spark there in Russell, Mercedes' junior who after a long journey is now joining the works team, looking to prove himself against seven-time World Champion Hamilton.
But fear not, for Wolff has a plan.
"He [Russell] has proven that he deserves to have a seat in a top car and now we need to get him properly adjusted into the Mercedes situation," said Wolff, as quoted by the Formula 1 website.
"There's a lot more pressure, he's having an unbelievable team-mate with the biggest records and there it's important that you condition him and you calibrate him in the right way.
"We've seen situations in the past where they've failed; Lewis was part of one where I think the team didn't quite understand how it could potentially go.
"I think we're maybe a little bit better prepared for that situation but nevertheless, he has all the ambition to be a future World Champion and so has Lewis, to add another one, so it's about calibration."
At the same time though, Wolff is not saying he will put a stop on Russell pushing for the title.
"I think you have to respect also the other guy's perspective, and ambition," Wolff stated.
"We are not going to put a driver in the car who is not going to have the ambition to do as good as possible to kick his team-mate as hard as he can, win races and Championships early too, and that's clear.
"So I can put myself into his perspective, so I'm trying to discuss with him what that means for the team dynamic, what it could mean, how we need to keep the momentum in the team. And he's very intelligent, he gets that.
"If we have a car that we can develop, if we are able to go for the Championship, then absolutely, he [Russell] has the same car that Lewis has.
"He has the pace, in qualifying he is very, very fast, and I'm sure it's going to be fine."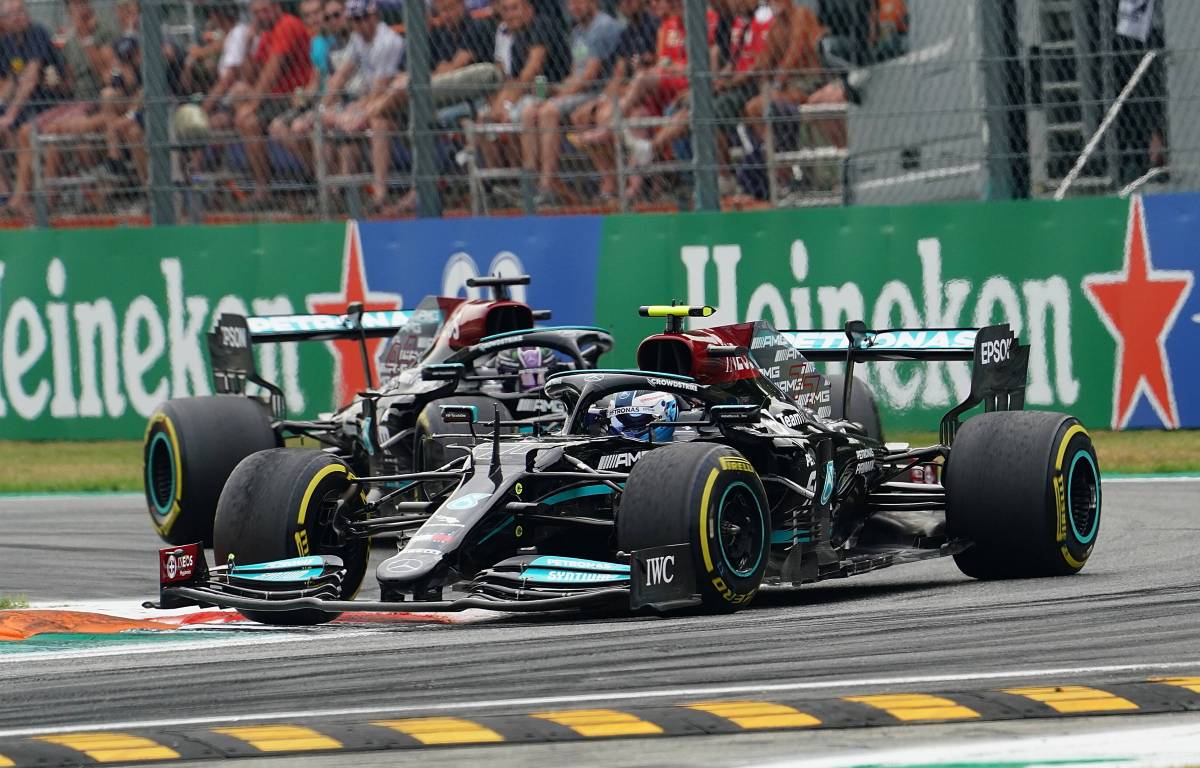 Check out all the latest Mercedes merchandise via the official Formula 1 store
Of course, Mercedes are not guaranteed to be fighting for titles in 2022.
Revamped regulations will come into play next season, with heavily redesigned cars that Formula 1 hopes will allow for closer racing and more overtaking opportunities.
And so, if Mercedes remain among the top three teams and challenging for wins, then Wolff would be satisfied.
"I think we would be satisfied if we would be in the top three in terms of the car package competing for victories," said Wolff of his 2022 aims.
"That's always our ambition, that we are right there over the long-term, this is the winning recipe."