Toto Wolff jokes: Maybe Red Bull have done it on purpose to get a win from the back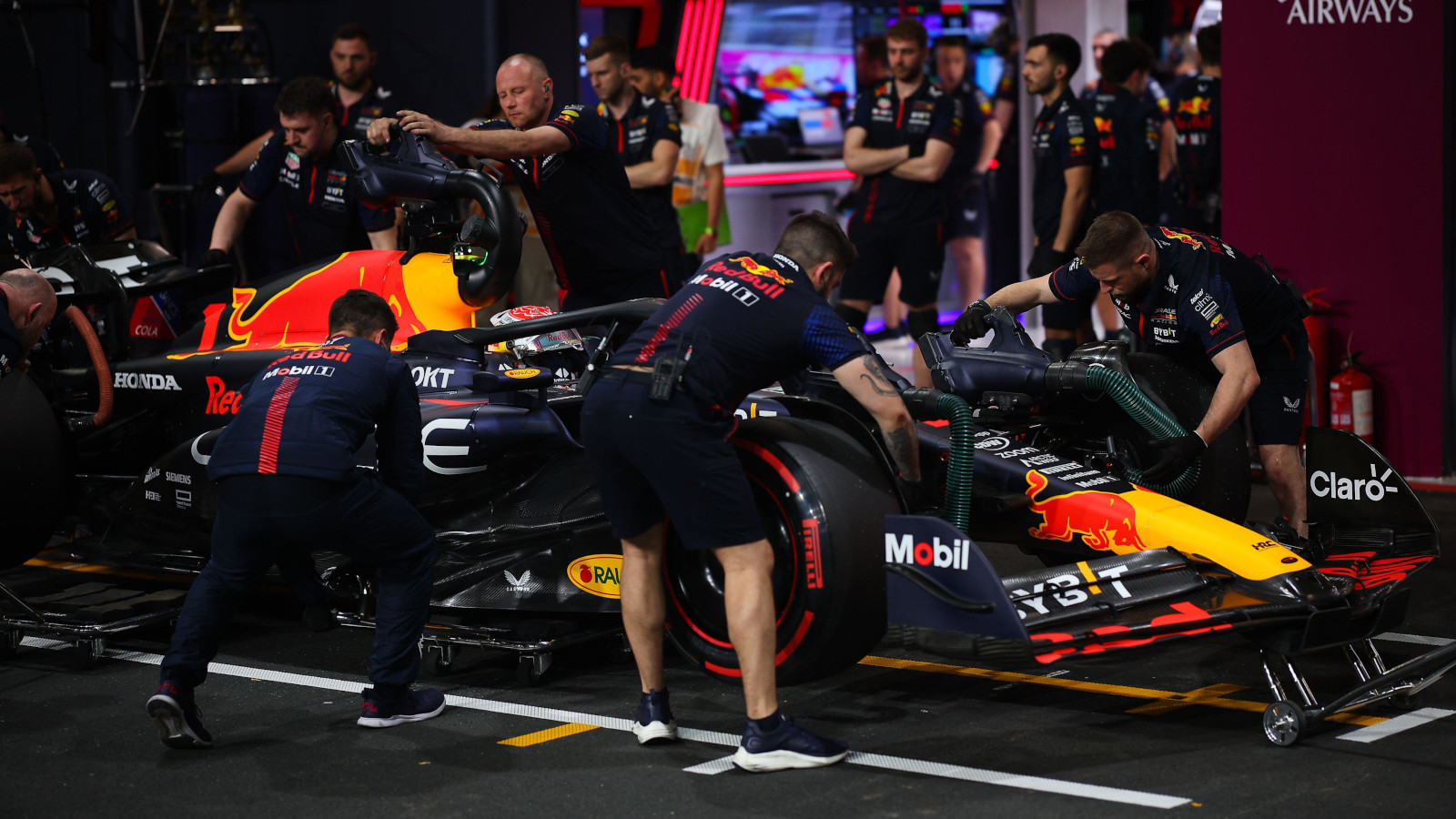 After Max Verstappen's RB19 ran into problems in qualifying at the Jeddah circuit, Toto Wolff joked Red Bull set it up to show the world he can "win all the way from the back".
Red Bull's RB19 has been the pick of the field so far this season, Verstappen winning the season-opening Bahrain Grand Prix by 11s ahead of his team-mate Sergio Perez.
The Dutchman was the favourite to take pole position for round two, the Saudi Arabian Grand Prix, having dominated all three practice sessions with his fastest time in FP3 six-tenths up on the sister Red Bull. But then disaster struck.
F1 TV Pro* viewers can watch all the live action from all 23 race weekends this season completely ad-free! Click here for the ultimate F1 viewing experience.
*Available in selected territories only. Click here to see eligible territories.
Putting in a flying lap in Q2 on Saturday night, Verstappen reported a suspected engine problem and returned to the pits, parking his car with Red Bull later confirming it was a driveshaft failure.
He'll line up 15th on the grid with Wolff joking to Sky Sports: "Maybe they've done it on purpose to get a win all the way from the back."
Karun Chandhok quipped: "A deal from Stefano [Domenicali, F1 chief] to make a good show maybe?"
To which Wolff replied: "Exactly."
Alonso expects Verstappen to reach the podium at least
Verstappen's problems coupled with Charles Leclerc's engine penalty means Fernando Alonso will be joining Sergio Perez on the front row of the grid.
But the Spaniard has warned it will only be a matter of time before Verstappen gets involved in the battle for the podium such is the reigning World Champion's pace.
"I think Max will come eventually in the race," he said. "They have this advantage.
"I don't know which race it was last year that he started last, so he changed the power unit and still finished P2 or even won the race.
"So, I think there is no doubt that he will be in the podium, probably, minimum."
The Aston Martin driver has made it clear he's not expecting to fight the Dutchman or Perez for the victory, he just wants the best result possible from his own car.
"When we launched the car on the 13th of February, I remember very well a conversation with Mike Krack, with Lance, with the senior management of the team, setting the goals for this year, and the goals were not fighting Red Bull for the win," he added.
"So let's keep it simple. Let's keep the feet on the ground, and don't make any mistakes. Even if we are competitive we cannot leave these kinds of weekends that they are so good for us with no points, you know, that would be our biggest mistake. So whatever is available, I'm sure we will take."
PlanetF1 recommends
Max Verstappen brushes off 'annoying' driveshaft failure in Saudi qualifying
F1 starting grid: What is the provisional grid order for the Saudi Arabian GP?
Winners and losers from 2023 Saudi Arabian Grand Prix qualifying
Perez won't line up on the grid thinking about what Verstappen can do
Pole-sitter Perez says he won't base his race strategy on waiting for his team-mate to catch up and race him.
"I am not going to approach the race thinking about Max," he said. "First of all, I have to make sure I'm able to keep the lead on the initial laps. And if I'm able to do that, to keep this lion behind, it will be good, because I think I can focus on my race."
He, though, reckons his team-mate will join the fight before too long.
"Like Fernando says, so many things can happen in a race, you know, but I do expect him to come back. Our car, our race pace, was very strong on Friday, so we'll see. We'll see," he added.
"Hopefully for the team, we are able to come back and get maximum points because these weekends are very important. The competition, it's only going to get closer. So, to be able to maximise maximum points will be important."