Toto Wolff: Maybe Christian Horner needs to talk to his CFO more…
Mercedes' Toto Wolff has taken a dig at Christian Horner, as rumours spiral about Red Bull breaching the budget cap…

F1's budget cap is the hot topic of the Singapore Grand Prix weekend, as the FIA are set to close off the 2021 season by issuing 'complicance certificates' to the teams next week.
F1 introduced a $145 million dollar spending cap on car and performance-related finances in 2021, the first year of the newly introduced financial regulations, with teams required to provide detailed accounts for the season.
The FIA's Cost Cap Administration then pores through these finances as a detailed audit to ensure compliance with the regulations, with the governing body set to sign off on 2021 in the coming days.
However, rumours have emerged over the Singapore event that two teams have breached the 2021 regulations – including Drivers' Championship winning team Red Bull.
Aston Martin and Red Bull are alleged to have exceeded the spending limit, with speculation indicating Red Bull's breach to be the more serious.
If a team are found to have overspent, there are plenty of potential punishments open to the FIA for imposition – ranging from minor sanctions like a reprimand or a fine, to outright exclusion from the championship.
Looking back over the first year of the financial restraints, the purported situation now puts plenty of pressure on the FIA, and President Mohammed Ben Sulayem, to enforce the regulations as the book outlines.
Christian Horner: Red Bull confident in accounting submissions
Responding to the speculation in the Singapore paddock, Red Bull team boss Christian Horner said the team are confident they are within the spending limits as defined in the rulebook.
"It's [the process] slightly bespoke to Formula 1 and clarifications have been coming even after the submissions were made so you can see how immature the process is, but the FIA obviously [have] been working hard on it and doing the best they can," he said.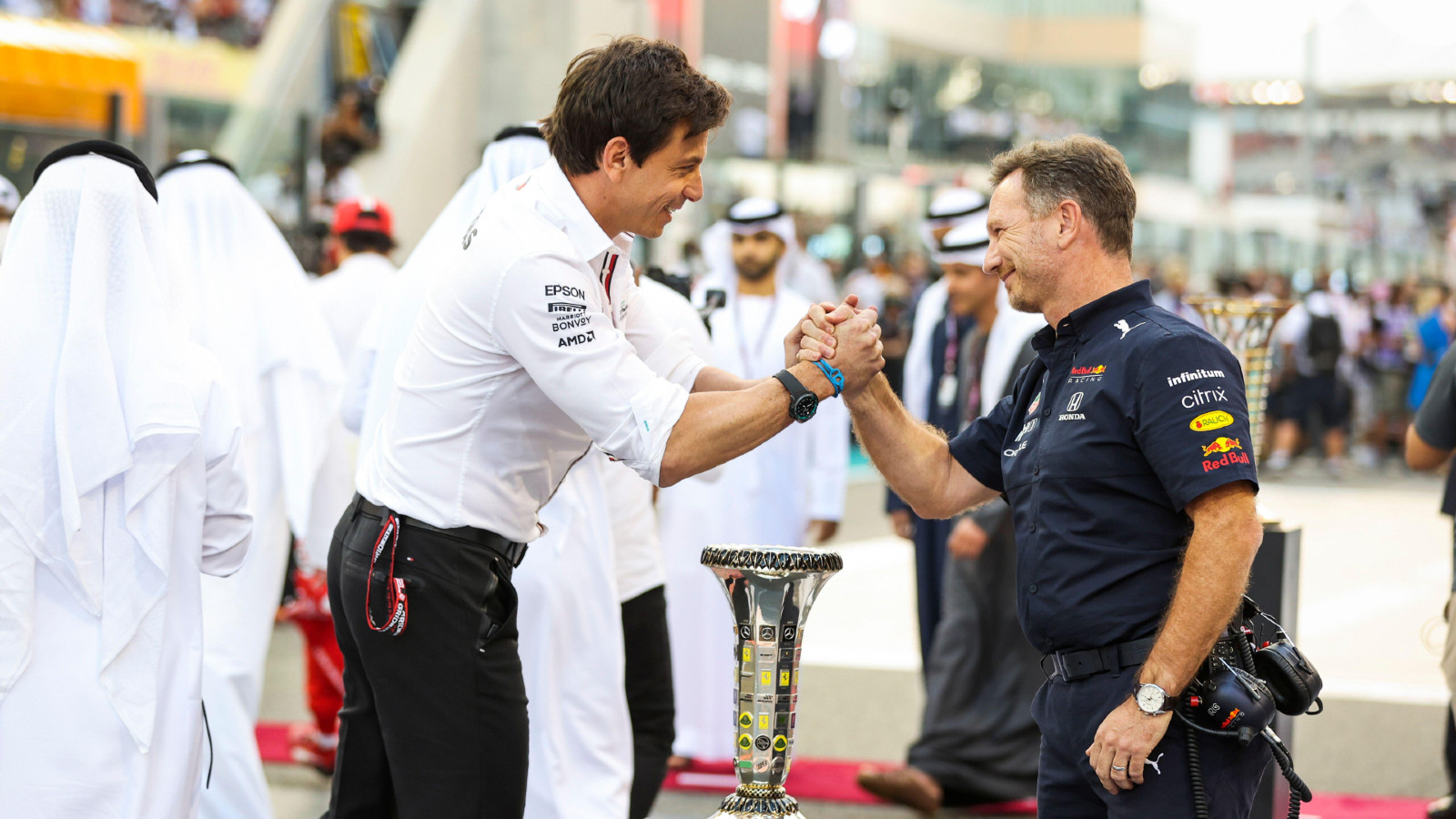 "Every team theoretically is subjected to it so they will have looked at every team's submitted accounts and they're following a process.
"We're very confident in our submission. Anything different to that, then we'll wait to hear from the FIA."
Toto Wolff weighs in on the budget cap debate
Given that 2022 development rule changes dovetailed alongside the 2021 championship challenge, Mercedes' team boss Toto Wolff believes an overspend from Red Bull could have implications on several championship seasons.
"It's funny that Christian says that, because it's been weeks and months they're being investigated, so maybe he doesn't speak to his CFO (Chief Financial Officer)," he told Sky F1.
"As a matter of fact, all of us have been investigated diligently. As far as we understand, there's a team in minor breach which is more procedural, and another team that is fundamentally, massively over and that is being still looked at. So that's an open secret in the paddock."
As for what punishment Mercedes will be pushing for if Red Bull are adjudged to have committed a major foul, Wolff paused.
"I don't know," he said.
"I think there's governance in place that is very solid, that the FIA has set up. [Teams] will be issued a certificate of compliance and, if you're not compliant, it goes to the so-called Cost Cap Adjudication panel with independent judges, and they can then choose from these penalties, the appropriate ones.
"But the crucial part is that, if you've been over in '21, then you've been over in '22. That means you have an advantage into '23. If it's true that they formulated a lightweight chassis this year, they may use it next year. So it's a really a cascade of events that can be influential on all of the three championships.
"[It's a] massively heavyweight [issue]. We are using used parts. We are not running what we would want to run, we are not developing what we could be developing. We have made more than 40 people redundant, that are dearly missed in our organisation.
"It was a huge mammoth project to make the car, I don't know how many 10s of millions we had to restructure, reprocess, in order to be below the cap and, if someone has been not doing that or pushing the boundaries, every million is a massive disadvantage."
"It's not up to me to judge, and it's not realistic up to me to judge what the penalties could be," he continued.
"The judges have all that scope to analyse, but I wouldn't want to be in their position because of the impact it has over three years."
"At this stage, it is still an assessment of what is happening.
"I think it would be important to have a certain degree of transparency where the alleged breaches have happened, or the alleged misinterpretations [have been] in order for us to assess, because you need to imagine – even if it's the so-called minor breach that can be below 5%, you can spend $7 million more than everybody else.
That means, if this is a light penalty, we will be all pushing those 5% more going forward."
Read More: FIA vow budget cap breaches will be 'dealt with' as Red Bull rumours swirl