Wolff: Mercedes 'not anywhere near' title challenge
Mercedes team principal Toto Wolff says it is clear after Imola his team are not in the 2022 title hunt.
On a run of eight Constructors' titles in succession, Mercedes went into the 2022 campaign as one of the favourites to stretch that streak to nine, while Lewis Hamilton was focused on taking another shot at becoming a record eight-time World Champion.
There was the matter though of a regulation overhaul for all the teams to contend with, and Mercedes have not evolved in the way they would have hoped.
Their 2021 title rivals Red Bull remain a leading force, but it is now Ferrari whom they are battling at the front while Mercedes sit comfortably adrift of that contest.
Many expected Mercedes to make a swift recovery, but if anything the advantage they seemingly had over the midfield in race trim is starting to slip away.
George Russell finished P4 at Imola but comfortably behind McLaren's Lando Norris.
And while Russell held off the attack of Alfa Romeo's Valtteri Bottas, the Finn would likely have finished some way up the road if it was not for a very slow pit-stop.
Hamilton, meanwhile, was unable to make progress in the midfield, crossing the line P13.
Wolff had retained some confidence that Mercedes could get themselves back into the conversation but after Imola, he knows talk of title challenges is "unrealistic".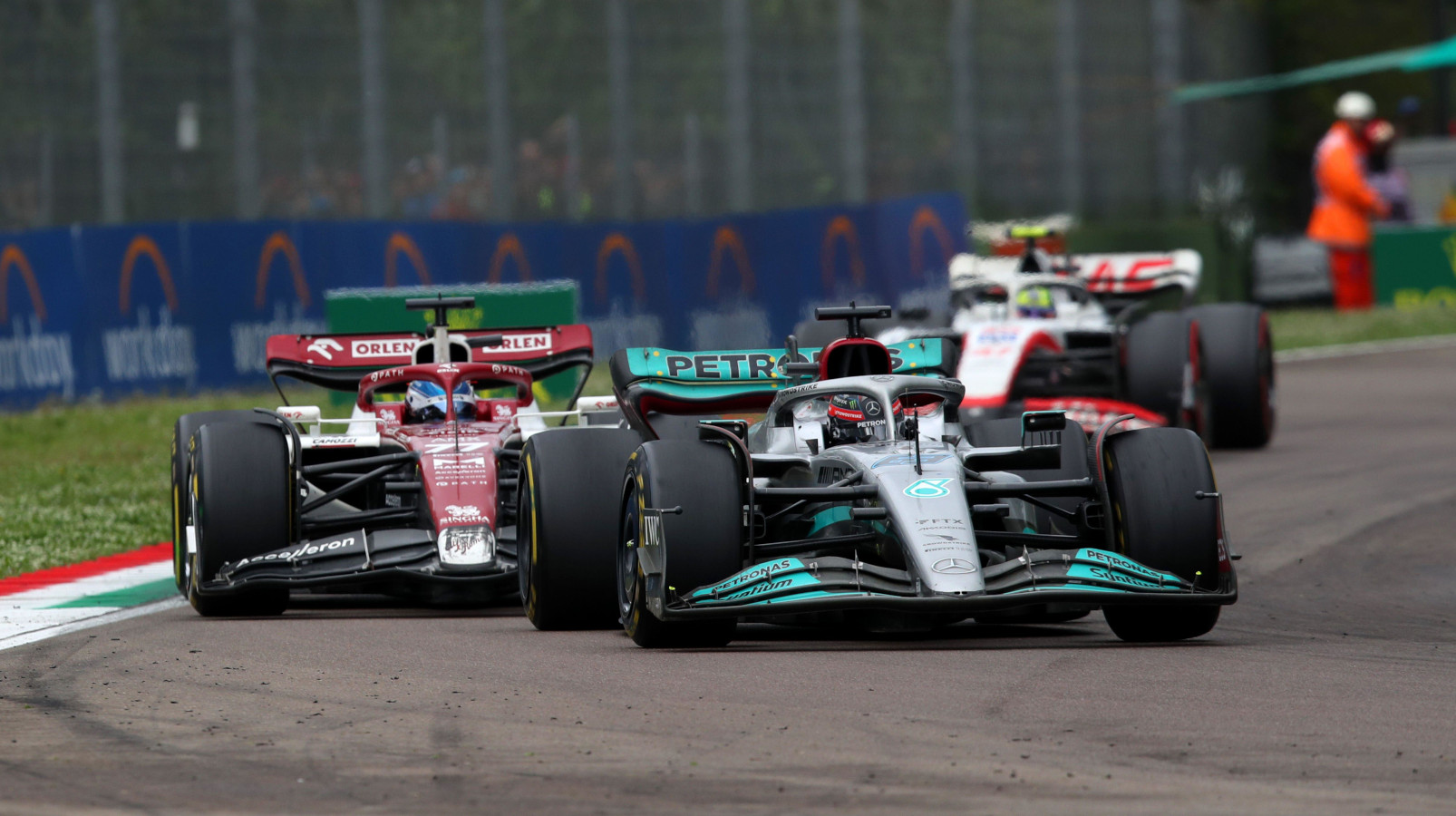 "We are four races in and this marks the low of the first four races," said Wolff after the race, quoted by MotorsportWeek.com.
"It is obvious we are not anywhere near the fight at the front.
"It would be pretty unrealistic to claim we have a slot among the frontrunners fighting for the championship."
Explaining Hamilton's inability to make progress in the midfield, Wolff said at Imola it was not possible to overtake cars that were within half a second of the lap times the W13 was setting.
Action in the midfield was limited, with drivers getting stuck in the 'DRS train' when it was enabled, Hamilton included.
"I think what we saw is we haven't got a car with enough performance differential to some of the midfield cars to overtake them," said Wolff.
"If we were running in free air then the picture would not be any different to the previous races.
"But there is just not a big enough gap to overtake cars and the car is not good enough to overtake cars that are within 0.4s or 0.5s in lap time performance."
Rosberg predicts 'more heated moments' between Hamilton Wolff
Lewis Hamilton and Toto Wolff "vented" at each other during the Imola GP weekend, and expect to hear that more throughout this season.