Toto Wolff: Niki Lauda would approve of copying quicker cars' designs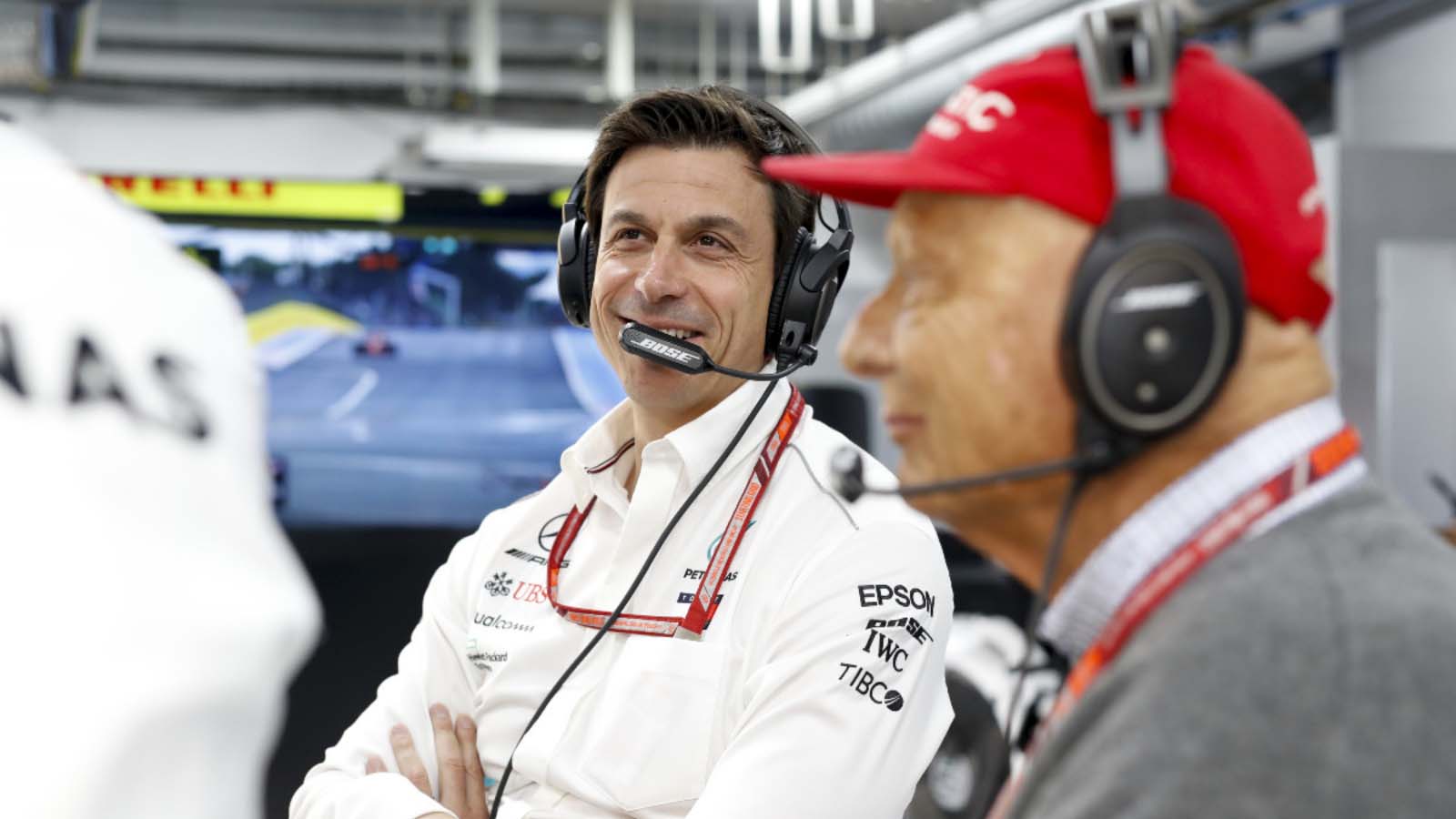 Mercedes team principal Toto Wolff believes three-time World Champion and former non-executive chairman Niki Lauda would approve of looking at other teams' approaches to car design and replicating them, thinking he would say: "We can do it much better than the others, so why don't we just get on with it?"
Mercedes are set to make substantial changes to the W14 over the coming races after the team did not meet their own expectations at the start of the season in Bahrain.
Not only were they behind the dominant pace of Red Bull, but they also appeared to lag behind Ferrari and Aston Martin in terms of race pace in Sakhir, with Lewis Hamilton and George Russell finishing fifth and seventh respectively.
Talks have already been held within the team about how to proceed, with the team's unique 'zero-pod' sidepod concept under the microscope as an area for possible improvement.
Wolff admitted the team have been "proven wrong" over their current car's concept, and referenced Lauda, who sadly died in 2019, when discussing how he would address Mercedes' issues and where they would improve from here – and said he knows what his exact words would be in this situation.
"I miss him a lot, but I miss him as a friend foremost," Wolff told Sky Sports F1 when discussing Lauda. "We are all missing him as a chairman.
"For Niki it would have been very simple, because simplicity is what brings you to the best decision and I know exactly what he would have said.
"'Our car looks very different, let's make it like the others and optimise it. We have a great team, we have great technology and infrastructure, we can do it much better than the others, so why don't we just get on with it?'
"Things are very simple always. You can always cut all the nonsense out, and at the end the simple decisions in life, which are very often instinctive decisions added together with data that supports them, and this is how Niki operated. Don't overcomplicate things, get the basics right."
PlanetF1.com recommends
Toto Wolff quizzed about the sudden departure of Lewis Hamilton's performance coach
Mercedes 'were proven wrong' with W14 car concept but are 'still analysing' why
Former team-mate: If anyone can turn Mercedes around, it's Lewis Hamilton
After the disappointing finish by their standards in Bahrain, Mercedes confirmed the team are already looking at ways of making the W14 quicker – with confirmation that the car will have "visible changes" made to it in the coming races.
A couple of minor upgrades have been brought to the car in Saudi Arabia, though more sweeping changes are said to already be in development back at Mercedes' Brackley base.
When asked whether or not the team would go so far as producing a B-spec W14, the team principal confirmed the timeframe in which the bigger tweaks to the car will be applied.
"The question is what do you mean by a Plan B car?" Wolff said.
"I think that the car is going to look very different in five, six or seven races based on the decisions that we have taken and the development direction that we have embarked on."