Toto Wolff compares Mercedes' porpoising problems to a 'stock market crash'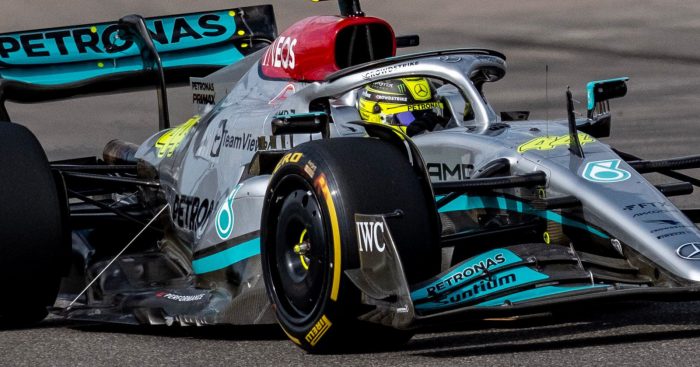 Toto Wolff has likened Formula 1's porpoising problem to that of a stock market crash, even if one knows about it that doesn't mean they've had the experience of dealing with it.
Mercedes suffered with a badly porpoising car last season, their W13 bouncing more than others.
That surprised many people in the paddock, most notably then F1 managing director Ross Brawn, as he felt the teams should have known that porpoising was a consequence of running ground effect aerodynamics.
But while Mercedes admit they knew about it, technical director Mike Elliott recently saying "we didn't expect there to be no problems at all, but none of the simulations gave any indication of how serious the problem would be", that doesn't mean the engineers had experienced it.
And that was perhaps the big difference between Mercedes and Red Bull, the latter's RB18 design by Adrian Newey who has vast knowledge of ground effect aerodynamic cars.
The Red Bull design guru said earlier this year: "I had a basic understanding of the ground effect principle and also of the phenomenon that we saw 40 years as porpoising bouncing. So I guessed what was in store for us."
But even he was "surprised by the extent" of the bouncing, adding that teams " should have known" and "it's a phenomenon that's in the genes of these cars."
But as Wolff says, knowing is one thing, experiencing is another.
PlanetF1 recommends
Lewis Hamilton: I respect Max Verstappen but 'I can't speak' for his side
Toto Wolff: 'If we had to do something that looked like another car, we would do it without a doubt'
F1 records: Top 10 longest team podium streaks in Formula 1 history
"I see analysts and investors in the capital market today who are in their 40s and made the same mistakes as in the 2000s," he explained to Auto Motor und Sport, "because these people didn't experience the 2000s.
"It's not enough to read in a book how the stock market crash happened or the internet bubble burst.
"There is an uncanny advantage – and this is something I personally witnessed – to go through the whole cycle. From the moment everything goes through the roof to the crash.
"Coupled with the belief that this is just a snapshot. This is followed by the disillusionment that, unfortunately, it continues. One admits to oneself that the market was simply overheated and valuations too high.
"Fast forward to this year. This is exactly what happened on the stock markets. Astronomical valuations for internet and tech start-ups, despite a negative macroeconomic environment."
While Mercedes have not gone in the exact reason their W13 was such a "diva" of a car, as George Russell put it, it has been speculated that it was everything from the zero-pod design to running a stiffer floor than their rivals.
Wolff has previously stated that the team made the call back in October 2021 to run the car close to the ground but that only added to their problems.
With ground effect aerodynamic cars, the closer the car is to the ground the greater the downforce. But the greater the downforce the more the porpoising.
Put to him that Red Bull engineers believe Mercedes has the 'most downforce' of the top teams but that it's of little use if the car isn't 'stable', Wolff replied: "I don't know if stable is the right word. We simply need a wider working window.
"We had a good car on high-downforce tracks. We have already seen that in Barcelona. On tracks that have few bumps and no big kerbs.
"We need to find a wider aerodynamic window than we had in 2022. We have also seen, just in Brazil, that as soon as we hit our window, we are at the front.
"Now we have to learn the lessons of why our car is so good on some tracks in certain corners, and on the other hand doesn't work on low-downforce tracks like Spa or Monza at high speeds."