Toto Wolff orders 'much more radical' W14 upgrade after 'one of the worst days racing'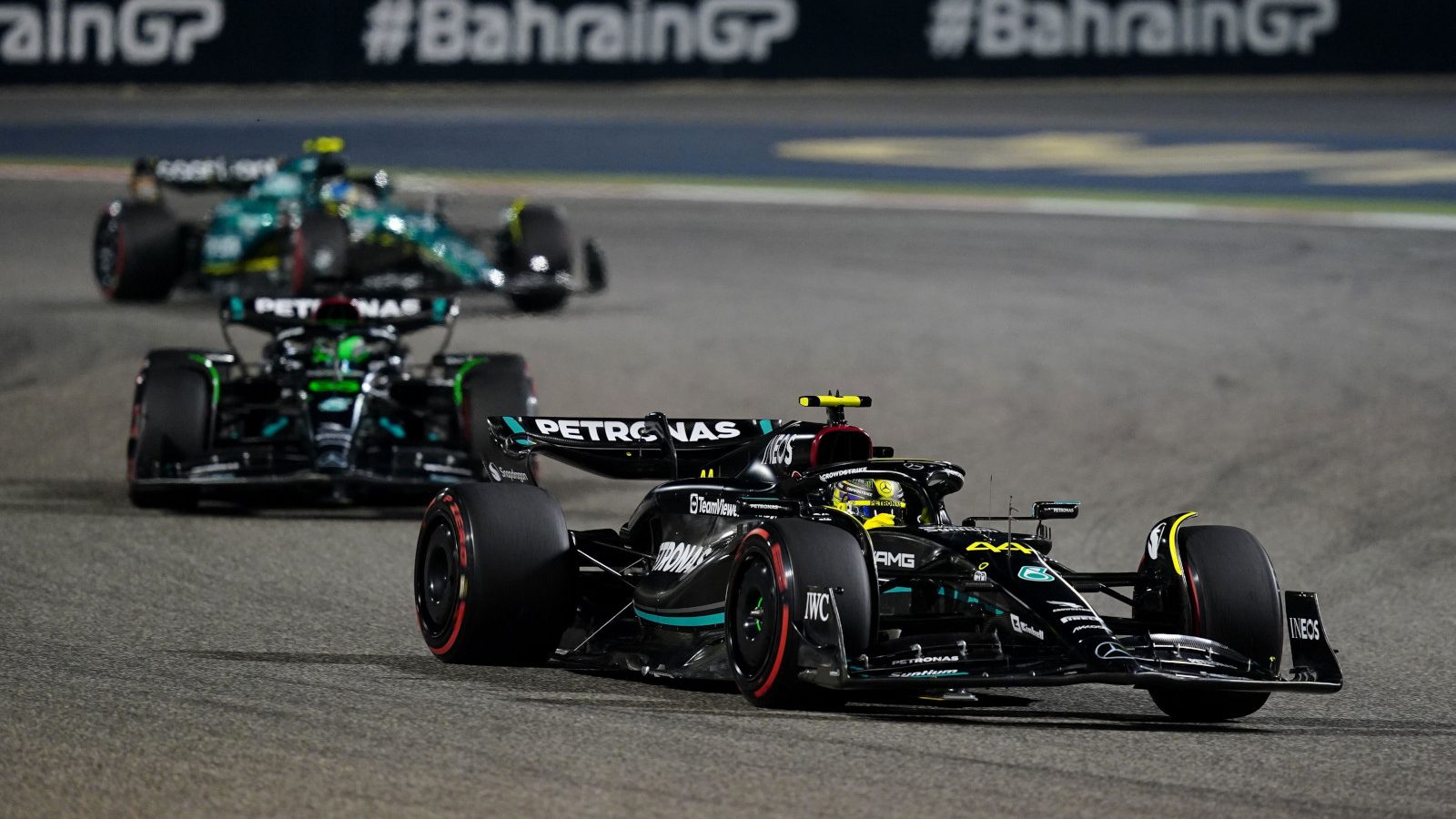 With both his drivers overtaken by Fernando Alonso at the Bahrain Grand Prix, Toto Wolff concedes Mercedes need a "radical" upgrade plan as the AMR23 has shown them "exactly where" they need to improve.
Although Mercedes went into the new season adamant they would be sticking with their design philosophy, including the zero-pods, one race into the season and there's talk of changing the concept.
While Lewis Hamilton said after Friday's practice that it would be "quite hard" for Mercedes to close the gap to Red Bull "with the concept we have", Wolff said after qualifying they'd need to sit down and "decide the development direction that we want to pursue, in order to be competitive, to win races."
Because winning was not on the cards in Sunday's Bahrain Grand Prix.
Hamilton finished fifth, 50s down on race winner Max Verstappen, while his team-mate George Russell was P7, a further five seconds adrift.
Both drivers found themselves losing a position to Alonso in the Aston Martin during the grand prix, the Spaniard showing off his car's superior race-pace as he duelled and beat the Mercedes team-mates.
Wolff says it was a race result that hurt.
"One of the worst days racing," he told Sky Sports, "really not not good at all.
"We're just lacking pace and that's a reflection of the test. The Aston Martin is very fast, they deserve that, and Red Bull is just on a different planet.
"That is what hurts because they're so far ahead, it reminds me of the days when we put the second on everybody.
"That is the benchmark, but we need to put one step after the other to just come back.
"And then we can do that."
Pressed on that, he insisted: "We can."
But in order to do that the Austrian says Mercedes can't wait for their planned Imola update, they need to be "much more radical. Much more radical in the steps than just hope for a three-tenths upgrade."
So radical Wolff reckons Mercedes could learn something from Aston Martin with their AMR23.
While the car has at times been billed as a green Red Bull, it is powered by Mercedes and has the same pull-rod suspension layout that is a signature feature of Mercedes. The gearbox is also supplied by Mercedes.
"I think it's just radical," Wolff said of the 2023 Aston Martin. "As I said they deserve to be where they are because they did a fantastic job.
"The good news for us is there is a lot of Mercedes in there so we know exactly where to pinpoint it."
PlanetF1 recommends
Lewis Hamilton: Mercedes 'nowhere near' podium contention and 'miles off' Ferrari
The updated Drivers' Championship standings after the 2023 Bahrain Grand Prix
Race: Max Verstappen untouchable but the Bahrain GP was the Fernando Alonso show
But while Sunday's result was by no means what the team or the drivers wanted, Hamilton offered words of encouragement as he crossed the line.
The Briton told the team that he believed in them and their ability to fight back.
Wolff could not have been prouder.
"Absolutely, shows the leadership as there must be a lot of suffering in there because the car is just so unstable and you can see that on the steering wheel," he said of Hamilton's words.
"But he is fantastic. He's been a massive performance contributor and not only in the car."