Wolff apologises to Red Bull for Bottas' 'small mistake'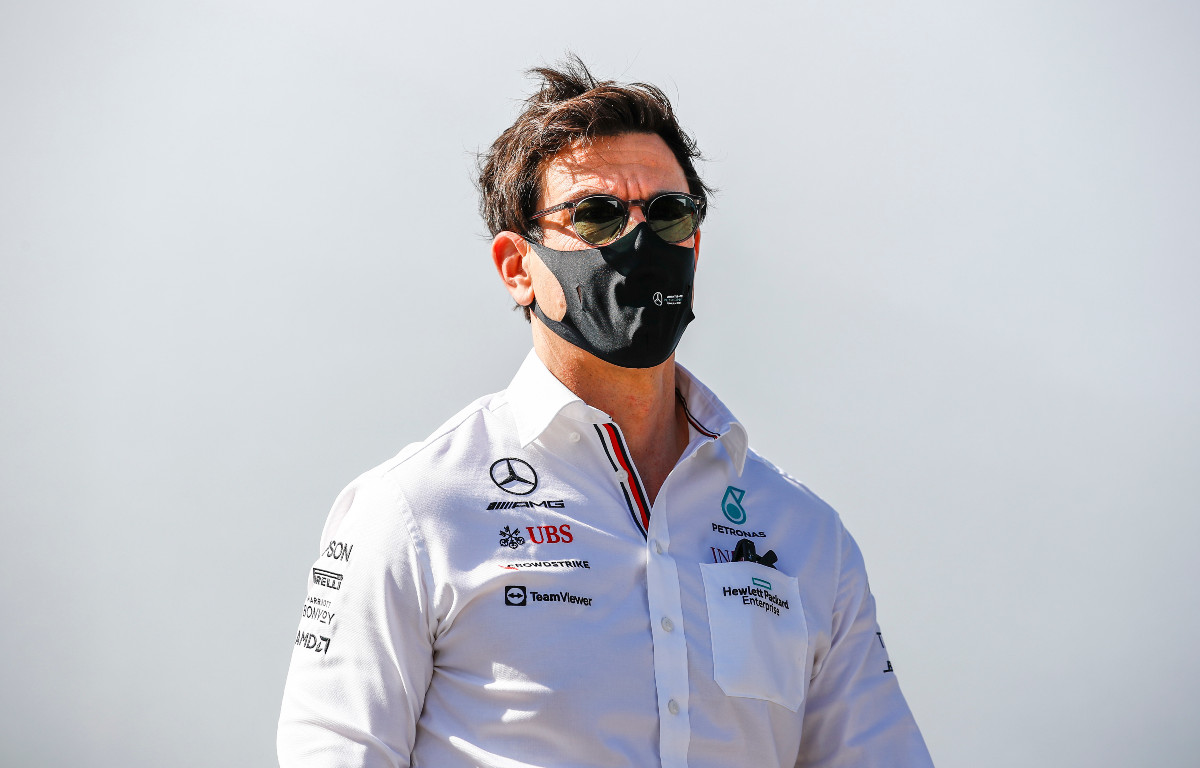 Mercedes boss Toto Wolff says the team takes full responsibility for the opening lap crash in Hungary which wiped out Red Bull.
Bottas locked-up on a slippery track at the start into Turn 1, slamming into the back of Lando Norris who then in turn collided with Red Bull's Max Verstappen.
After that initial contact, Bottas' Mercedes then crashed into Sergio Perez in the other Red Bull, eliminating both of them from the race.
Verstappen was able to continue, albeit with a heavily damaged RB16B, and P9 was the extent of his recovery, earning him just two point.
This is the second time in as many races that a Mercedes has collided with Verstappen, leaving the Dutchman extremely frustrated, and for this Wolff can only apologise.
"I completely understand the feelings, all I can do is to take it on us," Wolff told Sky F1.
"It was a small mistake being too late on the brakes, and took out Lando and the two Red Bulls.
"It's not how things should go, but in the rain it can be quite tricky. I think he [Bottas] got sandwiched and then at the moment he closed [in], they braked a tiny bit later.
"As I said it's a small mistake that caused such a big accident, costing them a lot of points, and a possible two cars on the podium, so we are sorry for that."
Pole-sitter Hamilton was able to avoid the chaos, but at the race resumption, the Briton was the only driver to take the standing start rather than pit for slick tyres.
That meant that once the seven-time World Champion pitted a lap later, he came out last, but it was a decision which Wolff stands by.
"To be honest I think we did absolutely the right thing," he said.
"There is no one in the team that would have done otherwise, as a leading car it's always difficult to take the decision, and if you are the only one pitting then you come out last.
"And there is the difficulty of getting out of the pit stand because everyone is pitting, and how it looked like we were a little bit lonely there on the grid and obviously it played against us.
"With the sun it dried up so quickly, that within a lap actually it was dry, and these things can happen. I stand absolutely behind the decision to stay out and that is why I'm fine.
"I think we could have gambled as the leading car and come in with also a disastrous outcome, and then if that would have happened people would have said that we have done a mistake, so that is the right decision.
"I think if just five cars [were] out there, that would have stayed there, probably we would have had a much better race."
Hamilton: "I'm OK. Had really big dizziness and everything got a bit blurry in the podium. I had been fighting all year really with the health, staying healthy after what happened at the end of last year (when he contracted Covid), and it is still a battle."

— Andrew Benson (@andrewbensonf1) August 1, 2021
Check out all the latest Mercedes merchandise via the official Formula 1 store
Hamilton would pull off another masterful recovery drive, though this time around P2 was his final position, a result which Wolff thought perhaps was "karma" after Bottas' error.
"Things happen, and at the end of the day you know what is with karma…," Wolff pondered.
"Maybe we shouldn't have taken full points today?"
Hamilton could well have contended for the win, but that opportunity vanished thanks to some heroic defence from Alpine's Fernando Alonso, holding Hamilton up for many laps.
And it was these actions from Alonso which Wolff says ensured the win for his team-mate Esteban Ocon.
"I think Alonso was just the Alonso we know, fighty and defending how he could," Wolff explained.
"He made his team-mate win the race because a lap or two later we probably would have gotten it, and it's a good podium, it's good for the sport."