Wolff accuses Red Bull of stoking controversy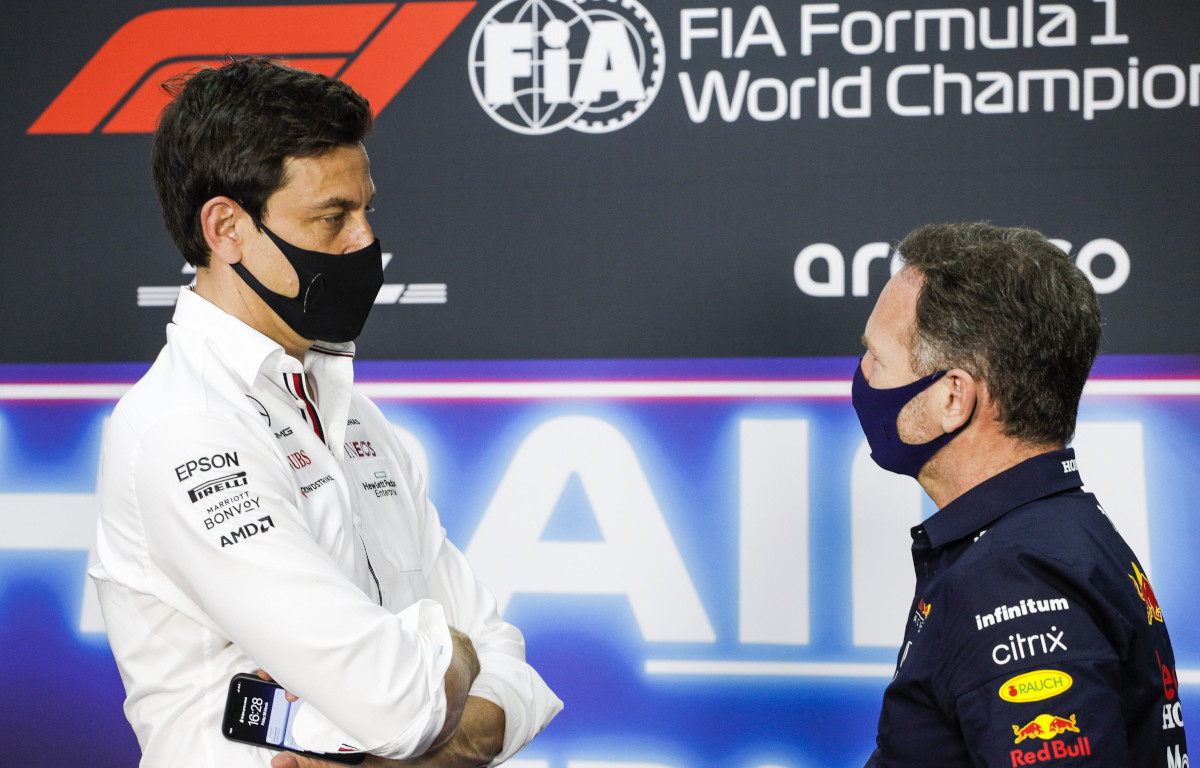 Toto Wolff has insisted Mercedes try not to "fuel controversy" but that Red Bull do "the opposite" as their verbal war continues.
This year's World Championship tussle is anything but a friendly one, with the acrimony having peaked so far at the British Grand Prix.
Not only were barbs traded in the heat of the moment after a collision between Lewis Hamilton and Max Verstappen sent the Red Bull hurtling into the barriers, but they went on well into that evening as the Dutchman condemned his rival's victory celebrations while he was being checked out in hospital after the crash as "disrespectful and unsportsmanlike".
It is Wolff and his fellow team principal Christian Horner who have been responsible for most of the taunts though, and the Austrian could not resist another dig in the build-up to the Belgian Grand Prix, the first race after the summer break.
Asked in an interview with Motorsport.com if he was surprised at the way in which relations between the teams had deteriorated, Wolff said: "The relationships were never splendid, and that comes from the sheer competition we have.
"But I would say that in the war of words, we have tried to maintain our cool, stay level-headed and not fuel controversy and polarisation among our fans even more.
"The aim was always to de-escalate. Unfortunately, the opposite happens on the other side."
Check out all the latest Mercedes merchandise via the official Formula 1 store
We're back. 🖤👊 pic.twitter.com/BjIwKyYltD

— Mercedes-AMG PETRONAS F1 Team (@MercedesAMGF1) August 23, 2021
Wolff also made it clear the bad blood was simply between specific individuals rather than the organisations as a whole, insisting there was still a professional respect for what Red Bull were trying to achieve on a competitive level.
"It's very important to not generalise Red Bull or Mercedes," he explained. "It's very much a team sport and there are individuals involved.
"Just because certain individuals don't get on well with each other, it doesn't mean you are disrespecting the other entity and the people that work there, who are trying to do the best possible job in order to fulfil their own dreams and overcome their own worries.
"So there is always respect for these organisations, and for the people in the organisations and for the people in the teams."
Wolff also discussed the change of mindset at Mercedes that resulted from no longer having the tag as favourites for both Championships as Red Bull won five consecutive races in early summer.
However, the shift in momentum has been redressed by the title-holders moving back ahead due to two disastrous grands prix for Red Bull in Britain and Hungary before the recess.
"[Stress levels] eased off actually because all these years we had the pressure of 'we can't possibly lose'," said Wolff.
"Now it changed to 'this is ours to win' because the odds were against us. So there is suddenly an easiness in the approach that starts to take over, which makes it quite enjoyable."