Wolff: 'No arm-twisting to convince drivers in Saudi Arabia'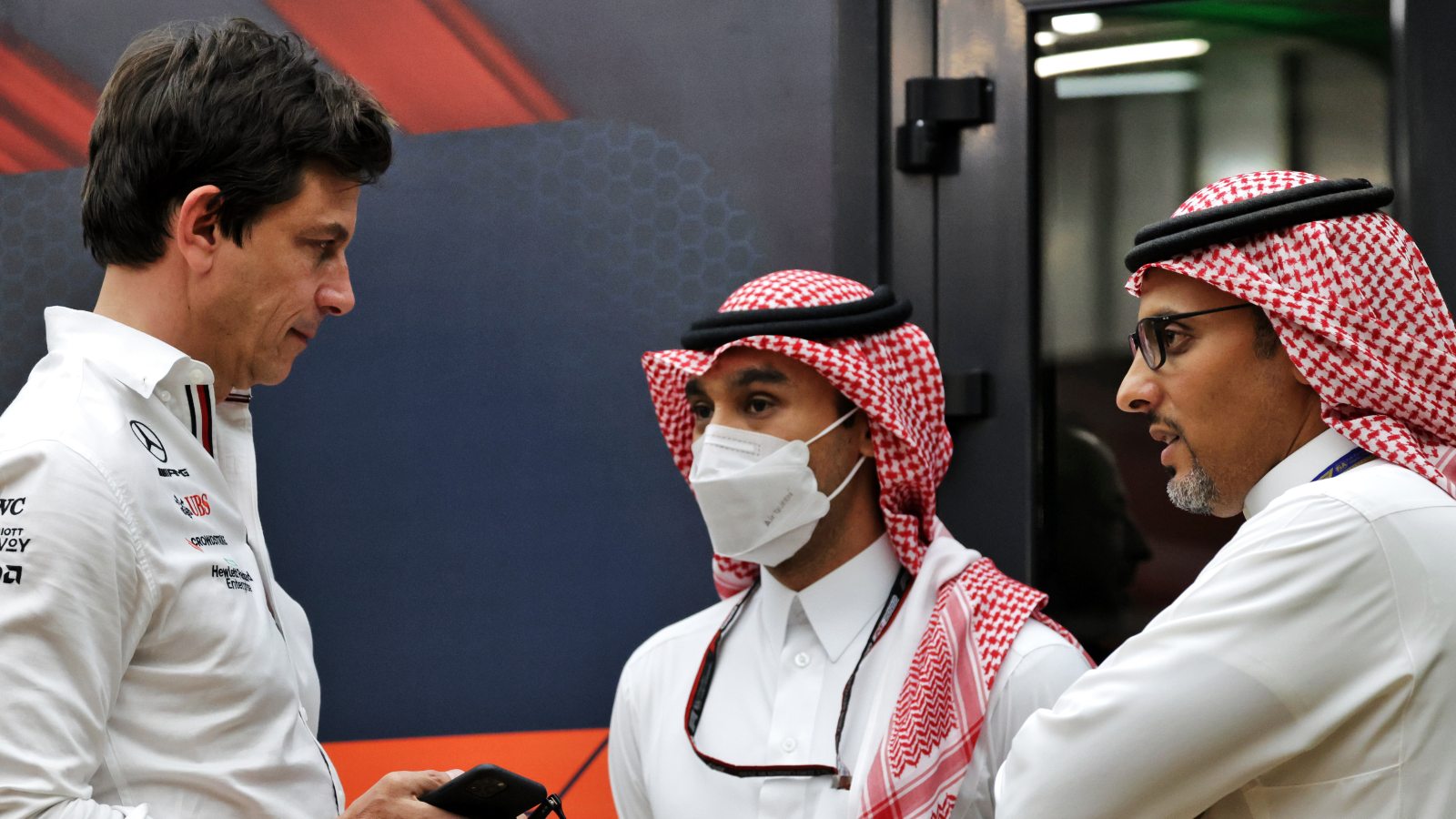 Toto Wolff has denied he pressurised drivers to agree to race in Saudi Arabia following the missile strike at a nearby fuel site on Friday.
During the first practice session of the grand prix weekend, smoke could be seen billowing from a large fire at the Aramco oil refinery facility around 12 miles from the Jeddah Corniche Circuit.
The cause of the fire was reported to be a missile strike and Yemen's Iran-aligned Houthi group claimed responsibility for the attack.
It followed security fears during the build-up to the weekend after it was reported a missile aimed at Jeddah had been intercepted and destroyed.
As news of the attack broke, the drivers were summoned to meet with F1 bosses including CEO Stefano Domenicali in a meeting that lasted four hours.
After the drivers had been spoken to alone initially – and were reported to be unwilling to race – team principals were brought into the meeting. A short while later, it was agreed the race would go ahead.
Mercedes team principal Toto Wolff said the team bosses were in unanimous agreement and has denied pressurising the drivers.
Official confirmation that #F1 will continue with the Saudi Arabian GP weekend… https://t.co/WJii1qqedO

— PlanetF1 (@Planet_F1) March 26, 2022
"There wasn't any arm-twisting from our side," said Wolff, as reported by gpfans.com
"There were good discussions and when the team principals talked to the drivers I think what we talked was sense and not at all with any pressure, but maybe that was perceived in a different way.
"In the end, the show and the spectacle was amazing and what we delivered as a sport was great and I think this is what sport should do."
After 81 people had been executed in a single day a couple of weeks earlier, the argument for F1 not to race in Saudi Arabia only grew stronger. But Wolff said he had noticed change in the five years he had been going there.
"To be honest, I have been here since five years [ago] and I have seen change.
"But I repeat what I have said before – there is just so much more to do. I mean, a lot."
Doubts remain as to whether F1 will return to Saudi Arabia, despite having a decade-long contract with the promoters, as Lewis Hamilton hinted he may not be willing to go back.
Fellow British driver Lando Norris said he would look forward to going back but admitted it was a "nervous place".
"Of course I'm relieved [to have got through the weekend]," said Norris.
"Under any circumstance, all we want to do is race. But it is a nervous place to be and you will have these nerves and that's why we had the discussions we did. We were given the reassurances and told it's safe and we had to believe that.
"Whether we come back or not…I would love to look forward to do that because it's a fun track, but those are discussions we will have after the weekend."
Hamilton casts doubt on Saudi Arabia return
Lewis Hamilton has spoken out and cast doubts over returning to Saudi Arabia for a Grand Prix.