Mol: Wolff's Abu Dhabi mixed emotions 'very strange'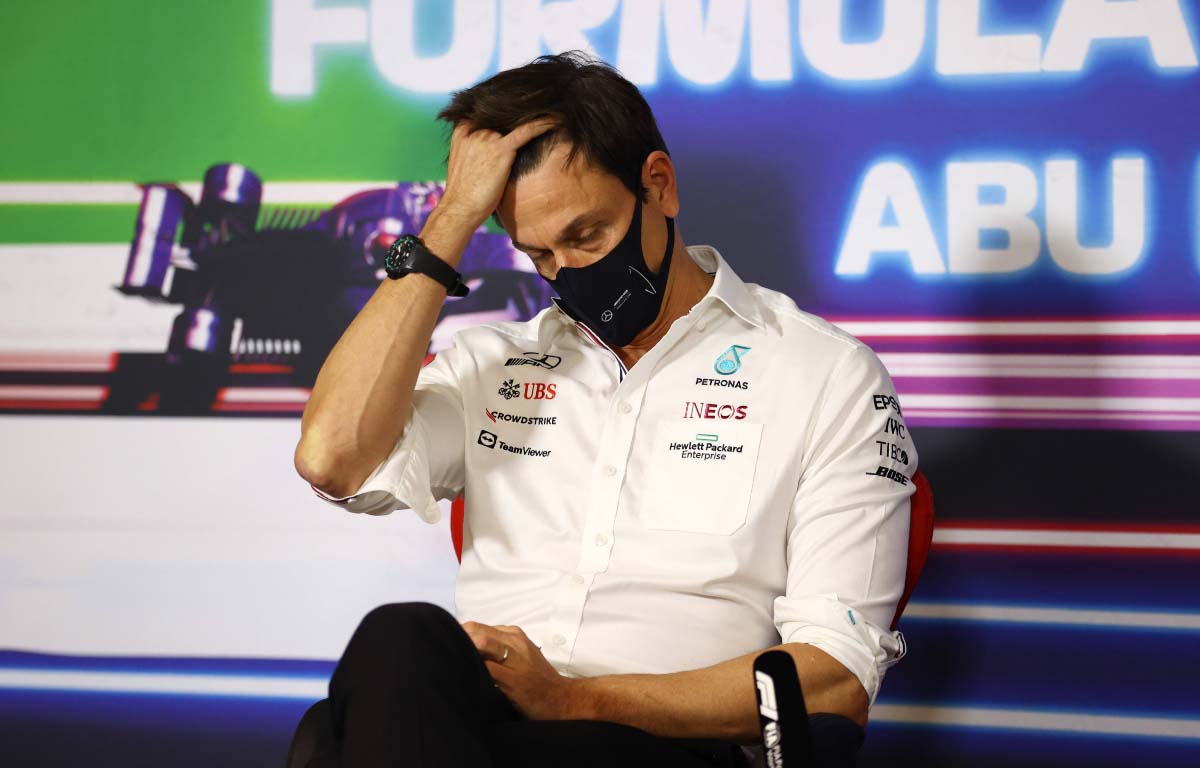 Toto Wolff has been accused of putting on an act either during or after the controversial Abu Dhabi Grand Prix.
Will the real Toto please stand up, is the call from Dutch TV commentator and presenter Olav Mol.
The 60-year-old Ziggo Sport broadcaster is perplexed at how Wolff could be so indignant about Mercedes' treatment at the Yas Marina finale and yet just a few hours later, be seen partying away to celebrate the team's eighth consecutive Constructors' world title.
Wolff had yelled furiously at Michael Masi over the radio system as the Australian – replaced last week as Formula 1's race director – made decisions that cost Lewis Hamilton a record-breaking eighth Drivers' crown, snatched from his hands by Max Verstappen.
The Mercedes team principal refused to conduct his usual round of media interviews afterwards, instead shutting himself away and presiding over two failed protests by the team against the race result.
And yet later the same night, the Austrian appeared in high spirits as he partied with colleagues who let their hair down at the end of an intense, demanding season.
But the two sides Wolff showed that night do not sit comfortably alongside each other, claims Mol. So which is the true Toto and the other a fake, he asks.
"It is of course very strange that you start screaming into a microphone that something is not possible and four hours later videos come out in which you are crowd-surfing and partying," said Mol during an interview with Motorsport.com.
"For me, that doesn't go together. Then I think 'which of the two is theatre?'
"I don't think it is very nice how Toto Wolff or Mercedes handled this. I didn't expect that from him."
Wolff has said previously about the afterparty: "It was a matter of going back to the hotel and sulking, or thinking about what had happened. Or, on the other hand, to celebrate an eighth Constructors' title with the team.
"And that's what I did – trying to push aside the frustration about the decision that cost the Drivers' world title until the next day."
Mol was more understanding of how Hamilton took himself out of the spotlight over the winter, abandoning social media for the best part of two months and leaving the world guessing about his future plans before returning to work with Mercedes.
Wolff recently said Hamilton had been "disillusioned" by what had unfolded in Abu Dhabi – and Mol, with another theatrical reference, dismissed this as "talking for the stage".
"Hamilton wanted a nice winter off and this was the key he could do that with," added the veteran Dutch commentator. "And I can understand it from Hamilton's point of view too."
Wolff says pundits shouldn't question Hamilton's 'measure'
Toto Wolff believes that pundits and fans shouldn't question Lewis Hamilton's "measure".