Toto's wink hints Bottas/ Russell decision is made
Toto Wolff has dropped a big hint that the decision on who will partner Lewis Hamilton at Mercedes next year has already been made.
But the secret is being kept under wraps and even Valtteri Bottas and George Russell themselves may not know yet, let alone be in a position to declare anything publicly.
Mercedes must decide on which of the duo they want to partner Hamilton, who recently signed a two-year contract extension.
The smart money is on up-and-coming Mercedes junior driver Russell, who has been shining while 'on loan' at Williams – especially in qualifying, where he has started to make breaking into Q3 a habit with a car which is not as competitive when it comes to races.
But Bottas also remains right in the mix having been praised by both Wolff and Hamilton for the role he fulfilled at last weekend's British Grand Prix, playing the team game by moving aside to allow the seven-time World Champion to chase down Charles Leclerc and take victory.
Wolff, the Mercedes F1 team principal and co-owner, was quizzed over the latest driver situation during an interview with RTL – and his response gave a clear indication that he knows a lot more than he is letting on.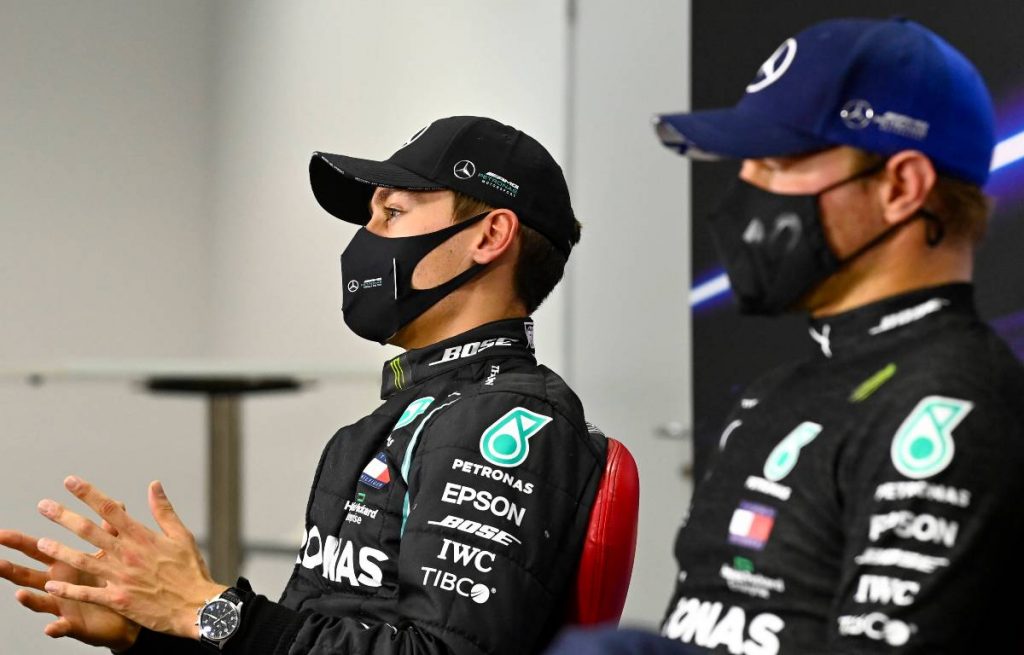 Check out all the latest Mercedes merchandise via the official Formula 1 store
With a smile, Wolff said: "Now we will see what decision we make – or have already made but not yet said."
Pressed further on when the announcement is likely to be made, the Austrian added, followed by a wink to the camera for effect: "Unfortunately I have no news, I still don't know which direction it is going."
RTL themselves, in their story about the interview, said "in plain language, the die has been cast but the decision is still a secret – apparently the drivers don't even know".
Wolff was also asked about how it feels knowing he has to tell either Bottas or Russell their services will not be required at Mercedes next year.
"To tell someone 'that's it' is one of the very difficult discussions and something you would rather not do," said the 49-year-old.
"But it is the strength of my role that I also have to have unpleasant conversations if I think it's the right thing for the team."
Speaking about Russell specifically, Wolff said: "He definitely has what it takes to be a World Champion. You have to build him up carefully and that's what we've done."